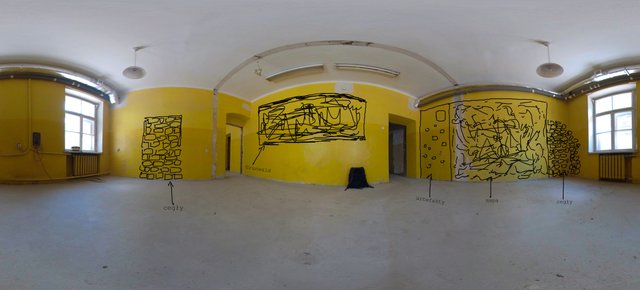 Jutro dzień, na który czekałem od dawna. Potencjalny Komendant Remontu zjawi się na Biskupiej, aby zobaczyć lokal i zaplanować działania. Co prawda jakaś koncepcja jest już wypracowana, ale jak wiadomo - diabeł tkwi w szczegółach.
Dziś przygotowałem kolejny szkic pierwszej sali (można go zobaczyć tutaj). To w niej będzie organizowana większość otwartych spotkań. Niestety nie jest ona w najlepszej kondycji. Najgorzej wygląda ściana od strony korytarza. Chciałby ją częściowo skuć do cegły (co zresztą jest już w dużej mierze zrobione), a resztę (jakieś 3/4 ściany) przykryć płytą OSB, na której położona zostanie ogromna mapa, która pierwotnie miała być na podłodze. Będą na niej również wyeksponowane różne niewielkie artefakty.
Ściana, która jest w najlepszej kondycji (na zdjęciu, to ta, o którą oparty jest plecak) zostanie pomalowana i zawieszona zostanie na niej reprodukcja Bitwy pod Grunwaldem. Dobrze byłoby go powiesić jak najwyżej - tak, aby wykorzystać jeszcze przestrzeń pod nim. Cóż, wyjdzie w praniu.
Ściana, która graniczy z drugą salą jest już częściowo skuta. Większa jej część będzie pomalowana. Podobnie ściana z oknami. Na podłodze położone zostaną płytki imitujące drewno, które dobrze wyglądają a równocześnie są bardzo praktyczne.
Oczywiście w pierwszej kolejności będzie trzeba wymienić instalację elektryczną. Niestety wciąż nie mamy odpowiedniej osoby, która by się tym zajęła. Ktoś zna kogoś takiego? Obsypiemy rycarami!