Retsina (gr.żywica) to gatunek greckiego wina, które powstaje przez dodanie żywicy sosny do białego wina. Jest to jeden z najbardziej popularnych alkoholi greckich.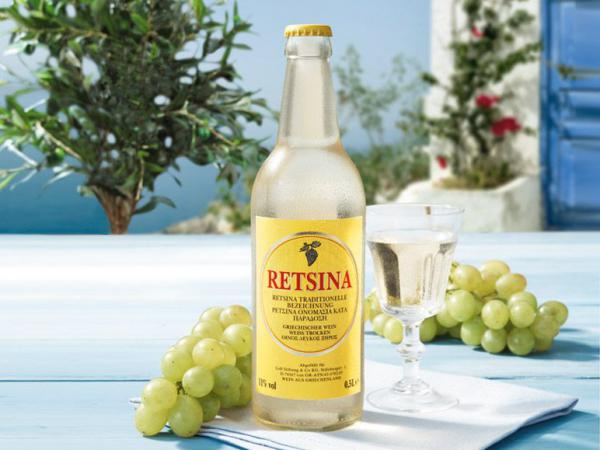 Produkcja retsiny sięga czasów starożytnych, kiedy to dodawano żywicę nie tyle dla aromatu, lecz jako środek konserwujący wino. Retsinę robi się często z win drugiej kategorii, dlatego też bywa tańsza od innych gatunków wina.
Podobno w starożytności uszczelniano amfory z winem żywicą z sosny i aromat zostawał w winie. Później zaczęto dodawać żywicę do moszczu wina dla konserwacji i lepszego smaku. W późniejszych czasach do przechowywania wina używano sosnowych beczek. Żywicę dodawano również dla poprawienia jakości wina.
Do dzisiaj dodaje się żywicę do wina dla aromatu. Retsinę produkuje się dodając żywicę sosnową gatunku Pinus Hallepensis w procesie fermentacji białego wina. Po fermentacji wyjmuje się żywicę i w winie pozostaje jej zapach.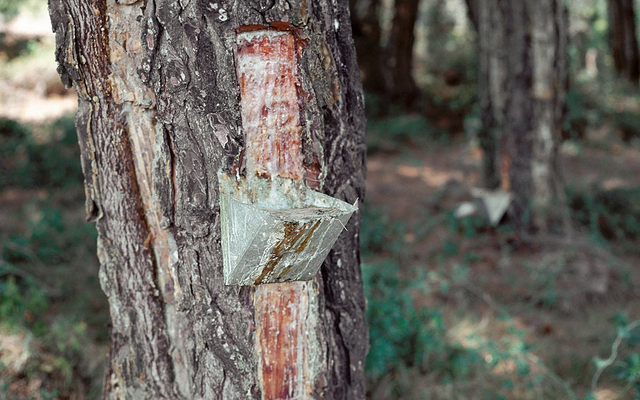 Retsina, jeśli jest dobrej jakości, ma charakterystyczny balsamiczny zapach sosny, który jednak nie redukuje aromatu winogron. Ledwie dostrzegalny posmak goryczy w ustach działa orzeźwiająco, dlatego też retsina uznawana jest za idealne wino podawane do posiłków kuchni greckiej.
Retsina, podobnie jak Ouzo, może być produkowana tylko w Grecji.
Nazwę Retsina, nosi również planetoida z pasa głównego asteroid okrążająca Słońce w ciągu 5 lat i 66 dni. Została odkryta 24 marca 1979 roku przez Paula Wilda. Przed nadaniem nazwy planetoida nosiła tymczasowe oznaczenie (2303). (Źródło:Wikipedia pl.)
Wild nazwał asteroid 2303 Retsina, ponieważ podczas 28 Międzynarodowego Zgromadzenia Astronomów w 1982 roku w Patras (Grecja), miał okazję objechać Peloponez pijąc retsinę.
Retsina jest specyficznym w smaku winem wytrawnym. Można je polubić od pierwszego łyka, lub nie. Grecy czasami (zwłaszcza w czasie upałów) piją Retsinę z odrobiną sprit'u lub lemoniady, co łagodzi posmak żywicznej goryczki, wino staje się lżejsze i łagodzi pragnienie. W sumie smak każdego wytrawnego wina można złagodzić w ten sposób (wypróbowałam i polecam).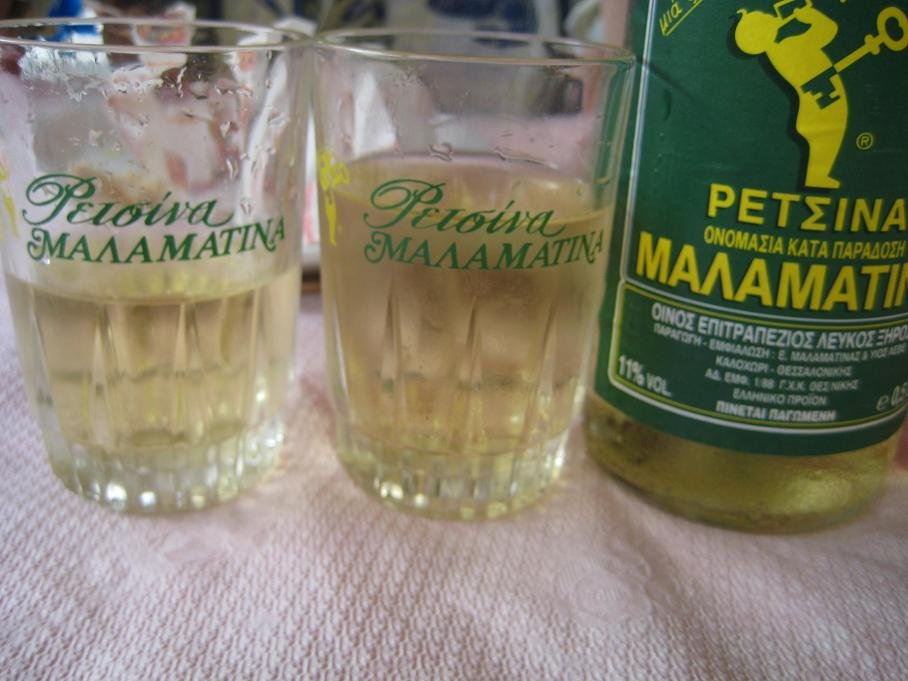 W mojej piwniczce również mam domową Retsinę z winorośli izraelskiej, smakuje wybornie i szybko znika...
Jamas !