Botwinka po grecku  to przykład na gotowanie roślin dziko rosnących w Grecji. Ze względu na sprzyjające warunki klimatyczne, cały rok (a głównie w okresie deszczowym jesień, zima, wiosna), duża część dziko rosnących  jadalnych  roślin (chorta) na terenie Grecji jest rarytasem dla jej mieszkańców.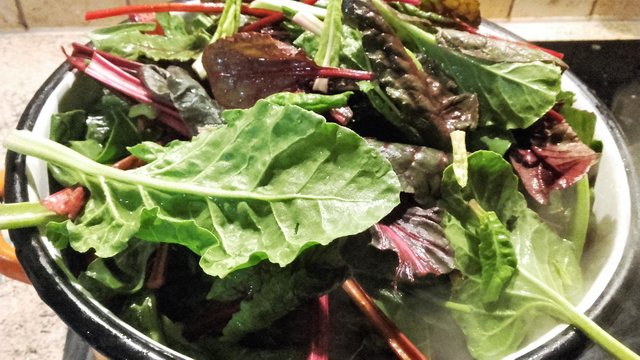 Dzikie rośliny głównie są zbierane przez ludność zamieszkującą wsie. Mieszkańcy miast zaopatrują się w nie na miejscowych bazarach lub kupują od znajomych ze wsi. Miastowi często są obdarowywani tymi darami natury a równie często jeżdżą poza miasto na zbiory. W Grecji zbieranie dzikich roślin jest powszechne i lubiane, podobnie jak w Polsce zbieranie grzybów.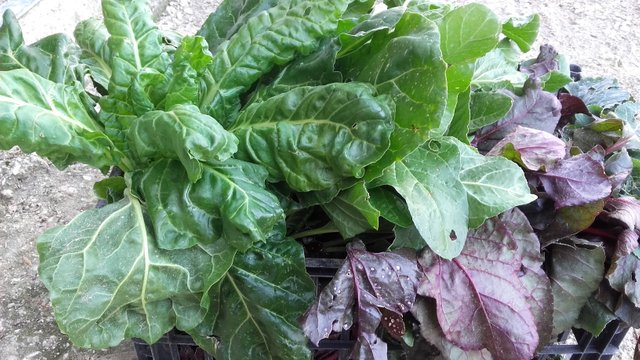 burak dziki liściasty (zielone liście) i ogrodowy
Grecy są przekonani, z resztą zapewne słusznie, o zdrowotnych walorach dzikich roślin jadalnych i spożywają je kiedy tylko nadarza się taka okazja. W tutejszym klimacie spożywa się głównie liście roślin, ponieważ rośliny korzeniowe mają karłowate korzenie ( pietruszka, seler, burak).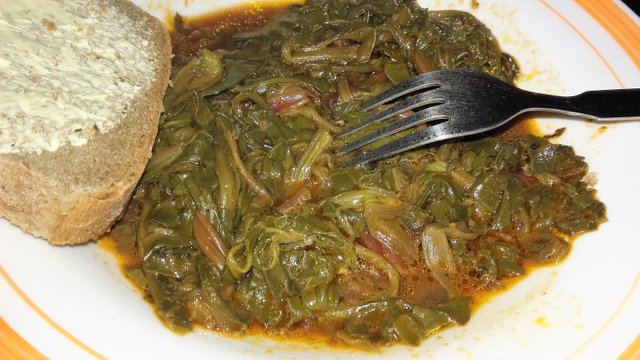 botwinka po grecku
Proponuję tsigari z botwinki ponieważ jest ona łatwo dostępna oraz lubiana. W greckiej przyrodzie odpowiednikiem naszej botwinki jest burak liściowy. Wygląda jak burak ale liście ma raczej zielone. W moim ogrodzie mam zwykłe buraki i buraki liściowe, które znalazłam w naturze i przesadziłam. Nazwa tego dania tsigari pochodzi od podsmażania (tsigariazo - podsmażam) a żeby było po grecku to musi być pomidorowo albo cytrynowo, w tym przepisie jest pomidorowo.
Botwinka po grecku to liście buraków w sosie pomidorowym i doprawione, jak większość greckich dań, cudownie pachnącymi Grecją i wschodem przyprawami. Oprócz botwinki można dodać inne liściaste warzywa (np. szpinak, jarmuż, rukolę).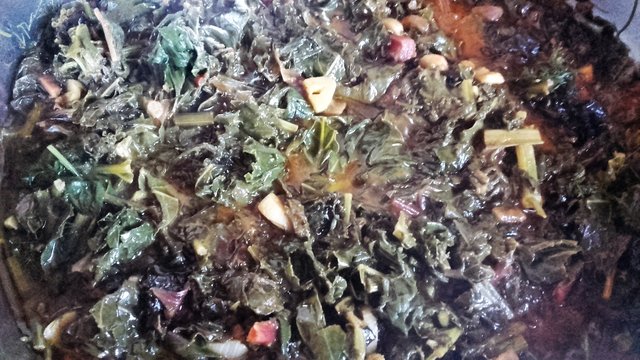 botwinka z jarmużem po grecku
Potrzebujemy:
botwinkę (w Grecji gotuje się dużą ilość, jeśli botwinka nie mieści się w garnku nie należy się przejmować bo jak tylko się podgrzeje zmniejsza swoją objętość i zostanie jej mało w gotowym daniu, gdy pierwsza porcja zacznie opadać w garnku można dodać następną)
sporo świeżego kopru włoskiego (można zastąpić koperkiem zielonym)
oliwę do podsmażenia botwinki
1 dużą cebulę i kilka ząbków czosnku
sól, pieprz do smaku
wodę do podlania potrawy
ziele angielskie - 2-3 kulki
liść laurowy (bobkowy) - 2 listki
cynamon na czubku łyżeczki
goździk - 2-3 sztuki
przecier pomidorowy - 1-2 łyżki (poznacie po kolorze potrawy)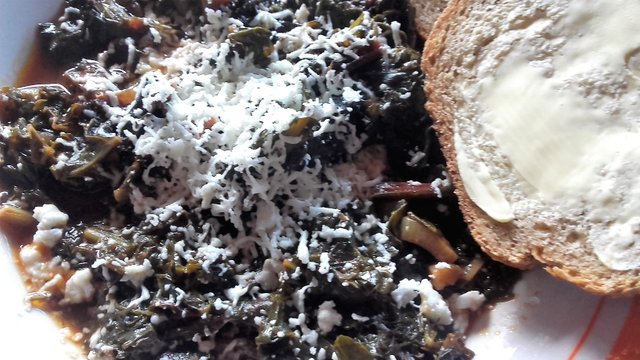 botwinka z jarmużem i tartym kozim serem
Wykonanie:
Dobrze umytą botwinkę osuszamy na sicie. Kroimy na mniejsze kawałki (nie za drobno).
W garnku rozgrzewamy oliwę.
Na gorącą oliwę wrzucamy cebulę i gdy się zarumieni dodajemy botwinkę.
Dusimy pod przykryciem potrząsając garnkiem aż botwinka zmniejszy swoją objętość. (Jeśli macie mniejszą ilość możecie mieszać).
Gdy botwinka jest w miarę podsmażona (zmieni kolor) dodajemy wszystkie przyprawy oraz pokrojony czosnek.
Danie podlewamy wodą tak aby potrawa była nią zakryta.
Dusimy do miękkości i na koniec dodajemy przecier pomidorowy.
Zostawiamy na ogniu jeszcze parę minut bez przykrycia aby odparować nadmiar wody.
Podajemy jako dodatek do głównego dania (bardzo lubię z pieczoną rybą) albo jako samodzielne danie z pieczywem i np serem feta.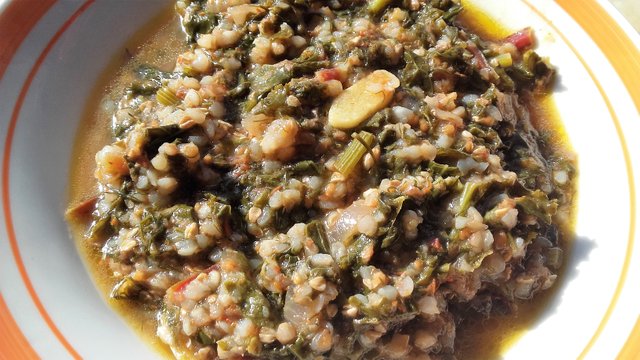 a to moja dzisiejsza wariacja: botwinka, jarmuż i rukola według greckiego przepisu z uprażoną wcześniej kaszą gryczaną (jest też pieczona rybka)
Smacznego!
Podobny wpis znajduje się na moim blogu osobistym https://www.greckibazarewy.pl/
tutaj https://www.greckibazarewy.pl/botwinka-po-grecku
Smacznego :)