Witam Wszystkich 🙂o konkursie dowiedziałam się od Ewy  https://steemit.com/@grecki-bazar-ewy za co bardzo dziękuje. Jestem świeżakiem, uczę się tu poruszać, więc to bardzo miłe, kiedy spotyka się taką pomocną  osobę, dziękuje, a teraz do rzeczy. 
Na drugie śniadanie proponuje  Wam "zabawę" kolorami, ja zawsze, kiedy widzę kolorowe jedzenie nabieram energii do działania, a drugie śniadanko to fajna pora na dostarczenie organizmowi  nowych sił na resztę dnia. Sałatkę można zjeść o każdej porze dnia, jak komu pasuje do tego w pudełeczku będzie cudownie uśmiechać się do każdego głodnego, zapewniam 🙂 
Pierwsza wersja będzie dla "słodziaków"🍇 słodka wersja wege z  winogronami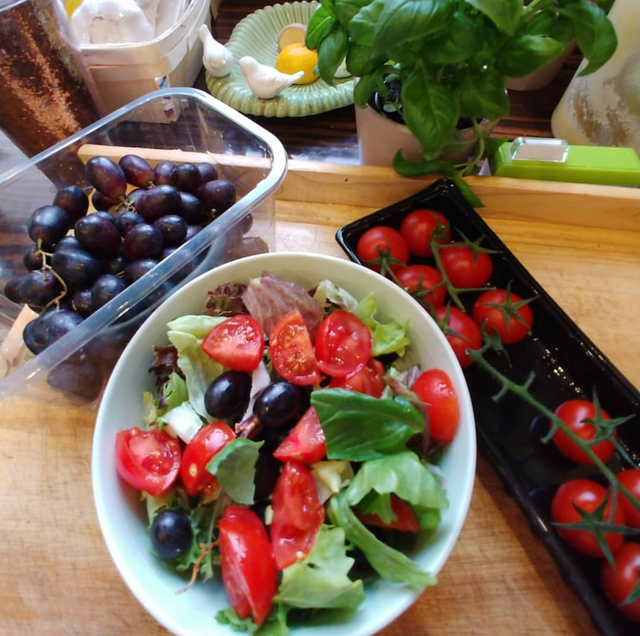 Potrzebne składniki: 
mix sałat , kto jakie lubi znajdziecie je gotowe w każdym markecie🛒 
 pomidorki najlepiej koktajlowe, ale i duży pomidorek świetnie się nada 🍅 
 i słodka gwiazda ciemne winogrona (najlepiej bezpestkowe w sałatce fajnie się sprawdzają, nie trzeba pluć pesteczkami 😅 
Wszystko skrapiam cytrynką 🍋, tak lubię najbardziej, ale możecie polać zwykłym sosem winegret i będzie pyszne, to kwestia indywidualnych upodobań. 
Druga wersja pikantna😋serek Brie z zielonym pieprzem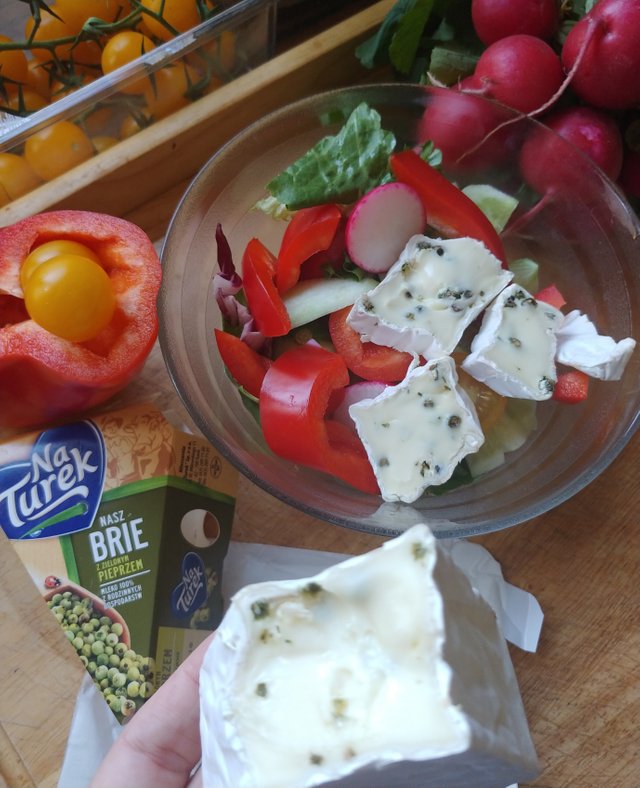 Potrzebne składniki : 
serek Brie z zielonym pieprzem, ale możecie oczywiście użyć dowolnego serka z innym dodatkiem np. z papryką 🌶️, czy z ziołami, jest ich duży wybór. Ten serek fajnie sprawdza się do sałatek, bo ma konsystencję, która rozpływa się w ustach, nie za twarda, nie za miękka idealna😋
mix sałat 
i "wszystko kolorowe"co aktualnie macie w domu, ja dodałam:  świeżą chrupiącą paprykę, pomidorki koktajlowe żółte jak słońce 🌞  i  przepyszne rzodkiewki 
całość skrapiam cytrynką🍋
Taki zestaw kolorów możecie zamknąć w pudełku i zabrać wszędzie; do szkoły, do pracy, w podróż, wszędzie i z pewnością ucieszy wasze oko i zdrowie. Będzie fajnym lekkim  drugim śniadaniem. SMACZNEGO😋I NA  ZDROWIE, bawcie się kolorami 😊teraz warzywa i owoce są najlepsze, pozdrawiam.