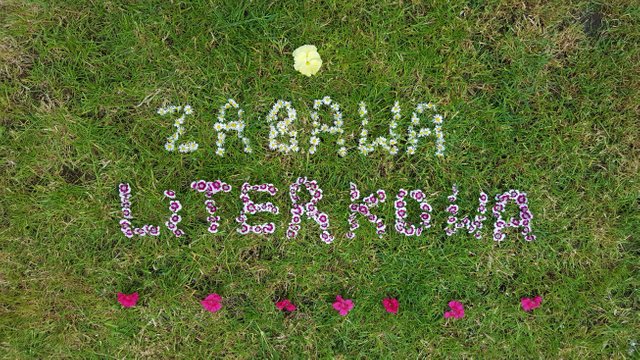 Witajcie :)
Po ostatniej Zabawie Literkowej w której królowały lepieje, zauważyłam że poezja niepoważna dobrze się przyjęła. Dlatego mam dla Was nowe wezwanie z gatunku literackiego - Altruitki.
Altruitka - to krótki dwu wersowy, zabawny wierszyk, zazwyczaj składający się ośmiu sylab. Nakłania, nawołuje do jakiegoś określonego działania. Po to aby zastąpić coś lub kogoś w niedoli lub uciążliwej czynności.
Za twórczynię tego gatunku literackiego uznaję się Wiesławę Szymborską.
Do stworzenia altruitek zainspirowały poetkę, hasła reklamowe z PRL np.
,,Oszczędzając pracę żony,
jedz gotowe makarony''
oraz pierwsze zdanie zapisane w języku polskim:
,,Daj, aż ja pobruszę, a ty poczywaj''.
Altruitki Wiesławy Szymborskiej:
,,Oszczędzając wstydu damie
lepiej cicho siedź, ty chamie".
,,Miast okradać krowę z mleka
dój bliskiego ci człowieka".
,,Oszczędź znoju biednej matce,
sam zrób sweter na odsiadce''.
,,Odpoczynek daj królicy,
sam się rozmnóż w kamienicy''.
,,Ulżyj trawie w obowiązkach:
sam wybujaj na Powązkach".
,,Oszczędzając trud kochanki,
pij herbatę z brudnej szklanki".
Zabawa będzie polegała na utworzeniu, być może pierwszego swojego altruitka.
Swoje prace proszę umieszczać pod tym postem. Według Was najlepsze altruitki doceniajcie swoimi głosami. :-)
Zabawa będzie trwała do niedzieli - 08.09.2019 do godziny 18.
Kto tym razem zostanie nagrodzony, wpisem do Aleji Literkowych Zwyciezców? Zadecyduje o tym największa liczba oddanych upvotów pod postem. Kto wygrał zabawę ogłoszę w niedzielę po 18.
Zabawa na weekend oficjalnie otwarta a altruitki już czekają na napisanie.
Miłej zabawy. Pozdrawiam :-)
ALEJA LITERKOWYCH ZWYCIĘZCÓW:
@pignys, @barbarossastudio, @gonia
@pignys, @gonia, @godlover
@gonia i @agullax
@agullax i @julietlucy
@agullax, @coincollecto, @kemocik
@agullax i @anadello