Wykres z AT Ethereum 2016 i 2017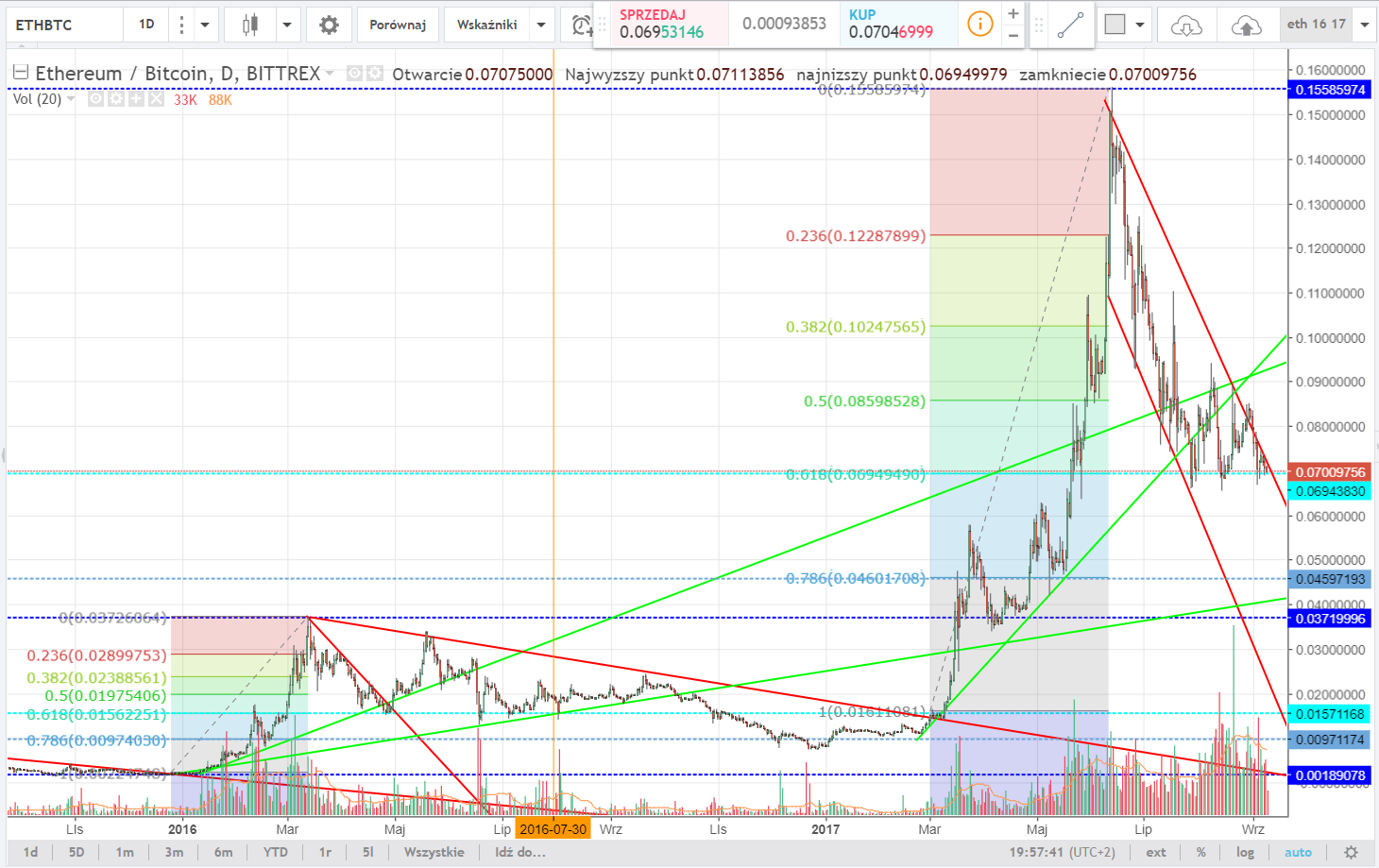 Rok 2016:

Od samego początku roku 20 krotny wzrost trwający 3 miesiące.
Ustanowienie nowego ATH i korekta trwająca równy rok.
Najpierw mamy klasyczny spadek do lini wsparcia na poziomie 61.8% (Fibonacci)
Dalej o połowie 2016 mamy spadek poniżej tej linii przez podział ETH i ETC.
Teraz pod koniec września też czeka nas hard fork ETH (o którym pisałem tutaj...)
Wykres 2016

Rok 2017:

Koniec trwającej rok korekty
Przebicie linii wsparcia 61.8% i ETH to the MOON
Ponad 80 krotny wzrost dwa razy szybszy niz w 2016
Klasyczna korekta do poziomy 61.8%
Przebicie obu linii trendu wzrostowego
3 krotne odbicie od linii wsparcia formując formacje trójkąta spadkowego
Wykres 2017

Czy historia siętu lubi powtarzać?
- Da się tu zauważyć klasyczny po szybkim wzroscie, spadek do 61.8% lini wsparcia.
- Rok temu kurs spadł poniżej tej lini wsparcia ( Atak na ETH oraz podział do ETC)
- Wrześniowy Hard Fork - Metropolis
- Możliwy FEAR przed forkiem i spadek poniżej lini wsparcia.
- Jeśli cena powróci do linii wsparcia może czekać nas kolejny MOON
- Wcześniejszy MOON był 20x-3mc później 80x-1,5mc
- Ja na wszelki jakieś drobne zapakowalem w ETH i ETC
Opisując jakąś walutę jako ciekawą, nie namawiam do jej zakupu.
Inwestowanie wiąże się z ryzykiem, pamiętaj że robisz to na własną odpowiedzialność.
Zapraszam do dyskusji...
Podobało się? zostaw komentarz, jeśli nie - tym bardziej :)
Wasz feedback jest decydujący przy tworzeniu kolejnych treści.