OMG Golem i FTO na BitBay!!
BitBay leci dalej i wcale nie zwalnia, dziś na giełdzie pojawiły się 3 nowe waluty i podobno to jeszcze nie koniec. Tak trzymać! a zaraz naprawde będziecie największą giełdą na świecie z ilością kryptowalut w stosunku do walut FIAT.
Tym razem zadecydowała ankieta.
Wśród ankiety przeprowadzonej przez giełdę BitBay głos oddano nam, użytkownikom. Niestety przeważającą liczbą głosów wygrał projekt FTO - którego nie jestem jakimś entuzjastą... Sam głosowałem oczywiście na STEEM. Za to chyba na pocieszenie w pakiecie nowych walut znalazł sie nasz rodzimy projekt Golem GNT oraz również dobry projekt jakim jest OmiseGo OMG. Od około godziny są już dostępne w parach do BTC oraz PLN,USD,EUR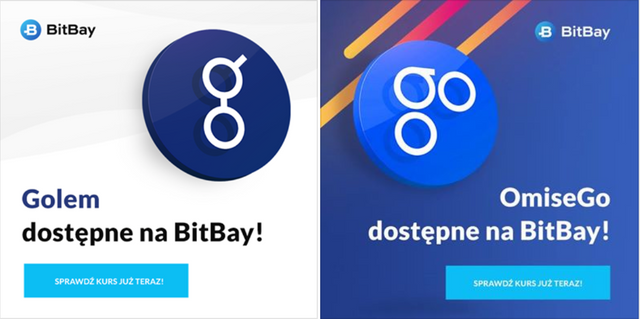 * image by BitBay
Inne nowości na BitBay
od kilku dni na giełdzie BitBay funkcjonuje kantor wymiany walut FIAT: PLN/USD/EUR
jak informuje giełda w tych parach wymiany są z prowizją 0%
Oświadczenie
Opisując jakąś walutę jako ciekawą, nie namawiam do jej zakupu.
Inwestowanie wiąże się z ryzykiem, pamiętaj że robisz to na własną odpowiedzialność.
Zapraszam do dyskusji...
Podobało się? zostaw komentarz, jeśli nie - tym bardziej :)
Wasz feedback jest decydujący przy tworzeniu kolejnych treści.