[PL/ENG] Jesień - jak nie zwariować? / Autumn - how not to go crazy?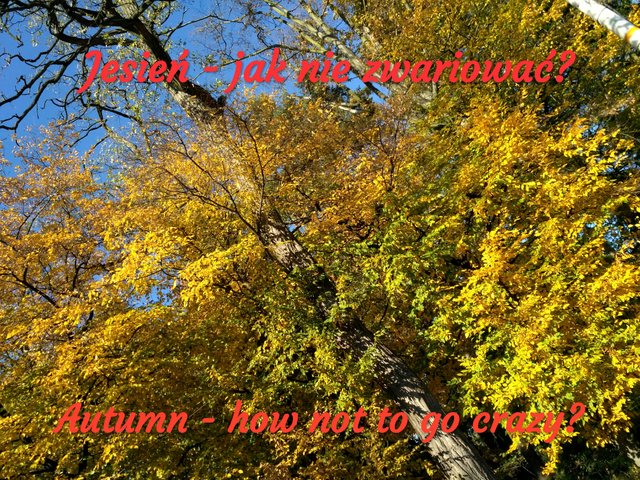 Cześć!
Nastała jesień i każdy o tym wie. Ja nie jestem fanką tej pory, o wiele bardziej wolę lato czy wiosnę. No ale co zrobić? Nie da się zasnąć i obudzić się dopiero na wiosnę. Teraz dam wam rady, jak przeżyć tą jesień i nie popaść w "depresję jesienną".
• ubieraj się kolorowo, nie daj się szarości - będzie często padać, to wszyscy wiedzą, ale najważniejsze to nie dać się i iść do przodu. W tym sezonie modny jest kolor musztardowy czy żółty. Wykorzystaj to!
• zawsze zaczynaj dzień z uśmiechem i produktywnie - to również Ci się przyda, uśmiech to najlepszy pomysł, aby pokonać zły nastrój.
• bądź produktywny - jeśli nie masz co robić, zrób to na co kiedyś nie miałaś/eś czasu, nie daj się nudzie, szybko staniesz się senny/a, a tego lepiej nie rób
• spotykaj się z innymi - towarzystwo to najlepsze co może być, natomiast jeśli nie lubisz towarzystwa ludzi, zrób coś co kochasz
Myślę, że te rady Ci się przydadzą! Zapraszam do wszelkiej aktywności na moim profilu!
Cześć!
Hey!
Autumn has come and everyone knows that. I am not a fan so far, I prefer summer or spring much more. Well, what to do? You can not fall asleep and wake up until spring. Now I will give you advice on how to survive this fall and not fall into the "autumn depression".
• dress colorfully, do not get gray - it will often fall, everyone knows, but the most important thing is not to give up and move forward. This season is trendy mustard or yellow. Use it!
• always start the day with a smile and productively - it will also be useful to you, a smile is the best idea to overcome a bad mood.
• be productive - if you do not have something to do, do what you did not have time for, do not get bored, you will soon become drowsy, and you better not do it
• meet with others - company is the best that can be, but if you do not like people, do something you love
I think that these tips will be useful to you! I invite you to any activity on my profile!
Bye!