W tak piękny dzień jak dziś, po długiej porze chłodnej (podobno w Polsce mamy już tylko dwie pory roku), każda fanka biżuterii ma ochotę na kolory i niebanalne wzory. Zwłaszcza jeżeli tak jak ja ubiera się głównie na czarno. :)
Pokażę dziś prosty jak drut proces produkcji kolorowych koralików z papieru, które:
świetnie wyglądają na tle jednokolorowych ubrań i na ciele,
łatwo wykonać sznur lub bransoletkę w ulubionych odcieniach,
ładnie łączą się z drobnymi koralikami szklanymi i plastikowymi,
można zaangazować w produkcję dzieci,
są oryginalną i niepowtarzalną ozdobą.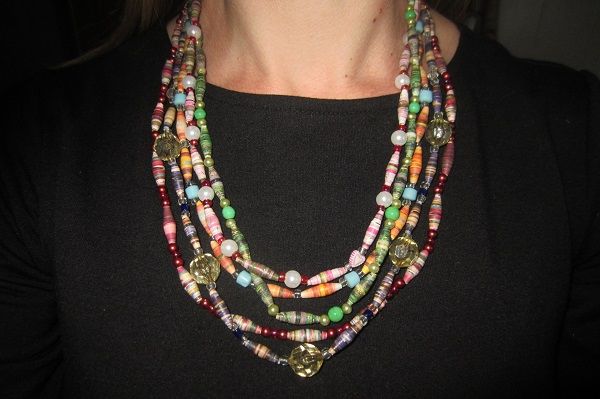 Potrzebne będą:
kolorowa strona z czasopisma, reklama, ładne zdjęcie z wybranym kolorem dominującym (u mnie blady róż)
nożyczki, długopis, linijka
wykałaczki
klej do drewna (biały, który po wyschnięciu staje się przezroczysty), bezbarwny lakier do paznokci
podstawka na wykałaczki - kawałek styropianu
żyłka i dodatkowe koraliki do zmontowania naszyjnika
Kartkę po "lewej" stronie dzielimy na wysokie trójkąty o podstawie 2 cm. Wzdłuż jednej krótszej krawędzi odmierzamy od zera, wzdłuż drugiej najpierw odmierzamy 1 cm, a dopiero dalej zaznaczamy co 2. Myślę, że na zdjęciu dość dobrze widać, jak to ma wyglądać. Rozrysowujemy trójkąty i rozcinamy arkusz. Można gilotyną do papieru.
Pocięte trójkąty rolujemy na wykałaczkach - od szerokiej podstawy, do czubeczka. Zaczynamy z odrobiną kleju na palcu, i na zakończenie rolowania również "brudzimy" gotowy koralik klejem. Koraliki są niewielkie i wysychają bardzo szybko, dlatego już po chwili można pokryć je cienką warstwą bezbarwnego lakieru do paznokci. Dziś używałam lakieru z brokatem - daje ładny efekt.
Pozostawiamy koraliki na kilkanaście minut do wyschnięcia, a w międzyczasie dobieramy dodatkowe koraliki, ucinamy kawałek żyłki - najlepiej z zapasem. Do mojego sznurka dobrałam plastikowe perełki, szklane opalizujące różowawo koraliki i jeden element chaosu - małe seruszko z tworzywa i dwa szklane koraliki przezroczyste.
Na lewym górnym zdjęciu widać również moje wcześniejsze sznury koralików - chciałam uzyskać zbliżoną długość i wzbogacić zestaw.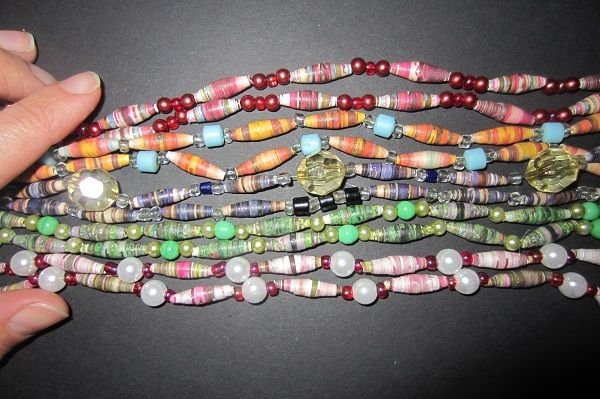 Tak oto prezentuje się wiązka koralików w kolorach wielu, które najbardziej lubię nosić "w masie". Jest to trochę powiew etno, trochę zabawa. Korale są nietłukące, lekkie i zwracają powszechną uwagę. Można wykonać je w różnych rozmiarach i w kilku kształtach (zainteresowanym polecam wyszukiwarkę grafiki i hasło "paper beads").
Miłej zabawy!