How to buy Stellar (XLM) on the BitBay?
On BitBay, you can already trade cryptocurrency Stellar Lumen (XLM), which is in TOP 10 in terms of market capitalization in the CoinMarketCap ranking and can process up to 1000 transactions per second!
On our platform, you can buy it for FIAT currencies (USD, EUR, PLN) and BTC.
Use our guide and find out how to make XML buy in the selected FIAT or BTC currency:
If you don't use the BitBay exchange yet - create an account. Being our user is enough to log in to the platform as usual.
You don't need to verify your account to make transactions in cryptocurrencies. However, to buy and sell in FIAT currencies, please verify your account. You will go through this process quickly and without problems thanks to our guide: https://bitbay.net/en/helpdesk/beginner/do-i-need-to-verify-my-account
Choose PRO MODE on the left side of the platform.

To top up your account in the selected FIAT currency (USD, EUR, and PLN) choose the "Deposit" tab, which is located on the left side of the platform.
Then select the bank transfer option or the express payment method at the Polish post office, in the case of payment in PLN. After choosing the bank transfer option, remember to copy the data carefully. Transfers are posted 3 times a day.

If you want to buy XML for BTC, follow the same procedure as for the FIAT currency deposit. Go to the "Deposit" tab on the left and select BTC.
Then choose the "Deposit" option and copy the visible address for payment or use a QR code scanner.

After getting the right number of confirmations from the network, the payment will be added to your balance.
With funds on your account, you can go to buy an XLM.
Go to the "Market" tab, select the currency of FIAT or BTC, then choose the Stellar (XLM) cryptocurrency, which is in the first half of the list of all available coins on BitBay.
Use the "Quick Transaction" option and select the "Market" tab under the orderbook, entering the amount you want to spend on the purchase of XLM. Our system will choose for you the best offers available on the exchange.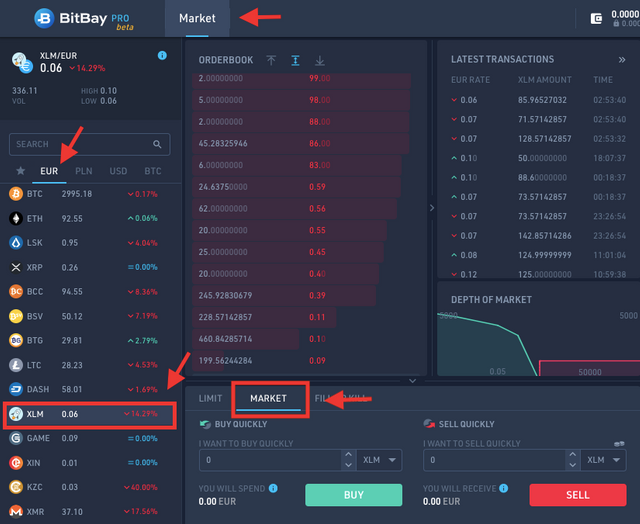 After the transaction, XLM coins will appear on your account. You can use them freely, for example, transfer to an external wallet, to another person, or leave them on the exchange and earn money by making timely speculative transactions.
The fastest method of buying XLM is behind you; now it's time for the option "Place and Order". In contrast to "Quick Transaction" in this case you have full control over the course, the amount of cryptocurrencies and the value.
Continue to stay in the "Market" tab and select the first button under the orderbook: "Limit".
To buy or sell an XLM, click on a specific item in the list of offers and the system will automatically calculate the exchange value.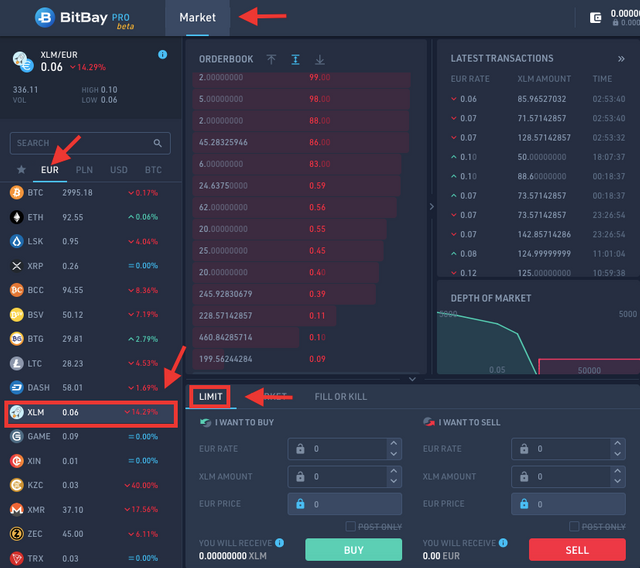 An offer allows you to specify the rate at which the transaction will be carried out and the amount of currency you are selling.
By clicking "Buy" or "Sell," your offer will be added to the list of offers. This type of transaction will come to fruition when the price falls to the level indicated by you, or it won't come to fruition when the price doesn't drop.
The "Fill or kill" option is available on the exchange, which is intended for advanced users. Check how it works and decides if your skills allow you to use it: