Zamek Osaka [PL] Ōsaka Castle [ENG]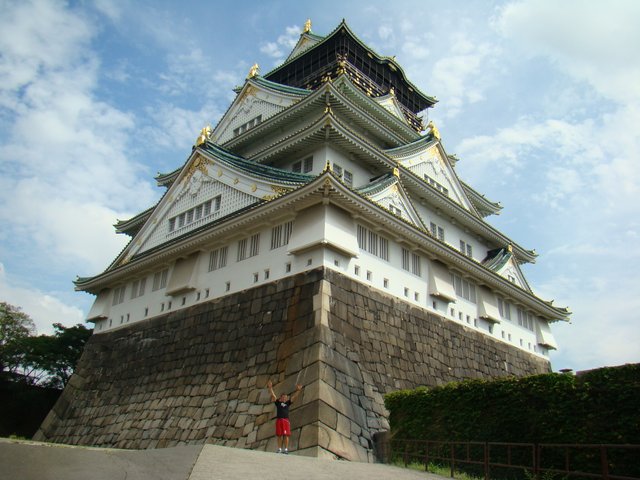 [PL]
Zamek Ōsaka (jap. 大阪城 Ōsaka-jō[a]) – japoński zamek znajdujący się w mieście Osaka. Nazywany złotym (jap. 金城 kinjō) lub brokatowym zamkiem (jap. 錦城 kinjō). Jeden z najbardziej znanych zamków w Japonii. Odegrał znaczną rolę podczas jednoczenia kraju w XVI w., w okresie Azuchi-Momoyama. Został zbudowany na dwóch nasypach z ziemi i ciosanych kamieni oraz otoczony fosą. Główny budynek ma osiem pięter, z czego tylko pięć jest widocznych z zewnątrz, dodatkowo posiada wysoki fundament z kamienia, który miał bronić mieszkańców przed atakami uzbrojonych w miecze najeźdźców. Coś pięknego jak i otaczająca go fosa.
Osaka czyli nowoczesna metropolia z zabytkowym sercem :)
Na terenie zamku znajduje się 13 obiektów o łącznej powierzchni około 60 000 m² uznanych przez władze Japonii za niezwykle cenne kulturowo.
[ENG]
Ōsaka Castle (Japanese: 大阪 城 Ōsaka-jō [a]) - Japanese castle located in the city of Osaka. Called the gold (jap 金城 kinjō) or the brocade castle (jap 錦城 kinjō). One of the most famous castles in Japan. He played a significant role during the unification of the country in the sixteenth century, in the period of Azuchi-Momoyama. It was built on two embankments of earth and hewn stones and surrounded by a moat. The main building has eight floors, of which only five are visible from the outside, additionally has a high stone foundation, which was to defend the inhabitants against attacks by swords armed with invaders. Something beautiful and the surrounding moat.
Osaka is a modern metropolis with a historic heart :)
The castle has 13 objects with a total area of approximately 60,000 m², recognized by the Japanese authorities as extremely valuable culturally.
Photo: own
Made with SONY DSC-H9
Place: Osaka, Japan
Zdjęcie: własne
Wykonane aparatem SONY DSC-H9
Miejsce: Osaka, Japonia