Bieszczady i wypał węgla drzewnego. [PL] Bieszczady and firing charcoal. [ENG]
[PL]
Czy ktoś z nas choć raz w życiu nie grillował? Zapewne mało taki osób. W większości do tradycyjnego grillowania wykorzystujemy węgiel drzewny taki jak na zdjęciach w foto reportażu wytwarzania tego surowca.
[ENG]
Who of us did not grill at least once in his life? Probably not many people like that. In most of the traditional grilling we use charcoal as in the photos in the photo report on the production of this raw material.
Retorty to swojego rodzaju wypalarnie węgla drzewnego.
Retorts are a kind of charcoal charcoalers.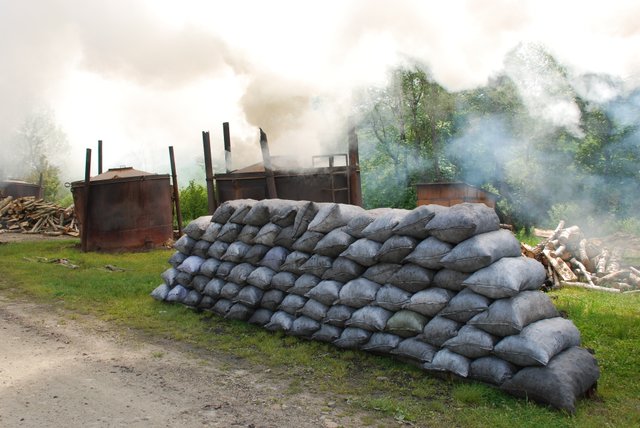 [PL]
Węgiel drzewny otrzymuje się w procesie spalania twardego sezonowanego drewna lisciastego - najlepiej buka, grabu choć też i innych przy ograniczonym i kontrolowanym przez węglarza dostępie powietrza (tlenu). Aby ilość dostarczanego tlenu można było kontrolować, węgiel pierwotnie wypalano w tzw. mielerzach a obecnie retortach
[ENG]
Charcoal is obtained in the process of burning hard seasoned deciduous wood - preferably beech, hornbeam, but also others
with limited access to air (oxygen) controlled by a coal miner. In order to be able to control the amount of oxygen supplied, the coal was first burnt in the so-called millers and currently retorts.
Retorta załadowana w pełni i w trakcie wypalania. Retort loaded fully and fired.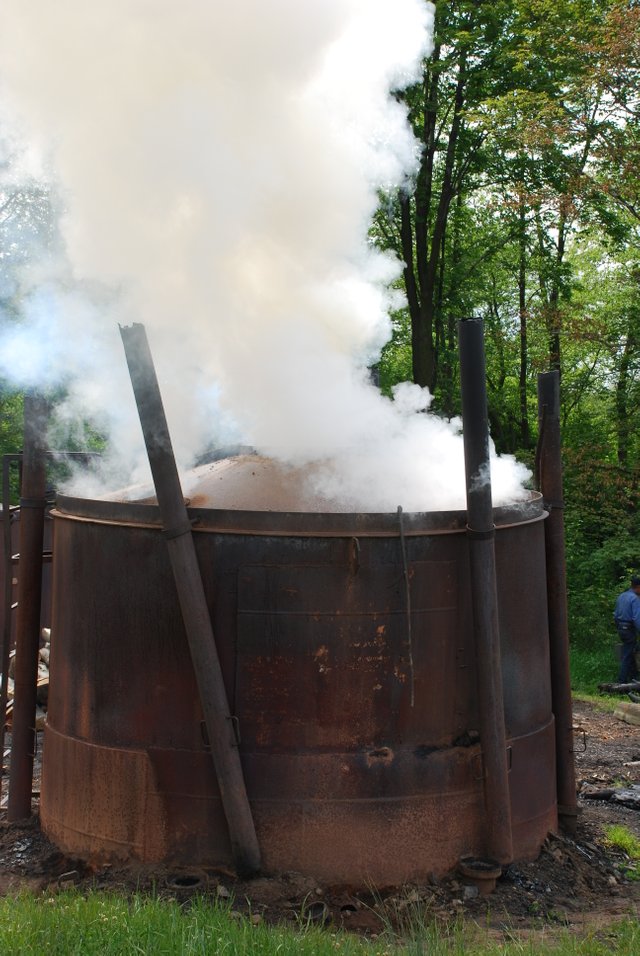 [PL]
Retorty lokuje się w miejscu blisko surowca czyli odpowiedniego drewna. Najczęściej w przełęczy z dobrym dojazdem. Ważny jest dostęp do wody tak wiec najlepiej blisko strumienia, rzeki. Przez wiele godzin ciągle się dymi dlatego są oddalone od domostw.
[ENG]
The retort is located in a place close to the raw material, ie appropriate wood. Most often in the passes with good access. Access to water is important, preferably near streams and rivers. For many hours, they keep smoking so they are far away from the houses.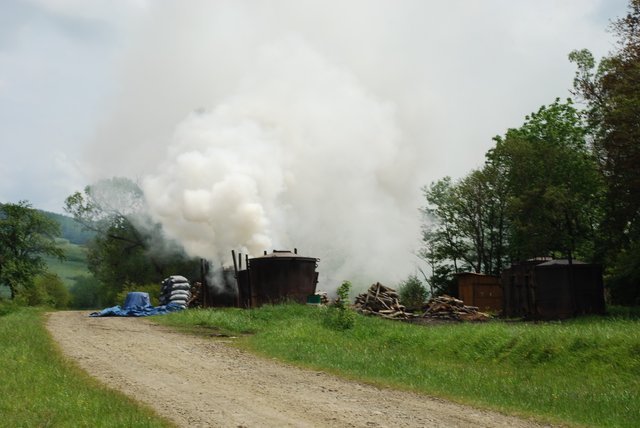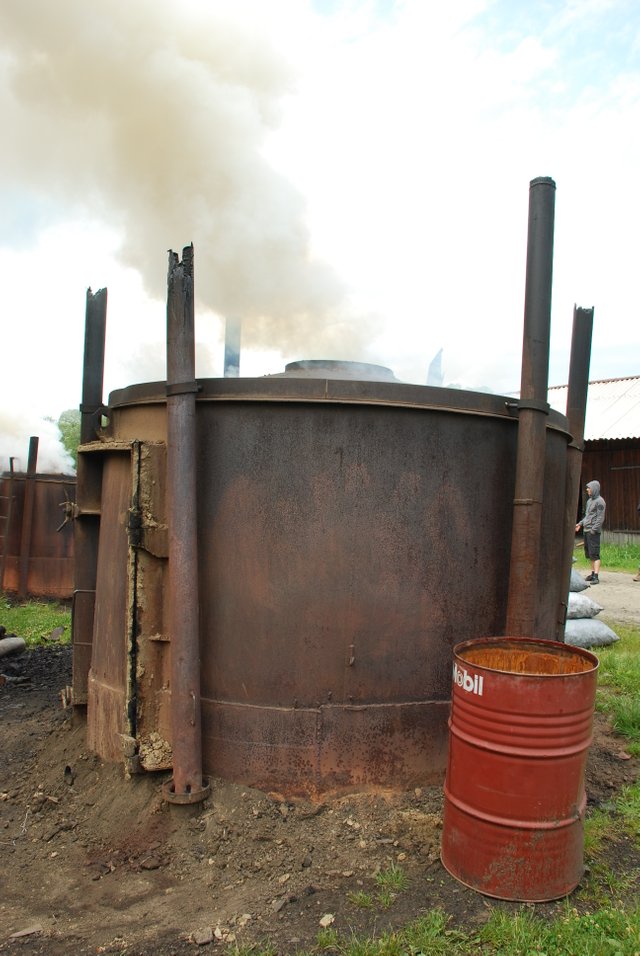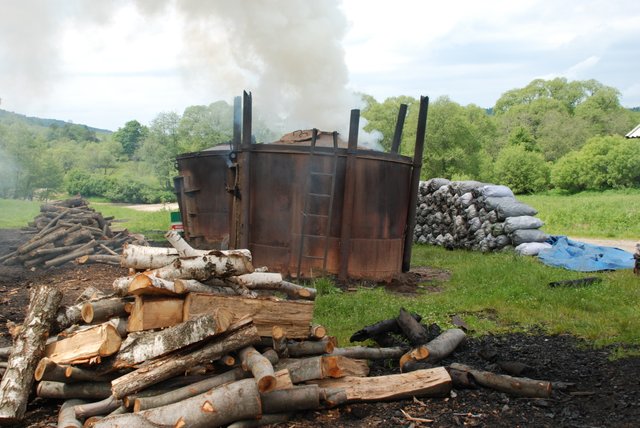 [PL]
Finalnie otrzymujemy węgiel do naszych grillów, ale także do produkcji prochu czarnego, jako absorbent filtrów a także np. na rysiki do szkicowania oraz do medycyny w formie tabletek na zatrzymanie biegunek.
[ENG]
Finally, we get coal for our grills, but also for the production of black powder, as a filter absorbent and, for example, for sketches for sketching and in medicine in the form of pills for stopping diarrhea.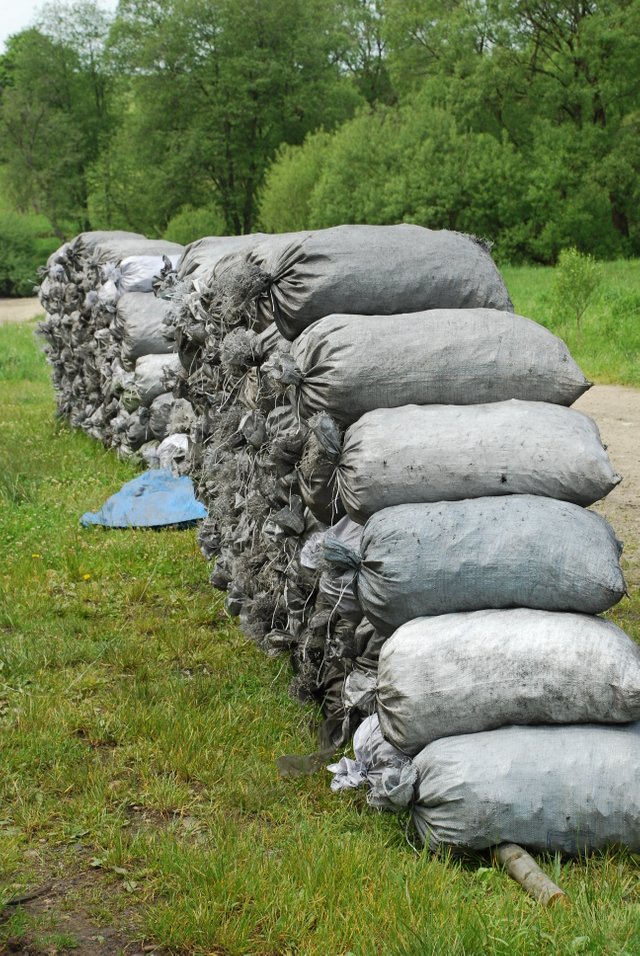 [PL]
A to ja. Obecnie nowe technologie wypierają stare sposoby pozyskiwania, wiec taki widok będzie rzadkością.
[ENG]
And this is me. Currently, new technologies are replacing old ways of acquiring, so such a view will be a rarity.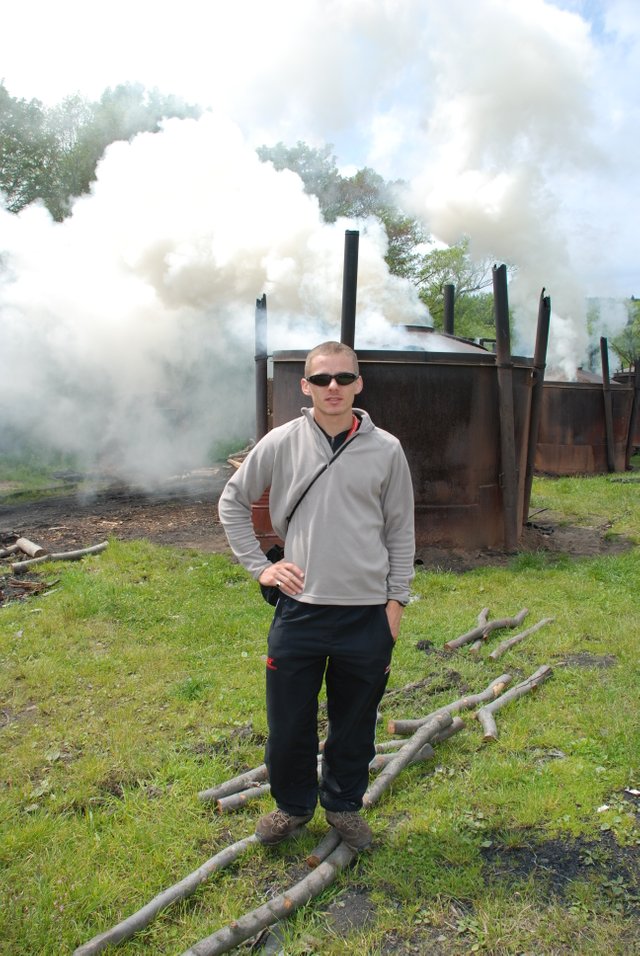 Zdjęcie: własne
Miejsce: Bieszczady, Polska
Zdjęcie wykonano aparatem Nikon D80 z obiektywem Nikon AF-S NIKKOR 18-135mm 1:3.5-5.6G ED
[ENG]
Photo: own
Place: Bieszczady, Poland
The picture was taken with a Nikon D80 camera with a Nikon AF-S NIKKOR 18-135mm 1: 3.5-5.6G ED len