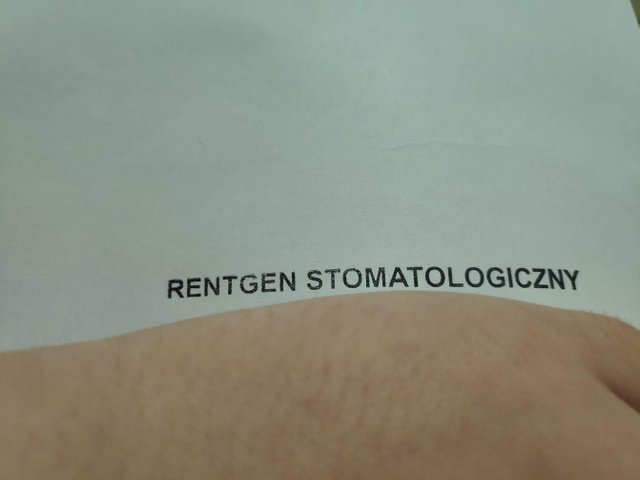 Siedzę sobie w jednym z najstraszniejszych miejsc dla dorosłego człowieka, nie licząc oczywiście biura szefa z zamiarem żądania podwyżki. Tak, czekam w poczekalni do wizyty dentystycznej. Brr, najgorzej, nie polecam. Najlepiej to sprzedam na olx te zęby.
Przede mną usuwanie chirurgiczne ósemki. Na kolanach trzymam zdjęcie rentgenowskie, z moimi wykrzywionymi ząbkami. Korzenie w bok, chyba sobie pomyliły to jak mają się kształtować. Przyjechałam nieco wcześniej, ale będę teraz czatować na swoją kolej, bo dzisiaj przyjmuje kilka osób poza kolejką. No farcik po prostu. Jako grzeczny człowiek, puszczam innych przed siebie, o ile mają przede mną nałożone wizyty, bo wiem, że moja będzie trwać dużo dłużej.
Od paru lat chcę zamontować sobie aparat ortodontyczny. Rozsądnie uznałam, że poczekam aż wyjdą mi wszystkie zęby, a dopiero wtedy zrobię sobie równy zgryz... Tiaaa, łatwiej powiedzieć. Niestety, zamiast zdrowo wyjść, postanowiły zrobić mi psikus. Rozdrażniona jestem nieco, bo nie chciałam mieć takich problemów. Jeszcze to, że nie mogę ćwiczyć, a następne dni zapowiadają się na solidnie przespane. Ingerencja w kości i urok intensywnie obciążającego zabiegu.
Dobra, bo już super mocno marudzę. Zakleję się taśmą, zmienię w naleśnika i już będę milczeć. Także za chwilę wchodzę, trzymajcie kciuki za mnie, żeby wszystko dobrze poszło i nie było żadnych komplikacji.
Jak nie będę pisać przez kolejne dni, nie będzie mnie na discordzie czy coś, to oznacza, że odpłynęłam. Będzie fajnie mówili, będzie fajnie...
Posted using Partiko Android