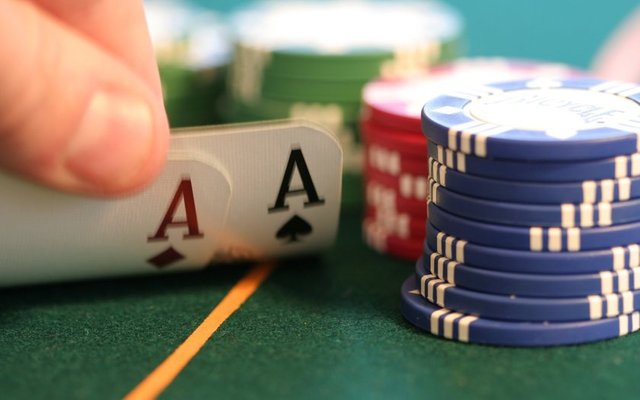 First of all, I've read a few posts on poker tips here lately, and I just didn't feel they gave advice that would help novice players build their chip stacks consistently. I decided to give some insight on methods that WILL help you win in the long run. I'm going to start with the basics that apply to everyone, from novice to pro;
Don't bet what you can't afford to lose!!!
I cannot stress this enough. I usually try to sit down at a table with at least 10x the max buy-in for a bankroll. So if I'm playing a 2-5 table ($2 small blind, $5 big blind), and the max buy-in is $600, you should have AT LEAST $6,000 in your pocket to start with. Maybe you are living paycheck to paycheck and just starting out, or have been playing for awhile but consistently losing and trying to be a better player. Play at a table with a smaller limit. Do you want to buy in with your whole bankroll, only to lose with Aces full of Kings, and have to go home ten minutes after you arrived? It happens, and you will spend the rest of the night second guessing yourself. Which brings me to the second rule;
Don't second guess yourself!!!!
Bad beats can and will happen, and they often run in streaks. Good players sometimes have bad streaks that last for days, or weeks. If you are playing solid poker, making the correct calls, and someone chases you to the river for that straight, or calls you with middle pair and runner runners quads on you, don't get discouraged. Don't change your style of play, or become timid. If you start playing scared, a guy like me is going to bend you over a barrel. I will call you with a worthless hand , re-raise you, then lie to you about how lucky you are you didn't call, just so I can bluff you again next time.
Your bets should NOT be relative to your chip stack!!!
Did you hit a big hand 5 minutes after you sat down? Maybe had KK and the flop came AAK, you got callers from AQ, AJ and a short stacked 10J. Just like that, you went from $300 to $1050. Just imagine the possibilities, you could make 6 months pay tonight!!! Well don't imagine the possibilities, don't get excited, don't do anything at all but what you've been doing. For one thing, it's unprofessional, and it gives you away. If you get more excited than Jenna Jameson in a room full of dicks every time you make some money, you will show it before the hand plays out. Good players watch for visual cues and betting patterns, and they will know your hand strength. So don't start betting all crazy, don't let someone lure you into a betting match, and for god's sake don't shove all in with the 7'th best possible hand against a bigger stack.
THE BASICS
Calculating Your Odds
Now that we've laid down the ground rules, lets work on your pregame strategy. Before you risk real money and real losses, you need to learn the deck. Every hand is different, and should be played differently. There are two reasons for this, mathematical probability, and your opponents. Your first piece of homework is the math. Find yourself a good online poker odds calculator. I recommend Wizard of Odds. Take some time to study the tables, and learn your odds in any given situation.
For instance, let's say you hit the jackpot, you've got pocket Aces. You bet $20, the player to your left folds, the next player raises to $50, and by the time it's your bet again someone re-raised to $120 and someone else called. So you have 3 players calling behind you. You could just call the $120, and play it safe. But this isn't really playing it safe. Chances are someone has KK or QQ, someone has big slick suited (AK), and maybe the first person to raise had a middle pair. Chances are the middle pair will fold. But if you call, you are up against two unknown hands preflop, and your odds of winning are 73%. However, if you shove all in, and one of them folds, your odds go up to 85%.
I recommend playing poker with yourself, or in a free online lobby at Pokerstars. You can use free poker bot to tell you your odds of winning a hand in any given situation when playing online. Keep playing for free until you feel confident that you can calculate your odds, (and your outs if you don't have the nuts) on the fly. During this initial phase, you are just playing the cards, which is why it's okay to practice online.
Learn to read your opponents
When you do start playing cash games, play with friends or find a local game for quarters. Now start watching the other players. Start by focusing on one guy (or girl). Watch everything he does, not just when he raises. Does he squirm around when he calls a big bet, scratch his face, adjust his hat, count his chips? Very few players are good enough not to have any "tells". A lot of players in your local poker room will wear glasses, maybe a hoodie. That same guy that's got himself bundles up tighter than a researcher in Antarctica might cross and uncross his legs every time he has pocket face cards. Or count his chips, or take a drink of soda, or check the time. Once you have the visual cues down, watch for betting patterns. Does he bet heavy with middle pairs and and smaller with big pairs, trying to trick you every time. Does he bet heavy on inside straight draws ( which you better not do), or try to buy the pot every time he doesn't hit his out? Once you have learned to track one player, add another one, then another one, until you can watch the whole table.
Play in position
Position is everything in poker. If you are to the left of the big blind, you are "under the gun". That means whatever you, you have 8 people calling or betting after you (on a standard table). The more people behind you, the worse your position is. The best position to be in is "The button". However, if you are under the gun, you can improve your position at some casinos by making a "STRADDLE" This is a bet of twice the big blind, and must be done before you receive your cards. If you haven't gotten a good hand in a while, or are "short stacked" and prepared to go all in when you get a halfways decent hand, then you can straddle. This essentially creates another blind, and forces anyone who wants to call the minimum to pay twice the big blind. It builds the pot and stops people from limping in with weak hands most of the time.
Scout the table
When you walk in a poker room, see what tables are playing the game and limit you're interested in. Then do some spectating. Maybe one table has a bunch of super conservative older players, and the average pot isn't much bigger than the blinds. Another table has a couple drunk college kids or a couple guys finishing off a bachelors party. They are playing super loose, and telegraphing their play. That's your table, when I'm lucky enough to find one, I'm reminded of the field goal scene from The Waterboy, "Oh yeah, there's my bitch."
Learn proper etiquette
You are there to have fun and make some money, so don't be a dick. Don't answer your phone during a hand, this will usually get you a warning from the dealer anyways and annoy other players. Don't rub it in for an hour straight after you win. Don't bet out of turn. ( I will, occasionally say all-in out of turn just to scare the other players into checking so i can see the next card for free. At most casinos out of turn bets are invalid, so I risk nothing to see a free card. Don't make a habit of doing this). Don't take forever to make a decision, so that someone has to call for a timer. Don't discuss your hand with another player unless you're heads-up.
You don't want to piss off the other players an become a target, they will gang up on you and make it a long night at the table.
Final Thoughts
Poker is a never ending learning experience, you can always improve your craft. What works one day at one table might not work the next day at a different one, even with the same players. Learn to manage your bankroll and make good bets based on your odds and opponents, and you will come out ahead in the long run. This is my stack from a cash game at a 2-5 No Limit table. I didn't even buy in for the max, I bought in for $300 because the table was a little crazy and every other hand was all-in. This is around $2,000, and represents an average night for me, although it can take shorter or longer to make the same amount. I've made over $10,000 in a half hour playing Pot Limit Omaha, but to start out, stick with Texas Hold 'Em. Have fun and don't be a donkey!!!