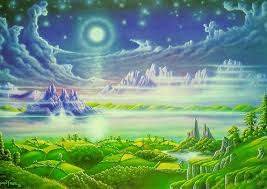 " Dimanakah Surga "
Aku bertanya pada sekumpulan manusia
Apa itu surga ?
Sekumpulan manusia menjawab tidak tahu
Kembali aku bertanya pada mereka, dimanakah surga ?
Sekumpulan manusia menggeleng kepala
Lalu aku bertanya lagi beberapa pertanyaan tentang surga, lagi dan lagi
Sekumpulan manusia terlihat jengah dengan pertanyaanku
Mereka menghardik lalu menghindar, akupun pergi berlalu
Di tengah pasar, diantara kerumunan manusia
Kembali aku mengulang pertanyaanku
Apa itu surga ?, dimana surga ?
Kudapati jawaban yang sama, ketidaktahuan dan gelengan kepala
Aku pun pergi meninggalkan pasar
Dari jauh kudengar panggilan, kulihat seseorang melambaikan tangan dan memintaku mendekat
Ku hampiri dia, kubiarkan dia berbisik di telingaku
Butir kata-kata meresap ke dalam dadaku
" Pergilah ke puncak gunung, temui pertapa tua, dan bertanyalah padanya "
Aku pergi ke puncak gunung, mencari pertapa tua
Berharap kutemukan jawaban segala pertanyaanku
Sesampainya aku di puncak gunung dan berjumpa sang pertapa tua
Aku lontarkan semua pertanyaanku padanya
Aku menanti sang pertapa membuka mulut dan menjawab pertanyaanku
Namun ia hanya tersenyum lantas berkata
" Sebagaimana engkau, akupun seorang pencari surga "
" Surga ada di hatimu, dan dibawah kaki ibumu "
" Mendekatlah kepadaku dan bertapalah bersamaku "
Puisi hari ini, oleh: @wongjava

( Translate )
#sorry if any wrong on my translate
" Where is Heaven ? "
I ask a group of humans
What is heaven ?
A group of humans answered don't knowing
I ask them again, where is heaven ?
A group of humans shake their heads
I ask them again some questions about heaven, again and again
A group of humans looks embarrassed by my ask
They scolded and dodged, i go away
In the middle of the market, among the crowd
I repeat my ask
What is heaven ? where is heaven ?
I found the same answer, ignorance and shake of head
Then i left the market
From a distance i heard a call, i saw someone waving and asking me to approach
I approach him, i let him whisper on my ear
Word items seep into my chest
" Go to the top of the mountain, meet the old hermit and ask him "
I go to the top of the mountain, looking for an old hermit
Hoping i find the answer all of my questions
Arriving at the top of mountain and meeting the old hermit
I asked all of my questions to him
I'm waiting for the old hermit to open his mouth and answer my questions
But he just smiled and then said
" Just like you, I also a seeker of heaven "
" Heaven is in your heart, and under your mother's feet "
" Come near me, and be with me "
Poem of the day, by: @wongjava
Posted using Partiko Android