Our fourteen days of sonnets comes to an end with Kavanagh's great disciple and successor, Seamus Heaney. A lover and master of the form, Heaney produced a number of sonnet sequences at key points in his career. Today's comes from the sequence 'Clearances', from his mid-career collection The Haw Lantern. The sonnets explore the poet's relationship with his beloved mother and, through the maternal figure, with his rural Irish childhood and its impact on his own character.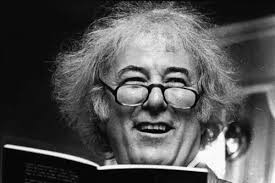 It's part of Heaney's control that the strain and contrapposto of the great Elizabethan sonnets has been stripped away. We're not wrestling here: there are two well-defined ideas/images, the spud-peeling and deathbed scenes, and the closing couplet links them together. Many of the 'Clearances' poems are moments frozen in time, still lives – Heaney is a very painterly poet, frequently referencing Breughel and Vermeer.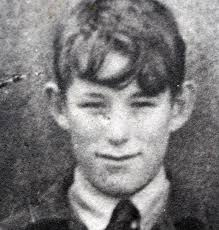 It's worth spending a moment looking at the rhyme scheme. The octet is in couplets, half-rhymed or part-rhymed or slant-rhymed. The octet reverts to a much more traditional abba cc. The only true rhymes in the poem are 'dying'/'crying' and 'knives'/'lives', both pairings holding mortality and the mundane in balance. And it's worth listening to the background noise of man's work, the soldering and the 'hammer and tongs' beyond the fluency of the scullery task.
From 'Clearances'
When all the others were away at Mass
I was all hers as we peeled potatoes.
They broke the silence, let fall one by one
Like solder weeping off the soldering iron:
Cold comforts set between us, things to share
Gleaming in a bucket of clean water.
And again let fall. Little pleasant splashes
From each other's work would bring us to our senses.
So while the parish priest at her bedside
Went hammer and tongs at the prayers for the dying
And some were responding and some crying
I remembered her head bent towards my head,
Her breath in mine, our fluent dipping knives—
Never closer the whole rest of our lives.
---
I hope you've enjoyed this project, and - more importantly - enjoyed the poems and gone on to read more of their work. There's still time to revisit the posts, obviously: start with Shakespeare here, perhaps, or with the great John Donne here. And I'd appreciate any upvotes and resteems you can afford.
And it's been great to start a few conversations in the comments section, so please - let me know what the poems have meant to you!