We're halfway through, and we turn to Shakespeare again, Sonnet 129. We talked yesterday about how the Elizabethan poet was a player with (or of?) conventions, givens. That's how the culture worked, a world and a society where things had their place and meanings were mixed and immutable.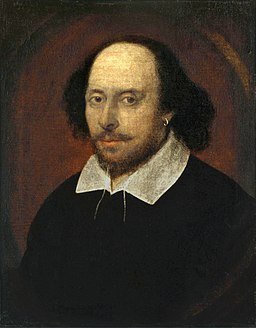 But of course that medieval world was coming to an end. The Reformation, the new sciences, more than a century of more-or-less constant civil war and war with France and Spain had undermined the old certainties. Shakespeare's work teems with mutations and metamorphoses, things turned upside down, nouns become verbs and symbols carrying multiple meanings at once.
Here, the convention-play of the earlier sonnet is replaced with what Yeats would much later call 'the argument with myself' that lies at the heart of the lyric poem. We encounter one of Shakespeare's recurrent themes: sexual shame. The sonnets were for a long time frowned upon, not graphically but emotionally explicit, a bit too plainly homoerotic for polite consumption. Here the speaker's desire (for the young man, probably) is violently racked between enactment and frustration.
The voice is logical: X equals Y, W leads to Z. We can hear the Elizabethan philosopher, cataloguing, analysing, enumerating the categories. But grammatically, the toing and froing of the argument is breathless - the whole sonnet is only two sentences long, the octave/sestet structure counterpointed by the disproportionate 12:2 ratio of the sentence structure. And the Elizabethans would have recognised that malformation as an enactment of some perversion of the normal course of things.
We are concerned with reason, and its overthrow…
Sonnet 129
Th' expense of spirit in a waste of shame
Is lust in action; and till action, lust
Is perjured, murd'rous, bloody, full of blame,
Savage, extreme, rude, cruel, not to trust,
Enjoyed no sooner but despisèd straight,
Past reason hunted; and, no sooner had
Past reason hated as a swallowed bait
On purpose laid to make the taker mad;
Mad in pursuit and in possession so,
Had, having, and in quest to have, extreme;
A bliss in proof and proved, a very woe;
Before, a joy proposed; behind, a dream.
All this the world well knows; yet none knows well
To shun the heaven that leads men to this hell.
Thanks to everyone who's upvoting and reSteeming and - most of all - joining in the conversation! Bring your friends!