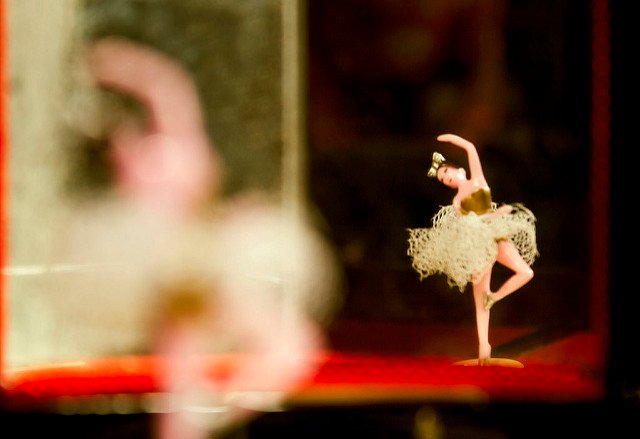 Ballerina II, photo by Gerald Pereira (2011) on Flickr - Image free for commercial use, under CC2.0 licensing
Jewelry Box
                           I don't have much of this I now remember.
                           Perhaps I did but lost most in the rain
                           some day like any day any November,
                           beneath the crying clouds soaked in disdain.
                           I think, mayhap I used to have this thing,
                           for I was young like almost all, you'd say
                           and, too, was I breathing, feeling, loving
                           before I lost my jewelry box that day.
                           And this thing was indeed a precious one;
                           no one could ever deny this, you'll see,
                           although from it, frowning, many have run
                           once they forgot why it'd made me happy.
                           A thing is just a thing, I like to think
                           but for a thing my cheeks have lost their pink.
◘◘◘◘◘◘◘◘◘◘◘◘◘◘◘◘◘◘◘◘◘◘◘◘◘◘◘◘◘◘◘◘◘◘◘◘◘◘◘◘◘◘◘◘◘◘◘◘
A Brief Afterthought
Composing a sonnet takes time and art. You need to have something to tell, and this must be something you consider valuable to communicate; then you want and try to make it beautiful. I think it is not the same writing sonnets than being a sonneteer. I write sonnets, and someday, maybe, I'd be a sonneteer.
Sonnets are little capsules of reflection, but one done poetically. Poetry brings emotion to the table, hopefully aesthetic fascination. As lines are rhymed, for a while our thoughts dance to the rhythm of the sonnet and this is, I think, like we have danced a piece with the arm of the poet round our waists or on our shoulders.
"Jewelry Box" is a sonnet inspired in a metaphor of a precious thing. A Jewelry box was dear to me when I was younger, so I thought it would be a good motive for my poem.
◘◘◘◘◘◘◘◘◘◘◘◘◘◘◘◘◘◘◘◘◘◘◘◘◘◘◘◘◘◘◘◘◘◘◘◘◘◘◘◘◘◘◘◘◘◘◘◘
Thanks for reading sonnets.
---
Posted from my blog with SteemPress : https://marlyncabrera.timeets.com/2019/02/21/jewelry-box-shakespearean-sonnet/
---
◘◘◘◘◘◘◘◘◘◘◘◘◘◘◘◘◘◘◘◘◘◘◘◘◘◘◘◘◘◘◘◘◘◘◘◘◘◘◘◘◘◘◘◘◘◘◘◘◘◘◘◘
Imagen diseñada por @wilins ♥