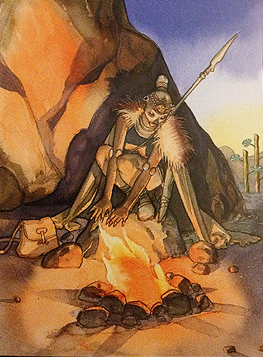 I'm the motherfucking Pythoness with bandaids for temples and sand for castles.
I sit and turn in the desert of my soul amongst lizards and scorpions;
fingers trailing grooves in cracked dirt, peering under the surface to the Stream
that feeds my being.
Shifting shadows of ancestors I've never seen before,
reflected in the stars of time immemorial.
I sit with my fire looking at a blazing bear come out of the ashes of dead lovers
and memories turned to dust,
Pulling out cards I rejoice in being the Fool,
the sauntering shade, that alights diamond in teeth,
The old Crone with inky fingers stroking my cheek.
The Crow patters out of her mouth, black beak heralding the dead-of-winter bones,
crumbling to leave space for a greater infinity to be born.
For solar winds to come and liberate the breath stuck in me,
To alight putrid fireworks still remnant in my sleep,
that casts shadows on my face of left-eyed-"wrongs" and right- eyed-"rights",
while she guides me with side-glances towards a world of inherent light.
To teach me to live with curved goggles
To learn to speak delight in the hearts of Men.
Because I see you on the Other Shore, my tongue unrolling, speaking a truth,
that:
"I am irrevocably in love with your essence,"
that:
"you bring me to other dimensions,"
that:
"with you, I see the cosmos in my hips,"
that:
I lick in abandon, the dirty scars I carry, on your face.
pc: Marco Nizzoli