Völuspá - last stanza
One of the most important and also one of the most interesting texts from the old Norse cultures is the opening poem of the Poetic Edda; The Völuspá or Prophecy of the Völva.
As is the case with the Greek poet Hesiod whose poem Theogony is the primary source to the Ancient Greek cosmology, the unknown writer of the Völuspá covers both the beginning where the Gods build the world from the dead body of Hymer and the end - Ragnarok.
But the thing I want to talk about comes after the end, because the last stanzas describes a fireproff hall in Valhalla that has survived the scorching and where now a new world arises with a single god. The Hall is called Gimle and the one God is most often interpreted as the Christian God - the texts that survived in Iceland was all from the early middle ages and the word of the Christian God had begun to play an important role.
So Gimli dominates the end of the poem this place where peace and light rules, but then we come to the last stanza.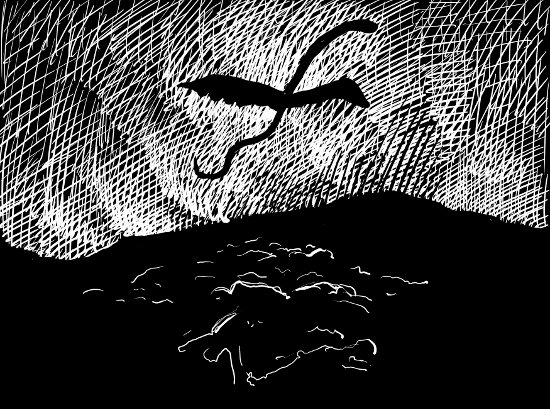 There flies the gloomy
          glistening serpent,
          the dark dragon
          from Nida-fels.
          flying over the battlefields
          between Nidhugg's wingfeathers
          corpses hang.
          Now she will descend.
(This is my interpretation built on the original text and different Scandinavian translations.)
It is as if the nice mood of the new God suddenly is blown away. It is as if the poet relapses to the old religion when he, or she, evokes this terrible image: Over the Val, the battlefield, you can still see the dragon of Hel collecting the fallen, between the feathers of its wings lies dead bodies.
No one knows the exact meaning of this strange postlude, but it is fascinating, gloomy and strange. You might have wondered about the last line, but what it refers to is the Vølve who goes out of her seer-trance, descending from her visions.
If this interested you take a look at this old post where I have translated another last verse of a historic text - and the Völuspá plays a role also in this poem:

Drawing made by myself...