Dear stemians,
This is my poetry today, poetry is everything for me. because by writing poetry my heart is more calm. :)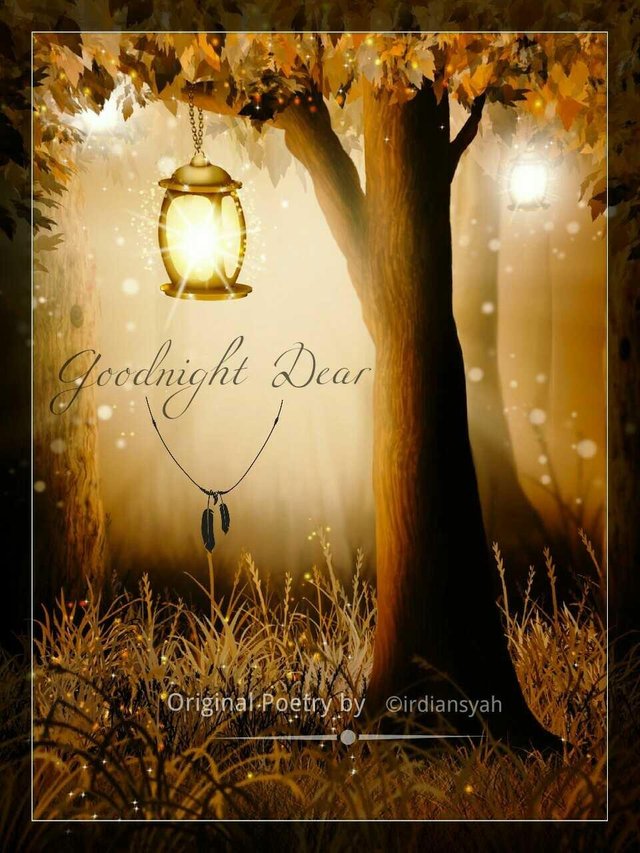 Night is when the sun hides away.
Night is the end of a day.
Moments of a person will soon rest.
The moments before bed are a break.
This is the time when the chaos of the day is calm. While the mind becomes more relaxed.
The moments before bed are the best times to give a speech and imply a concern.
Sleeping greeting made it a companion for my dear ones to sail into a sea of ​​dreams.
Goodnight is a cradle, not a boast.
An expectation that he sleep soundly and rest in peace.
Goodnight, can be a sentence or words that resonated in his mind before he fell asleep.
Sleeping greetings make your loved ones end the day with joy.
Send a good-night greeting, then a smile will decorate his lips all night in the confusion.,
Hope the dew of the morning,
though the heart of the dusk of dusk
will the sun be warm
as rainbow after rain?
good night dear, beautiful dreams accompany you.
There exists in life,
constraints are in step
and love is in the heart
good night my pal,
beautiful dreams come with you.
Grudge, annoyance and miss
sometimes bring a sense of confusion
conscience carrying a nil
good night in a comfortable bed
as my prayer, my friend
the dew of the morning,
as sunny afternoon,
when this heart smiles
for an instant
good-bye, good friend
Have a good sleep
with your dreams
the spoon went by
the edge is unmoved
the sun faded
hide its light
over night ode
deliver to the bed
good night my pal,
hope tomorrow better
dawn is shining
along with a sense of longing
which enveloped the heart
though only
a piece
but means a lot
good night
My prayer is with you
violet twilight faded
switched to the night wind
when the poet
chanting night ode
good night
hope this week will take it
His blessings for you
that sense of comfort
can not be lost,
it faded
like the embers
heat loss,
the lamp is still
there is even dim
good night
good luck
your sleeping flowers
overcast hanging
a sign of rain is coming
miss still exists
and jealous accompany him
the embodiment is sick
the postponed
accept longing and jealousy
string of words intertwined
sentence is not pitched
reaching out for longing
in the shadow of the night
together disappointed in the cradle
good night, my prayers and my compliments
for you
when the dawn returned to the bed
and the night breeze rustled
sing lullaby sleep
the heart is churning
holding back the longing
Good night
hope you sleep soundly
a happy cup
the starting point
step slowly
is
the beginning of the delayed hope
meteor bubu
the euphoria of music seemed to dispel grief
the talk sounds as if inviting despair
the dancers' curves invite love
sleep in peace
tomorrow ahead with despair
when turmoil stopped in the chest
when gamang become a friend mourn
the poet falters
hope this day is fast
crossed the line
the sun shines
the morning dew peels the heart
hoping to blossom
good night
hopefully this week is better
and bring blessings for us
the love you woke up
in my heart
slowly tlah you
tear down yourself
falling tears to my eyes
for each piece
satisfied my tears
in the rubble ruins
You are the one who built it
You're the one who deserves it
take it
there's no right to ban
you take what it becomes
yours
the wind rustle greetings
the star seemed to smile
buana rest
Good night
hope the cradle of embroidery darkens you
good night
the night breeze whispered
when the moon rises to high ground
the servant chanted a prayer
may be granted His protection
good night, my prayer is with you
lavender shadow in the ladder
when the birds return to their nests
dreamy dreamy
darkly peaceful
thanks for the beautiful poetry
the view is always smiling
step did not lead as if invited to leave
the full moon seemed to seduce the heart
good night
stay with your sleeping flowers
walking time of day
when the star's boyfriend is bright
although small but gives a lot of meaning
good night
hopefully tomorrow will be happy for you
darkly gone
cloudy dismissed grief
as if prayer were answered
the blessing of dawn of purity of heart
methyl powder
when the heart is tapped
when the rainbow refracted in love
when love seeks to miss
This heart is just silent in the likes
methyl powder
like a day,
everything that begins
definitely it's over
millions of seeds of love
born today
millions more died
drought
one of which is mine
then I say goodbye
to this day and kujelang
tomorrow
without love …
Good night