DEATH IS A DOOR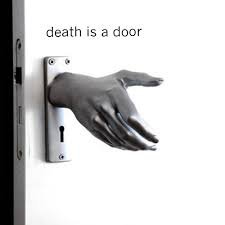 Image Source
Death is a door
that leads through a vast spectra of darkness
so black, it taints a soul with blotches of white
an experience told with the lips closed
and the heart frozen
in icy veins and numb skins.
Death is a door
that opens when it closes
on memories
of the living and thoughts of the dead.
and the walk is silent
through a night so peaceful, the rays of dawn
are only but shadows blending into the dusk
greyer, darker, more foreboding.
Death is a door.
To the heart of every beat
but it is a wayfarer's way
to every lost soul
a journey with no destination
on a path of perdition
like a bubble of freedom
on a water of bondage.
Death is a door
That sets you free
from the binds of liberty
through a wingless flight, against a sky of eternity.
it is forever, with a skull and a scythe
and a handshake, a parcel
that chills to the bones
and leaves you
with a breath
turned to rubbles
and heart
to cold hard stones.