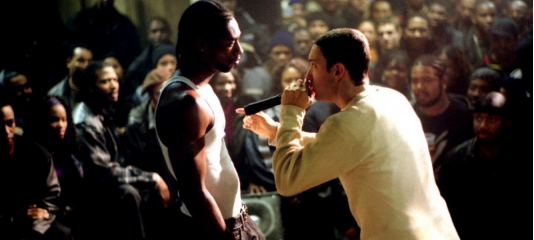 This week we will have a Rap competition! I haven't seen anything like this on Steemit yet. So I am really excited. In future, I've envisioned a proper Steemit Rap battle with generous prizes. However, in order to get there, first I need to find out how many people will want to participate and how creative lyrics will be. I will start two battles, one will be in English and one will be in
Russian
(If you know both languages then you are more than welcome to participate in both contests)
Battle Topics:
"My Blog is the best on SteemIt" (Dmania, Dtube and etc) / Alternatively you can pick "I am the best mc on Steemit"

"Crypto making me richer or poorer" (Depending on your situation, you can also add something about blockchain or ICOs making me richer or poorer)

"Facebook (or similar Social media) is dying, Steemit is thriving"
Rules:
You can choose any number of above topics.
You can pick one or you can use all of them.
You only need to write two or three quatrains
And post them as a reply to this article.
Then Follow/UpVote/Resteem and that's it.
Of course, you can write more if you can, but leave some creativity for future battles)
Half-Decent Example would be lyrics by @saeshamonet
You don't have to come up with something ingenius,
as long as, it rhythms and it is original
your submission will be considered
and you will have a chance of winning.
Since it is a Pilot Round, number of winners will be picked according to number of participants. Up to 4 Winners (More in future) Prize pool will be up to 5 SBD (Bigger Prizes in future) Winners will be announced today(09/03/2018) in a few hours !
My Example:
Cryptos are going for world domination
My Rap is so sharp,
that I'm aiming for Your elimination.
Sometimes, I feel like I'm in a mental institution
Where people doing the same thing,
But expecting to reach another conclusion.
As you can see, just try to rhythm and you will be good to go, this time.

I just want to spark your creativity, so here's a little incentive with a short activity.
Be creative and Show Support!
Don't forget to Resteem, Follow and UpVote!