ADSactly Poetry: The Voice Collected (Remembering the poet Miguel Hernández through Octavio Paz)
Source
It ends in March 2020 and two dates in the near future lead me to remember two great figures of modern Spanish-speaking poetry -one through the other.On 28 March 1942, the poet Miguel Hernández died in Alicante (Spain), the author of those poems that have transcended circumstances and time, such as "Elegy, "Onion lullabies" and "The Mouth", among those I like the most. And on 31 March 1914 the poet and essayist Octavio Paz, Nobel Prize for Literature 1990, was born in Mexico City.
I always need to return to that lighthouse that is Octavio Paz, and the date allows me to return to his essay "Collect that voice..."(here in its Spanish version; I don't know the English version), written in memory of Miguel Hernández, a few months after his death. He was inspired by a poem by Miguel Hernández entitled "Collect this voice", which was part of his book Wind of the People, from 1937, in which the Spanish poet grouped together poems that were probably written as a result of his confrontation with the suffering of the Spanish people in those years or in the heat of the Spanish Civil War.
I'll quote three stanzas from your opening (in machine translation):
Here I have a voice that's hot,
I've got an angry, fighting life here,
Here's a rumor, here's a life.
I'm open, look, like a wound.
I'm sunk, look, I'm sunk
in the midst of my people and their ills.
Wounded I go, wounded and badly wounded,
bleeding from trenches and hospitals.
Men, worlds, nations,
Listen, listen to my bleeding sound,
pick up my heartbeat
in your spacious hearts,
because I punch the soul when I sing.
As you can see, it is the painful song of a man who calls for attention and solidarity before a people who are living through a terrible tragedy, as he will say later: "Apply the passion of your guts / to this people who are dying with an invincible gesture". It is the externalised, determined voice of a poet who leaves aside his deep and taciturn intimacy.
The moving essay (or personal note) by Octavio Paz to which I alluded above was written in November 1942 -later included in his book The pears of the elm (1957)- expresses the esteem for the Spanish poet's vital strength and the pain for the missing friend. This is how Paz presents it to us:
In a prison in his hometown, Orihuela, Miguel Hernández has died. He died alone, in a hostile Spain, enemy of the Spain in which he lived his youth, adversary of the Spain that dreamed his generosity.
As you may know, Miguel Hernández, who had taken the side of the Republican group, after the end of the Spanish Civil War (1939) and the establishment of the dictatorship of General Francisco Franco, was taken prisoner and, from prison to prison, became ill with tuberculosis, from which he died. To this confrontation between the two Spains, which bled the country and marked it disastrously forever, and unjustly and absurdly immolated many of its men, including several of great value such as Federico García Lorca, alludes Paz.
Source
The universal Mexican writer continues, with his painful presentation of Miguel Hernández:
I met him singing Spanish folk songs, in 1937. He had a bass voice, a little closed, a little bit of an innocent animal: he sounded like a country boy, with a deep echo repeated through the valleys, like a stone falling into a ravine.
This poetic description of Miguel Hernández's voice and presence is what we can appreciate in his poem, perhaps not so well known, "My name is mud even though Miguel calls me", from his book The lightning that does not cease (1936), where the poetic voice, jumping over the protocol of the autobiographical, is identified:
Mud is my name although I am called Miguel.
Mud is my profession and my destiny,
staining with its tongue all it licks.
I am a sad tool of the road.
I am a tongue, sweetly infamous,
spread out at the feet of the one I idolise.
Like a nocturnal ox, of water and fallow land,
who longs to be the object of idolatry,
I confront your shoes and their surroundings,
and made from carpets and of kisses made
I kiss your heel as it wounds me, and sow it with flowers.
Without a doubt, it is one of the most identifying poems of Miguel Hernández as an individual and poet, through the powerful poetic force of his word. This is an experience that we will have when we visit a poem as unique as "Elegy"(unforgettable version by the Spanish singer Joan Manuel Serrat *), in which he sings to his dead friend, Ramón Sijé:
(…)
You will come back to my garden and my fig tree:
among the high flowery trellises
your soul will flit like a bee in its hive
sewn with the wax of angels.
You will come back to the murmuring
of farm-workers at their beloveds' windows.
You will cheer up the shadow over my eyebrows,
and from either side your beloved and the bees
will argue over your blood.
(…)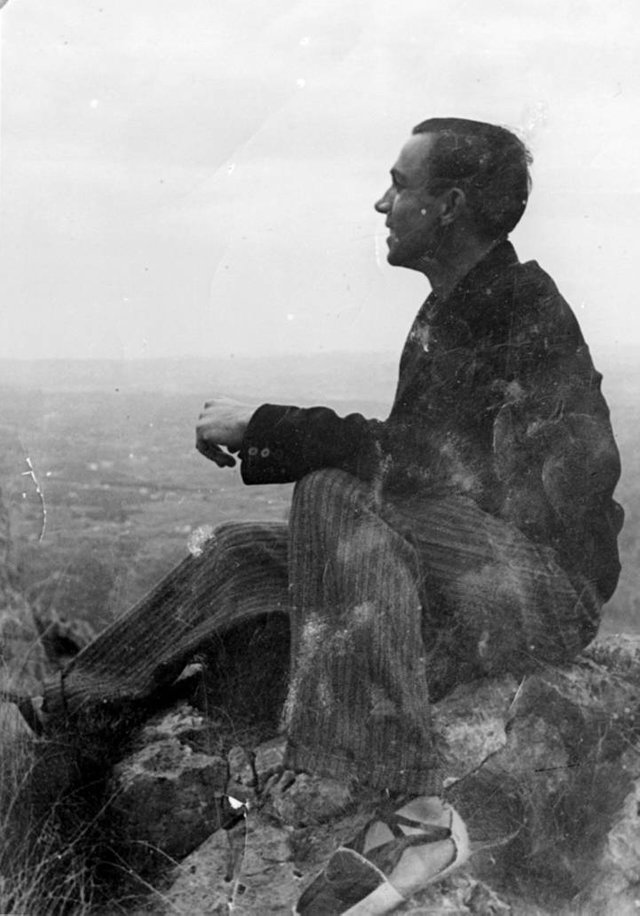 Source
Lively, clear and affectionate images, which speak of the gardener friend, as Paz also continues to do in his essay:
Afterwards I heard him recite love and war poems. (...) you could hear a tender and powerful animal dying (...)
It is the tenderness and strength of the voice that speaks to us in "Onion of lullabies", also interpreted by Serrat:
The onion is frost,
closed and poor:
frost of your days
and of my nights.
Hunger and onion:
black ice and
big, round frost.
In the cradle of hunger
my child lay.
With onion blood
he was suckled.
But your blood,
frosted with sugar,
onion and hunger.
Poem written from prison (1938), motivated by the pain caused by the hunger of his daughter and his wife, and in which the voice rises with images of a delicate and hard beauty at the same time.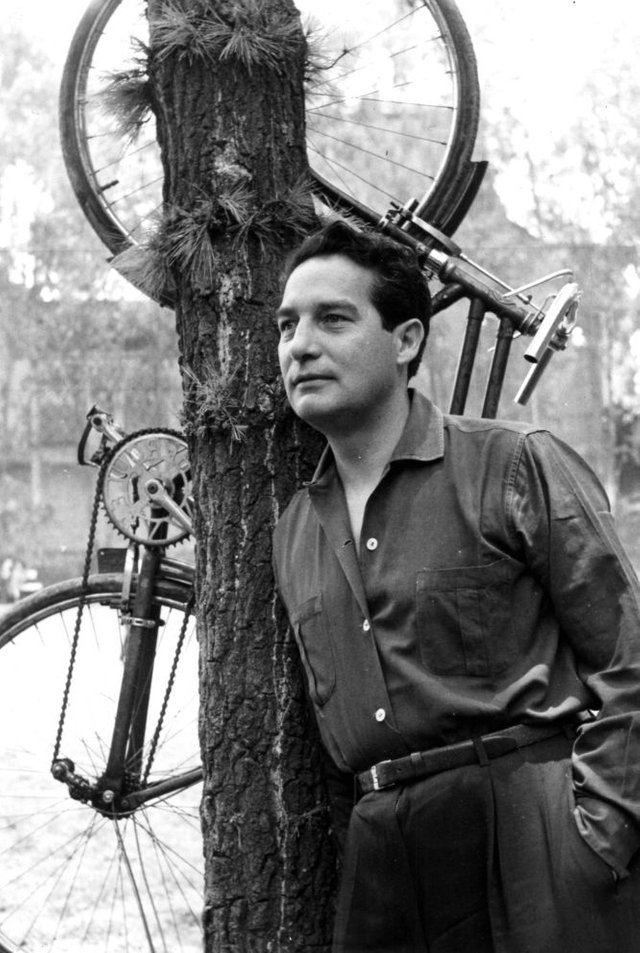 Young Octavio Paz Source
Octavio Paz ends his posthumous essay with some lines that I think are essential to quote, since they condense not only the poet's feeling about Miguel Hernández, but also a very significant vision about the function of oblivion:
Let me forget you, so that in this oblivion your voice may continue to grow, already stolen from your body and from the memory of those who knew you, free and high in the air, disengaged from this time of misery.
Paz says: "I knew him...". I mean, I also knew him or I know him in that equally legitimate substitute form of knowing others which is the written word. Thanks to that other voice, which poetry offers us in the form of an essay, we return to the passionate and tragic poet (in the Unamuno style) of "Shady with grief, almost brun"("what pain one goes through in order to die!", says Hernández).
And I will return to Octavio Paz, in another post, to give him the space he alone deserves. See you later.
I provide you with three links in which you can access a selection of poems by Miguel Hernández in English 1, 2, 3.
Bibliographical reference
Octavio, Paz (1982). The pears of the elm. Colombia. La Oveja Negra.
---
---
Click the coin below to join our Discord Server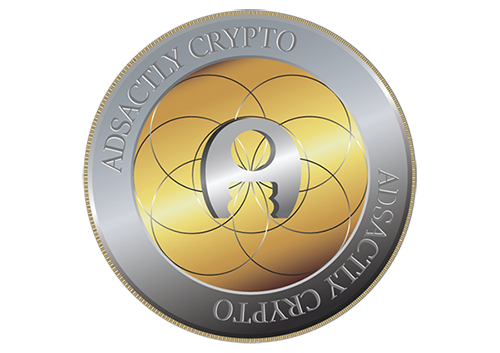 ---
We would greatly appreciate your witness vote
To vote for @adsactly-witness please click the link above, then find "adsactly-witness" and click the upvote arrow or scroll to the bottom and type "adsactly-witness" in the box
Thank You
---