I was recently reading a post by @donkeypong :: Three Poems from W.B. Yeats, a Man Who Gave All His Heart and we got to chatting about poetry. Although I've written a few poems in my day, I haven't written one in a long time. So, I want to thank @donkeypong for inspiring me to take some time to ponder life and write a poem.
---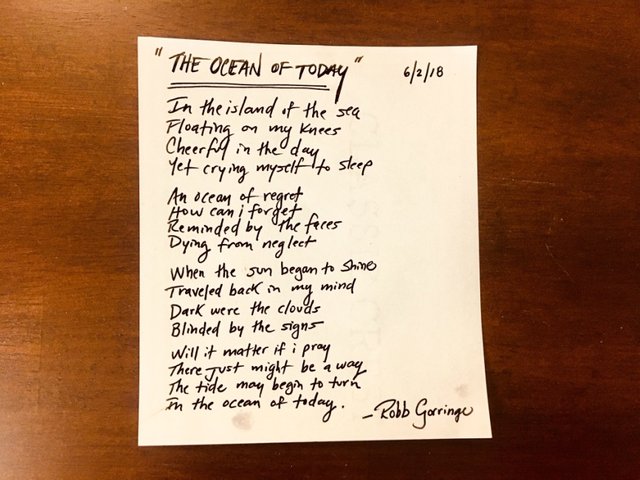 "The Ocean of Today"
[poem by @transformed // Robb Gorringe]
---
In the islands of the sea
Floating on my knees
Cheerful in the day
Yet crying myself to sleep
.
An ocean of regret
How can I forget
Reminded by the faces
Dying from neglect
.
When the sun began to shine
Traveled back in my mind
Dark were the clouds
Blinded by the signs
.
Will it matter if I pray
There just might be a way
The tide may begin to turn
In the ocean of today
.
.
.
---
Thanks for checking out my post on Steemit. Feel free to follow me here on Steemit at @transformed and on Insta: @robbgorringe for more encouraging posts and videos.
Make a difference in somebody's life today!
---



www.thechangenation.com