Flashing back to a piece of writing done in August 2011...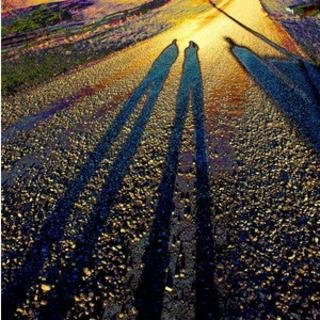 Souls colliding
in the most mysterious of ways...
Webs of relationships
linking spirits together beyond time & space,
invoking unexplainable magnetism
in the world of the seen...
Paths crossing,
for reasons we cannot know -
Divine logic outside the realm of the mind.
Yet undeniable,
contracts to be served -
each coming perfectly,
as the universe aligns...
Across borders,
we are drawn
to those whose but none others' reflection can
show facets of ourself
so distant, so familiar, so near...
With challenge, we are presented -
to learn, to grow, to set right...
Teachers emerging as students,
and students as teachers -
friendships blossoming
as the vehicle for our evolution...
Knowing ourselves
as we come to know others,
order is restored to centuries of confusion,
karma made complete
through the balance of love, sharing,
and discovery...
Questions arise,
but never can be answered -
dynamics only explored...
The purpose for our unions
to remain in wonder -
experienced, not analyzed -
enjoyed without thought -
surrendered to...
Despite differences,
connections are forged -
the compliments of views, knowledge, and passion
bestowing the world with
a synergy of spirit...
Opportunity emerging
to build within & without...
Each providing the elements
for alchemy of our reality -
Our presences creating the space
for transformation of all...
Unearthing ourselves
with the mirror our companions gift,
our power is revealed -
together, re-entering the playground of life
with new vision, wisdom,
and joy...
alone, expanding in the light
our new friends have introduced...
How blessed could we be -
arriving to a planet, surrounded by angels -
the ones we need appearing
in perfect time,
to shine light on what we need to see...
With grace, we are touched -
guides emerging,
with whom our discovery accelerates -
each oblivious to the ways we are serving,
though undeniably powerful
to impact the maturing of these partners -
Miracles unfolding,
so often without a trace...
The magic of humanity, we witness,
as bonds constructed across the globe
deliver us the insight to transcend -
bridges to new perspectives
expanding our minds -
connections at our depths
opening our hearts...
In awe, our gratitude flourishes -
new links to the most amazing beings
drawing us into realms of possibilities
for self-realization,
collaboration,
and contribution...
Whether going further or not,
forever, we are changed
as our souls collide...