Contempt is a facial expression you should be aware of. If you see contempt on someone it means they definately don't respect you or your authority. They are questioning your every move and believe they are better than you. Watch for it and squash it immediately or you will have problems.
Deception Tip 19: Contempt is the only asymmetrical facial expression. Liars may display it when targets suggest incorrect, or inept, answers.
Listen to the Deception Tips Podcast By Spencer Coffman Today!
E19 - Contempt - Deception Tips Podcast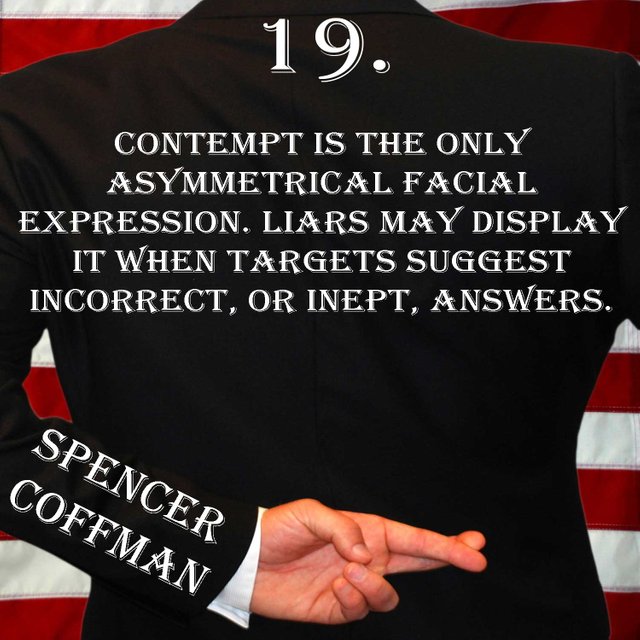 Listen on: iTunes | Stitcher | TuneIn | iHeartRadio | Google Play Music | Overcast | Podnova | Player.fm | Feedly | Netvibes | MyYahoo | SubToMe | RSS feed |
Deception Books By Author Spencer Coffman
A Guide To Deception
Deception Tips
Deception Tips Revised And Expanded
Deception Tips Blog
Deception Tips Videos
Facebook Pages
A Guide To Deception
Deception Tips
---
For more great information take a look at the supplemental content on this website. and check out these great blog posts. In addition, feel free to connect with me on social media.
If you've found this post to be useful in any way, kindly show your support by upvoting, commenting, sharing, and resteeming. You may also wish to follow me and be alerted when I post new content.
Thank you,
Spencer Coffman
SpencerCoffman.com