Gestures must be symmetrical. When people are speaking and they make movements on their body their speech and body movements need to be congruent. It is the same with gestures. If someone responds to a question with a shoulder shrug then it should happen on both shoulders.
Deception Tip 16: Beware of asymmetrical gestures, as truthful expressions are symmetrical. Shoulder shrugs more prominent on one side may be indicative of deception.
Listen to the Deception Tips Podcast By Spencer Coffman Today!
E16 - Symmetrical Gestures - Deception Tips Podcast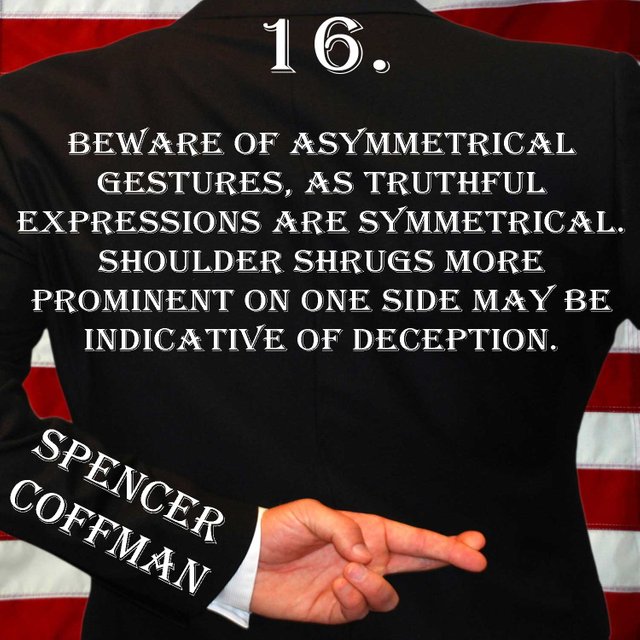 Listen on: iTunes | Stitcher | TuneIn | iHeartRadio | Google Play Music | Overcast | Podnova | Player.fm | Feedly | Netvibes | MyYahoo | SubToMe | RSS feed |
Deception Books By Author Spencer Coffman
A Guide To Deception
Deception Tips
Deception Tips Revised And Expanded
Deception Tips Blog
Deception Tips Videos
Facebook Pages
A Guide To Deception
Deception Tips
---
For more great information take a look at the supplemental content on this website. and check out these great blog posts. In addition, feel free to connect with me on social media.
If you've found this post to be useful in any way, kindly show your support by upvoting, commenting, sharing, and resteeming. You may also wish to follow me and be alerted when I post new content.
Thank you,
Spencer Coffman
SpencerCoffman.com