The Future of Cryptocurrency
Podcast Episode 56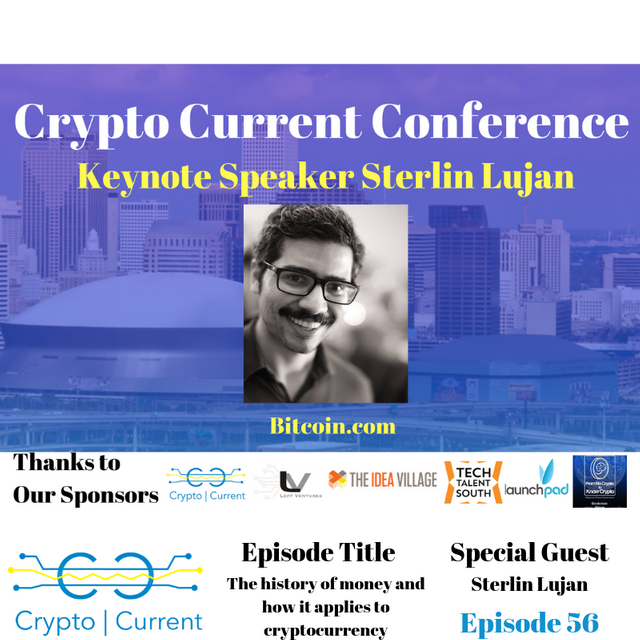 Sterlin Lujan gives a keynote about the history of money and how it applies to cryptocurrency at the Crypto Current Conference.
Sterlin is a futurist, freedom activist, visionary, and public speaker. He is the former Communications Ambassador and Opinion Editor for Bitcoin.com. His background is steeped in activism, journalism, academia, and cryptocurrency technologies. He worked with Bitcoin.com from 2015 and until 2019. Prior to his foray into cryptocurrency, he studied psychology and clinical counseling. He has a bachelors degree in psychology from Texas A&M University. He is happily married to his beautiful wife Cecillia and they live together in Texas. He is currently working on finishing his first book, a collected works called, Dignity & Decency: Rhapsodic Musings of a Modern Anarchist (https://sterlinlujan.com/).
*Disclaimer. None of this information is financial advice.
We hope you are enjoying our cryptocurrency and blockchain educational content! We greatly appreciate donations, which all go directly towards creating even better educational content. Thank you for your generosity!
BTC: 3BpSmgS8h1sNtbk6VMiVWxoftcwBxAfGxR
ETH: 0x743c0426CE838A659F56aFC4d3c10872d758EC79
LTC: MKCpf3qEVfT6yprhDhkJJcdNpqh5PZXSbx
Listen to This Podcast Episode: Listen
~
If you would like to be interviewed on our podcast, please reach out here!
Learn More: Crypto Current Website
Conference: https://crypto-currentconf.co/
Twitter: https://twitter.com/cryptocurrent
LinkedIn: https://www.linkedin.com/company/crypto-current-llc/
Instagram: https://www.instagram.com/cryptocurrent_
Facebook: https://www.facebook.com/cryptocurrentpodcast/
Minds.com: https://www.minds.com/CryptoCurrent_co
Uptrennd.com https://www.uptrennd.com/user/NDQ2Mg==