Get your share in $4 Million in May Mayhem
Get in the competition through this links to get your share of $4 million Dollars
Play Town Star
Gala's flagship game of town and city builders has been rewarding NFT owners with the game's reward token (TOWN) for over seven months now. Soon, with the addition of borrowing and lending, even free players will have the opportunity to participate in earnings with Town Star. That update is on the horizon for later in the year, and for now the buzz is all about Town Star May Mayhem competition!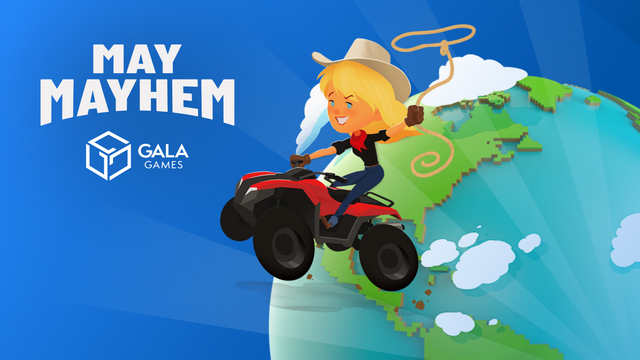 Each week of May, Town Star will host a new competition with a large number of GALA prizes on the line and available to all players. In total, $2 million will be given away to Town Star players for the May Mayhem tournaments.
The first weekly Town Star competition will run May 3–9, so get your Town Star NFT collection ready!
Refer New Players
The referral race is on, with special promotions in both Town Star and Spider Tanks for the entire month of May.
Your Referral Link can be found in the SOCIAL area of your Gala Games account, as pictured below.
Just copy the link, then share it with your friends or in your original content on the platform of your choice.
Town Star
Collect 10 Town Star referrals during May to get awarded a special Feed Bot NFT that will help you with one of the most important jobs in the game! You'll see a counter of your progress in the game. Remember, referrals must play the game in order to count toward your reward!
The Town Star Feed Bot
Spider Tanks
Spider Tanks is running a weekly referral competition in May, with a prize pool in GALA that increases each week until the end of the month.
To qualify for each week's distribution, you must refer 6 players and each of them must win at least one match. Then at the end of the week, the total prize pool is distributed evenly among those who qualified that week.
Week 1 — $100,000 in GALA — May 2–8
Week 2 — $115,000 in GALA — May 9–15
Week 3 — $135,000 in GALA — May 16–22
Week 4 — $150,000 in GALA — May 23–29
Play Spider Tanks
Each week, Spider Tanks will run a $250,000 prize pool tournament, with prizes paid out after the tournaments' end in GALA.
Players will qualify for the Week 1 Spider Tanks tournament by having the highest numbers for played matches, regardless of win/loss rate. 50% of the prize pool will go to the top 2% of battlers, and the remaining 50% will go to 3–10%.
The winners of the Week 2 tournament will be determined by the highest numbers of wins. Exact distribution amounts will also be affected by rarities of Tanks played.
To qualify for the Week 3 prizes, players will have to achieve MVP status.
Finally, in Week 4, the winners will be those with the greatest winning record with at least 10 matches played.
There MAY be More
Don't worry, we only used "May" for the sake of the pun. There most definitely will be more. As you may have already noticed, we like to move quickly at Gala Games, and a month is a long time.
Certain in-game NFT owners in various upcoming titles will be surprised with random drops of exclusive new NFTs throughout the month. You never know when holding Gala NFTs will earn you sudden and seemingly random rewards.
Look for additional playtests among other titles, and maybe even some additional GALA-on-the-line competitions. After all, we're giving away $4 million in GALA. You'll want as much as possible of that to become yours.
Consider this your official kickoff! Welcome to May with Gala Games… We hope you enjoy the Mayhem!
Official join Link
https://gala.fan/3GcaxKL-j