For those of you residents around Eastern Europe certainly no stranger to a company called Ubank. A company that became the ruler of an online mobile payment application business. This time they are expanding their wings using blockchain cryptocurrency technology and joining it as part of the cryptocurrency community. Evidence of this is that they are conducting ICO for UBC token distribution and financing Ubcoin Market platform procurement project which will provide a decentralized and blockchain based online payment service.
This is done by them because of the awareness that the owners and holders of cryptocurrency are increasingly growing. It is predicted that the number of cryptocurrency holders will increase from 22 million people today will be about 200 million people from the entire human population on earth by 2020. It is undeniable that blockchain is a technology of the future and has made a real contribution to the world's economic growth especially because of its nature which is decentralized, safe, convenient, easy and cheap. Its market capitalization has now reached 300 billion USD. The value is a value that would be very unfortunate if not participate take the opportunity to be able to generate profits. There is a huge demand for purchases of goods in the real world by using cryptocurrency. Moreover, 37% of the total population in the world has made purchases using a smartphone. Below is the video of their presentation as the beginning of explanation for all of you.
What is Ubcoin?
Ubcoin is a brand-new cryptocurrency that is ideal for people in the industry who want to use currency to exchange for goods. The Ubcoin Market is said to be the easiest way to make exchanges with cryptocurrencies online for real tangible goods or vice versa as well. The ICO for the company is about to start in a little under nine days.
And for those of you who are go getters and invest while the ICO is in the firs stage of development, you'll get a 29% bonus off the token price, which is an exceptional amount discount by any industry standard.
You can go to the website right now and enter your email to get put on the whitelist and be informed when all the different phases start. There are other ways to save as well, for example – joining while the token sale and ICO I still in pre-sale phase can earn you a massive 57% discount. That is nearly unheard of as well by nearly any standard.
Our product is founded on the following cornerstones:
Cryptocurrency mass adoption. We promote mass adoption of digital assets that are both a means of settlement and an investment vehicle, thereby enlarging benefits for all parties to everyday buy-and-sell interactions.
Peer-to-peer interaction. Cut out as many intermediaries from the value chain, as possible. The platform facilitates smart contract execution between independent parties. The Ubcoin Marketplace does not own any goods for sale, it is not biased in its search results, and protects fairness of smart contracts.
Legal marketplace. We pay special attention to ensuring the legitimacy ofgoods and services sold on the Ubcoin marketplace. We are developing an a dvanced AI technology to help pre-screen seller postings for any potential infringements of reason, morality, safety and due care. Seller profile transparency and verification will be strongly encouraged and promoted.
Decentralization of transactions and settlements. Blockchain allows for decentralized initiation, settlement and fulfillment of transactions. Payments are immediate upon performance under carefully crafted smart contracts.
Impeccable interface. Our interface design brings a harmonious and seamless experience of buying and selling goods globally. We will strive to open our API to the community in order to develop the best adaptation of the platforms for specific local needs of the global community.
Open community. Some transactions may, in the future, require additional KYC/AML procedures for execution of smart contracts for certain types of deals involving third-party providers (i.e. delivery companies, couriers, notaries). Ubcoin platform envisions seamless engagement of these parties.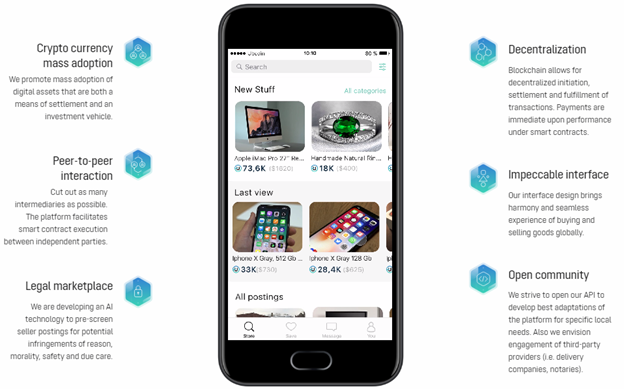 To further incentive the quality of the ICO – It's been rated as a five-star initial coin offering on ICOBench.com and ICOBazzar.com. Not only that, but UBCoin has been rated between a nine and ten or four to five-stars on several other websites. Namely, Foundico, CryptoSlate, FoinSchedule, Coinhills, and CoinGecko.
The coin was created by UBank who currently has more than two and half million users all over the world. And lastly, it's in partnership with Samsung and Fly, two of the largest technology companies in the world.
Technology
The Ubcoin Platform applies blockchain technology to create, manage, and operate tokenized cryptocurrency. The platform operates on Ethereum-based smart-contracts. Platform structure. Architecture scheme. Basic system modules:
Authorization service Ubcoin-ID;
Billing system (wallet management, deposit/withdrawal, internal transactions);
Anti-fraud system (AI, internal regulations, ML);
Ad platform (placement and management, premium functionality, catalogue and search);
Auction platform (auction placement and management);
Transaction management system (holding of funds, transaction confirmation, transaction history);
Moderator and system administrator office;
Customer support and arbitration system
What does Ubcoin Marketplace do?
First, I want you to understand that the Ubcoin Marketplace is not a greenfield project, but an extension of the Ubank mobile app:
A matured company, existing since 2009
Our current product, Ubank, has over 16 million installations worldwide
We consist of 50+ developers, top management and advisor talent
Ubcoin will enhance and reinvent existing product value proposition
Samsung and Fly pre-install our current product on all smartphones, sold in CIS, including flagship Galaxy 9
Token Sale
Maybe you ever heard about Amazon Sale or eBay Sale for some products, right? Ubcoin also has sale, but this is the Token Sale. This Ubcoin Sale creates for funds the project launch and development. The Token Sale of Ubcoin requires to investing more than 50 ETH to pass their KYC (Know Your Customer) checks. You can do registration in such simply way. Send one of your pieces of ID e.g. driver license or passport, telephone number, residence address and email. There are many details of token in Ubcoin that you must know.
Token details
Token Name: UBCoin
Token Symbol: UBC
Token network: ERC20
Maximum supply: 4 billion tokens
Soft cap: $2 million
Hard cap: 179 thousand ETH (approx. $68 million @ ETH = $380)
Token Supply Distribution
The maximum supply of tokens in Ubcoin will be allocated as below :
3% discount for community rewards. There are 120 000 000 tokens max for this discount
4% discount for advisors and bounty. There are 160 000 000 tokens max
5% discount of 200 000 000 tokens for limited private pre-sale
12% discount for team allocation with tokens max 480 000 000
31% discount of 1 240 000 000 tokens max for reserve pool
45% discount for 1 800 000 000 tokens max for public placement (ICO)
LONG-TERM TOKEN VALUE
Native to ecosystem, Proprietary UBC tokens power our peer-to-peer marketplace ecosystem. Smart contracts will not accept any other cryptocurrency.

Fee discounts, UBC token holders will receive discounts on fees. Discounts will be linked proportionally to the size of their UBC holdings. This generates an incentive for clients to buy and hold UBC.

Token buyback program. Up to 10% of Ubcoin's net operating profits are diverted to a token buyback program in order to promote the stability of the UBC.

Reserve pool, A significant portion of tokens will be set aside for growing business, and to ensure that no new tokens enter into circulation at prices lower than the prices during the initial Token Sale.

Anti-dumping measures, Strong anti-dumping prevention mechanisms.

Token burn program, 5% of Ubcoin fees from user transactions are burned to reduce the token supply as business grows.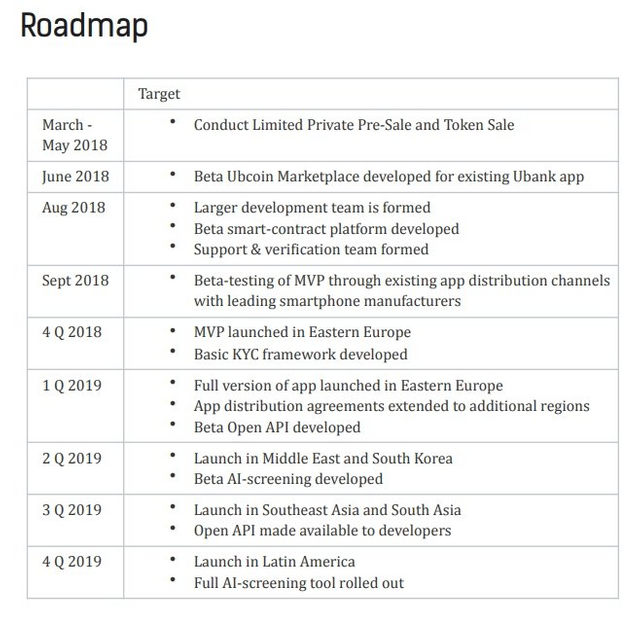 For More Information :
Website: https://ubcoin.io/
Whitepaper: http://doc.ubcoin.io/whitepaper.pdf?v1
Facebook: https://www.facebook.com/ubcoinmarket/
Twitter: https://twitter.com/ubcoin
Telegram: https://t.me/ubcoin
Medium: https://medium.com/@ubcoin
My Profile Bitcointalk : https://bitcointalk.org/index.php?action=profile;u=1273699