Donald Trump odwołał wizytę w Danii i Polsce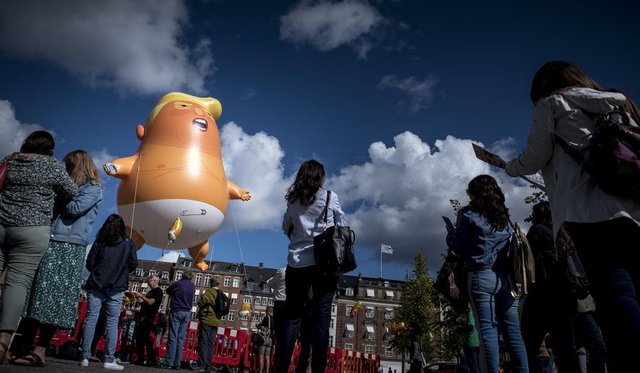 Chociaż prezydent USA Donald Trump odwołał wizytę w Danii, to jego wizerunek w postaci 20-metrowego balonu, stał się synonimem oporu wobec amerykańskiego prezydenta.
Wściekła, odziana w pieluchę karykatura uzbrojona w telefon znany jako "Baby Trump" unosiła się w powietrzu nad śródmiejskim placem w Kopenhadze.
Ponieważ w zeszłym miesiącu prezydent odwołał swoją wycieczkę do Danii, c po tym, jak przywódcy wyśmiewali jego chęć zakupu Grenlandii, organizatorzy demonstracji antytrumpowych postanowili kontynuować planowany wiec .
Trump odwołał również planowaną podróż do Polski, aby poradzić sobie z huraganem Dorianem i zamiast tego wysłał wiceprezydenta Mike'a Pence'a czy tez miała na to wpływ planowana pikieta przeciwko tak zwanym roszczeniom żydowskim?

---
Posted from my blog with SteemPress : http://piewca.pl/2019/09/03/donald-trump-odwolal-wizyte-w-danii-i-polsce/
---