W poniedziałek biegałam dobry trening na stadionie, a mianowicie 8x400 metrów.
A co więcej starałam się (i chyba nawet wyszło) biegać ten trening dość luźno.
Jak zawsze główna część treningu została poprzedzona rozgrzewką po której zaczęłam swoje zmagania na które składało się 400 metrów biegu oraz 400 metrów przerwy w truchcie.
Last Monday I have run good training on the stadium, it was 8x400 meters and what is more I tried to run it loosely.
As always I started this training with a warm-up after which I started main part which consisted from 400 meters run and 400 meters break in jog.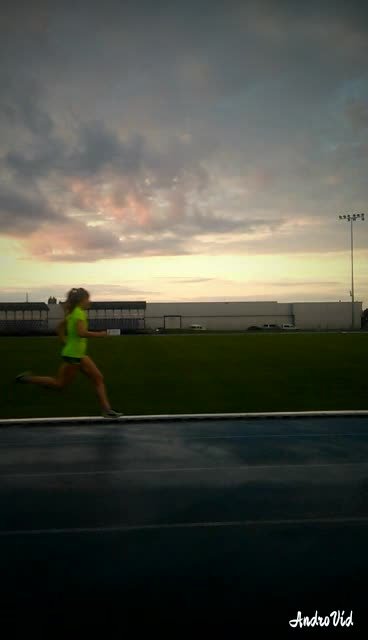 Run Forrest, Run!
Założenie było takie aby przebiec każde okrążenie stadionu w 1:24 – 1:28 minut. Założenie zostało spełnione w całości i uzyskałam następujące czasy: 1:30/1:27/1:28/1:26/1:27/1:26/1:25/1:22.
Najbardziej satysfakcjonujące jest jednak to, że ostatnie okrążenie przebiegłam najszybciej.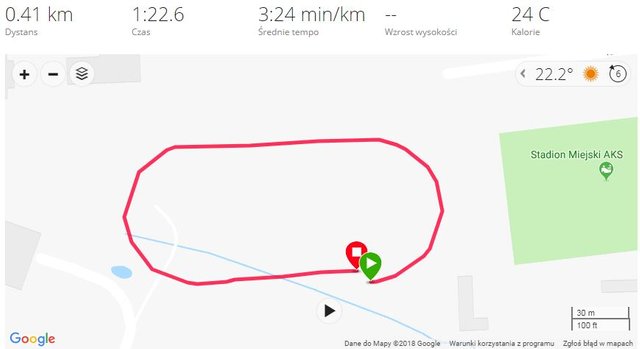 Last lap!
Więc nawet jeśli ten tydzień nie jest dla mnie łatwy nie poddaję się!
Zawsze do przodu!
My assumption was that I will run this training between 1:24 - 1:28 minutes on each 400 meters and nearly I accomplished it.
I managed to run those repetition with a following times: 1:30/1:27/1:28/1:26/1:27/1:26/1:25/1:22
The most satisfying thing is that I have run last repetition fester than previous So, even if this week is not easy for me I do not want to give up!

Always moving forward!
Dzisiaj startuję w biegu na 5 km w ramach City Trail on Tour w Katowicach – trzymajcie kciuki! A rezultatem na pewno będę chciała się podzielić na dniach! City Trail on Tour to cykl 10-ciu biegów w 10-ciu miastach w Polsce odbywający się od 16 lipca do 27 lipca.
Today I am starting in 5k trail run which is called City Tail on Tour in Katowice – keep your fingers crossed! And I will share with you with my result soon! City Trail On Tour is a cycle of 10 races in 10 cities in Poland. It has started on 16 July and it will end in 27 July.