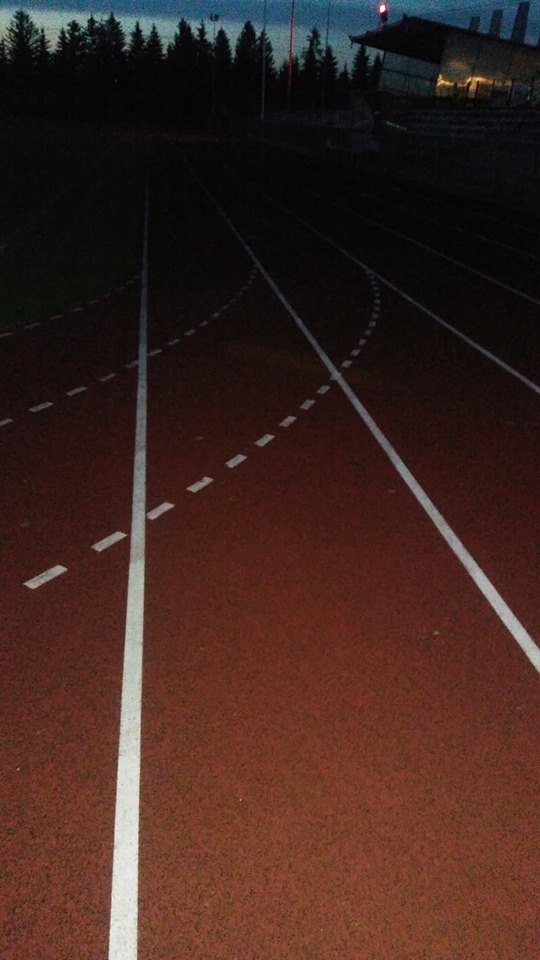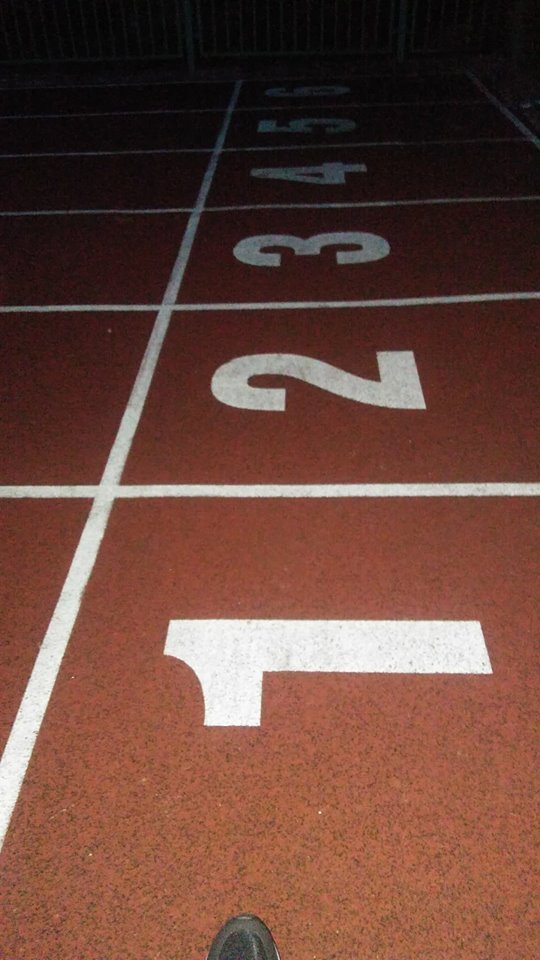 W dzisiejszym dniu przedstawiam wam bieg, który zrobiłem na stadionie w pobliskiej miejscowości, nie jest on wymiarowy ale biega sie dobrze, trening wyglądał następująco:
1km truchtu + rozgrzewka, łącznie około 12minut
6km biegu, wykonałem to w taki sposób:


On this day I present to you the run that I made at the stadium in a nearby town, the training looked like this:

1km jogging + warm-up, a total of about 12 minutes
6km run, I did it this way: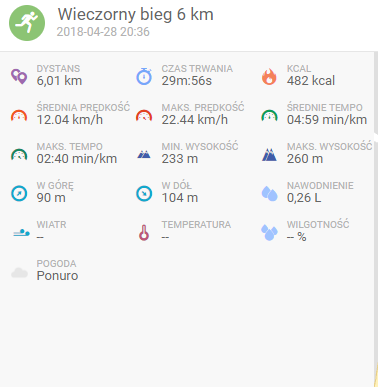 Poszło dość lekko, tak jak chciałem.
Po biegu zrobiłem okrążenie wokół stadionu marszem i zabrałem sie do reszty treningu:
Wykonałem 6x100m około 60% 70% prędkości maxymalnej, żywe tempo.
Po każdym przebiegniętym odcinku 100m wracałem truchtem lub mareszem i zabierałem sie do kolejnych 100m
Po wykonaniu serii, pozostało rozciąganie.


O swoich treningach moge powiedzieć tyle, że robie treningi typowo pod siebie, znam mniej wiecej swoje możliwości, dużo zależy też od samopoczucia, to jest ważne, nie należy robic niczego na siłe, czasem lepiej zrobić trening delikatniej z tygodnia na tydzień, bede troche dodawał, na tą chwile samopoczucie mam bardzo dobre, nie czuje sie obolały, wszystko jest ok więc bez obaw trenuje, po za bieganiem mam aktywną prace w której czasem zużywam wiele energii, robie też wypady na basen, przepływam kilka długości ide na saune, jeżdze też rowerkiem rekreacyjnie, od 2 miesięcy zauważyłem spadek wagi około 3kg, czuje sie lżejszy i bardziej wypoczęty
It went quite lightly, as I wanted.
After the run, I made a lap around the stadium trotting:
I made 6x100m about 60% 70% maximal speed, live tempo.
After each 100 m run, I returned to the starting place and made another 100 m
After stretching, stretching was left.


I can say about my trainings that I am training under my abilities, a lot depends on my well-being, it is important, I do not do anything, sometimes I can do it gently, I will train more intensively, I feel at this moment of well-being very good, do not feel sore, everything is okay, train without any worries, after running, I have active work in which sometimes I use a lot of energy, swim to the pool, flow a few lengths then I go for a sauna, ride a bicycle, 2 months I noticed a weight loss of around 3kg, I feel lighter and more rested




Na dzisiaj to tyle :)




That's it for today:)


#run100kkm
#runforsteem
#runningproject