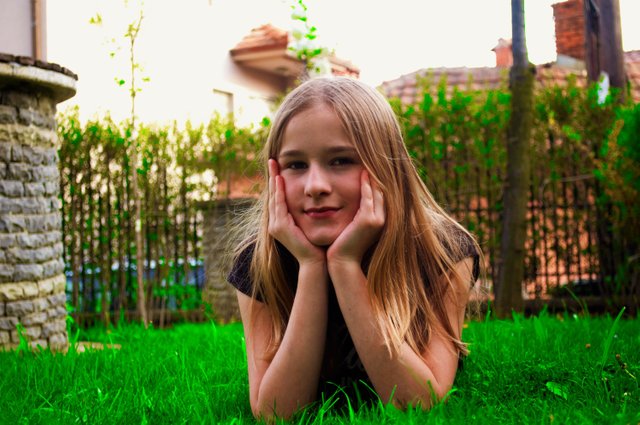 Są słowa, które się zna, choć często nie wiemy kiedy ich się nauczyliśmy. Do takich słow możemy zaliczyć "chędożyć". Czy naprawdę znaczmy jego znaczenie? Czy zawsze dobrze je rozumiemy?

chędożyć
czyścić, porządkować, sprzątać,
odbywać z kimś stosunek płciowy, uprawiać seks 👄
Jak widać słowo chędożyć ma dwa całkiem różne znaczenia. Dzisiaj większość osób nie ma pojęcia o starszym znaczeniu słowa, dlatego użycie w pierwotnym znaczeniu (1) "sprzątanie" może prowadzić do zabawnych sytuacji. 😉 Może też być świadomie wykorzystane, aby zaskoczyć słuchaczy, zabłysnąć. Radzę jednak używać z rozwagą, gdyż przez wiele osób chędożyć jest traktowane jako słowo wulgarne.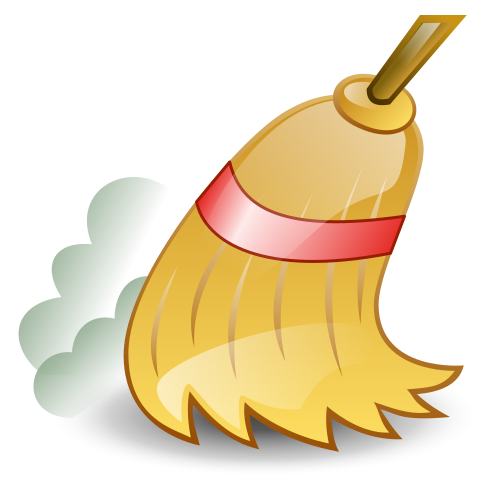 W Słownik języka polskiego pod red. W. Doroszewskiego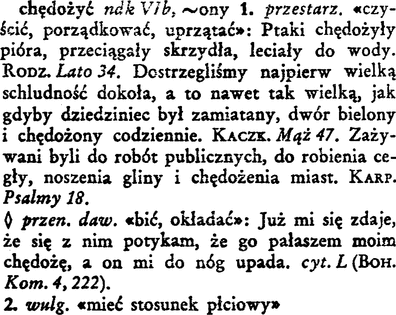 chędożyć - synonimy słowa:
sprzątać , wyprzątać , porządkować , szykować , odszykowywać , czyścić , pucować , odpucowywać , oporządzać , wyporządzać , ładzić , robić porządki
pospolite synonimy: bzykać, ciupciać, dziubać, trykać,
wulgarne synonimy: uprawiać seks tentegować, pieprzyć , dupczyć, dymać , dmuchać, grzmocić, pierdolić , rąbać, rypać , ruchać, jebać, rżnąć
Przykłady użycia 🗝:
... parysowskich, upalne popołudnia powrotów i owe niezliczone żołnierskie obrządki - pracowite chędożenie broni czy mundurów, czy lederwerków, aż da rozkazu wieczornego... Lecz...
... na księżą oborę patrzeć, cięgiem woła, kobyła stara, by ją chędożyć, w kółko, rano, wieczór, we dnie, w nocy, na coraz...
... z matematyczną pewnością przyszedłem do przekonania, że Słowacki nigdy nie chędożył. To odkrycie napełniło mnie doń takim obrzydzeniem, że nie chcę...
... Taka młodzież na przykład, nic jej żadne moralności nie obchodzą, chędoży się tak, jakby oddychała, o przyszłości nie myśli, żyje dniem...

** Źródła: Wikipedia, Słownik Języka Polskiego PWN.
Obrazy z: [1][2]

W języku polskim jest wiele pięknych słów, które warto znać i używać. Popularne wyrazy często mają dodatkowe znaczenie, o którym nie wiemy.
Słowo dnia #pl-slowodnia to cykl artykułów mających na celu przypomnienie słów, które mogą ubogacić język komunikacji.