Polska społeczność była pierwszą, która usłyszała o projekcie Engrave - platformie blogowej zbudowanej na blockchainie Steem. Dzięki temu, od samego początku dostawałem bardzo dużo wartościowego feedbacku na jego temat.
Teraz chciałbym iść o krok dalej i zaproponować polskiej społeczności możliwość tworzenia własnych blogów opartych na Steem za darmo. Bez prowizji. Dożywotnio!
dBlog.pl, czyli polska wersja Engrave

Specjalnie na potrzeby polskich warunków zakupiłem krótką i dobrze brzmiącą domenę oraz uruchomiłem polski serwis. Adresy blogów w subdomenie dblog.pl będą wyglądały o niebo lepiej, prawda? Zachęcam do skorzystania i zarezerwowania sobie nazwy bloga już teraz! Chciałbym podreślić jednocześnie, że nazwa bloga nie musi zawierać w sobie nazwy użytkownika - może być dowolna. Chyba lepiej zdecydować się na slonecznepodroze.dblog.pl niz nicniezgrublem.dblog.pl ;)
Niestety panel zarządzania blogiem jest nadal po angielsku, ale jako, że nadchodzą poważne zmiany, to nie będę go tłumaczył. Niedługo wszystko będzie wyglądać zupełnie inaczej!
Nie marnujmy Steem Power
Ilość Steem Power na koncie @engrave regularnie rośnie. Aktualnie posiadamy ponad 7000 SP - taka ilość ma już znaczenie i chciałbym, żeby mogła wspierać polską społeczność. Założenie jest jednak takie, że @engrave wynagradza swoich użytkowników...
Zdaję sobie natomiast sprawę, że prowizja 15% jest wysoka, szczególnie przy aktualnie niskich cenach tokenu STEEM oraz SBD. Dlatego też wychodzę z prostą propozycją:
---
Dla każdego użytkownika z Polskiej społeczności, który przez następne 7 dni wyrazi chęć korzystania z platformy dBlog oraz otrzymywania głosów z konta @engrave, proponuję dożywotnio darmowe konto, bez prowizji, bez ukrytych opłat :)
---
Jedynymi warunkami otrzymywania upvote będzie oczywiście odpowiednia jakość artykułów oraz dodawanie wpisów przez platformę dBlog. Sama platforma nie będzie pobierała żadnych prowizji, ale posty dodane przez inne platformy nie będą pojawiały się na blogu i kwalifikowały do upvotów.
Kuratorzy tematycznych blogów
W niedalekiej przyszłości, (która może np. przynieść "trochę większą ilość SP" ;) ), będziemy poszukiwać kuratorów do tematycznych blogów, podobnie jak ma to miejsce na tematycznych tagach. Kuratorzy tacy dostaną możliwość głosowania za pomocą Wise, który najprawdopodobniej zostanie natywnie zintegrowany i jedyne co będzie trzeba zrobić, to użyć przycisku "Wise Vote" na blogu :)
Nadchodzące zmiany
Nieustannie rozwijam Engrave'a - w ciągu najbliższych kilku tygodni pojawi się sporo zmian, m.in. możliwość tworzenia kilku blogów korzystając z jednego konta oraz współpraca bloggerów (postowanie na wspólne konto, moderacja itp). Nadchodzące zmiany będą oczywiście dostępne dla osób, które załapią się na "darmowe premium" ;)
Pojawi się zupełnie nowy panel autora, który będzie miał znacznie więcej możliwości.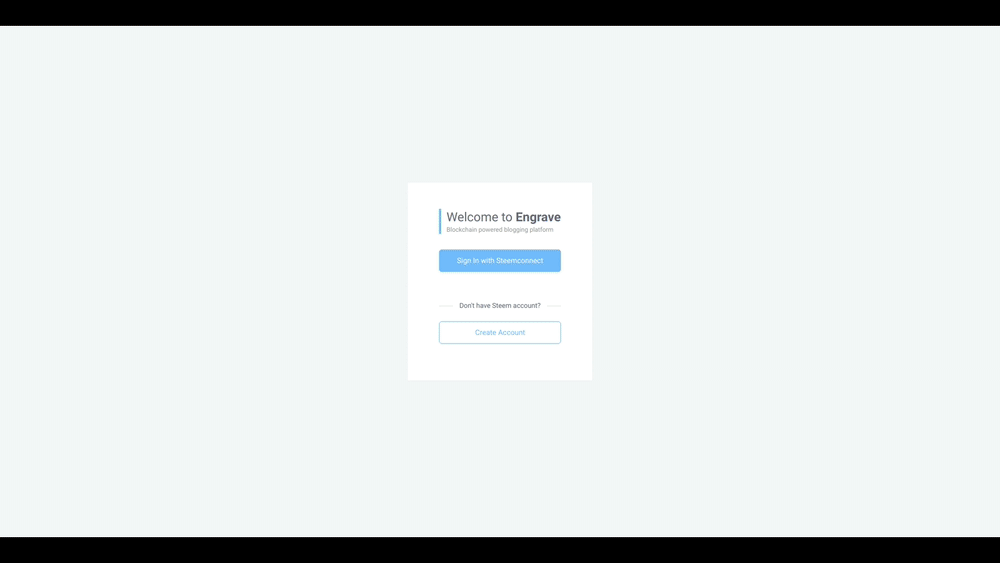 Zmiany dotkną także kategorii na blogach - przestaną być one zależne od tagów. Każdy wpis będzie można dodać do wielu kategorii. Umożliwię także import artykułów z innych platform, żeby tworzyć sensownie wyglądające blogi z już dodanych artykułów.
Wise-team
Zachęcam także do głosowania na naszego witnessa, który powstał z połączenia sił moich oraz @noisy'iego. Staramy się dostarczać projekty i rozwiązania przydatne społeczności Steem, a także dbać o stabilność sieci posiadając własnego node'a. Głosowanie nic was nie kosztuje, a nam pozwoli piąć się do góry na liście witnessów, jednocześnie zwiększając ilość Steem Power na koncie @engrave, którym to chcemy m.in. nagradzać polską społeczność. Żeby zagłosować wystarczy kliknąć na obrazek poniżej, który przekierowuje do Steemconnect.

---
Zainteresowane osoby mogą zostawić komentarz pod tym wpisem, a ja zrobię co trzeba, aby dla tej osoby korzystanie z platformy było darmowe.
---
Pierwotnie opublikowano na Oficjalny dBlog. Blog na Steem napędzany przez dBlog.