W ostatniej chwili dodaję wpis konkursowy, bo czas jest do dziś do północy :) tu link do konkursu -> https://steemit.com/polish/@grecki-bazar-ewy/konkurs-kulinarny-16-ulubione-danie-z-makaronem
Konkurs jest organizowany przez @grecki-bazar-ewy i jest powtarzany cyklicznie, co tydzień. Zachęcam inne osoby do brania w nim udziału, albo chociaż do głosowania na jego uczestników.
Ta edycja poświęcona jest daniom z makaronem, więc ja zaprezentuję coś szybkiego, prostego i sezonowego, bo jak ktoś ma własny ogródek to sam wie jaki problem jest z nadmiarem cukinii i nie wiadomo co z nią właściwie robić, a to bardzo zdrowe i smaczne warzywo.
Makaron kukurydziany z cukinią, suszonymi pomidorami i czosnkiem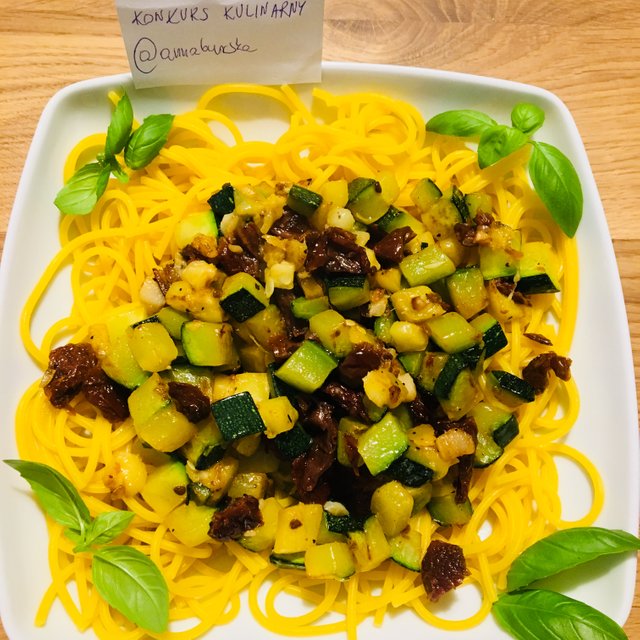 Składniki:
makaron kukurydziany (u mnie 75gram)
cukinia wedle uznania, ale im jej więcej tym lepiej)
2 ząbki czosnku
kilka suszonych pomidorów w oliwie (ja dodałam 5 bo bardzo je lubię)
przyprawy: pieprz i sól
1) Włączamy wodę do ugotowania makaronu i...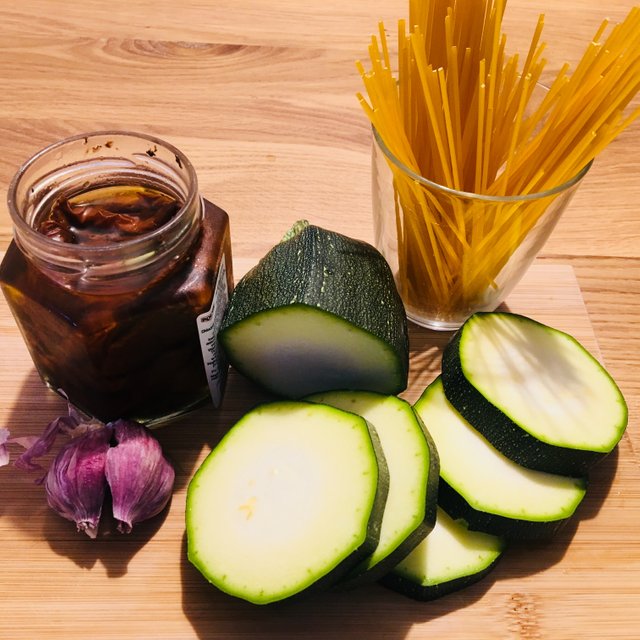 2) ...bierzemy się za krojenie w kostkę cukinii. Drobno szatkujemy też czosnek i suszone pomidory i wszystko wrzucamy na patelnię. Nie musimy dodawać już dodatkowo oleju bo użyliśmy tutaj pomidorów w oliwie, więc już one mają na sobie wystarczającą dawkę. Posypujemy wszystko solą i pieprzem i włączamy do podsmażenia.
3) Jak tylko zaczniemy smażyć to od razu wrzucamy makaron do gotowania. Cukinii nie ma co smażyć zbyt długo bo stanie się zbyt miękka i będzie niesmaczna, kilka minut wystarczy.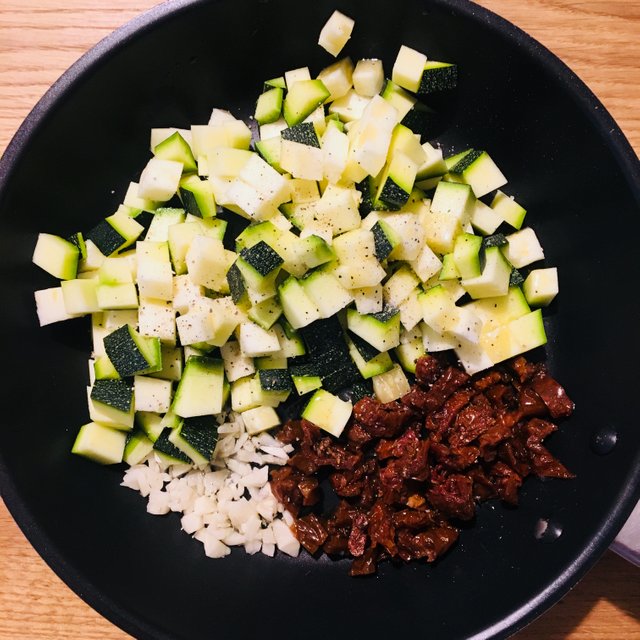 4) Odcedzamy makaron, układamy go na talerzu i dodajemy składniki z patelni. Gotowe!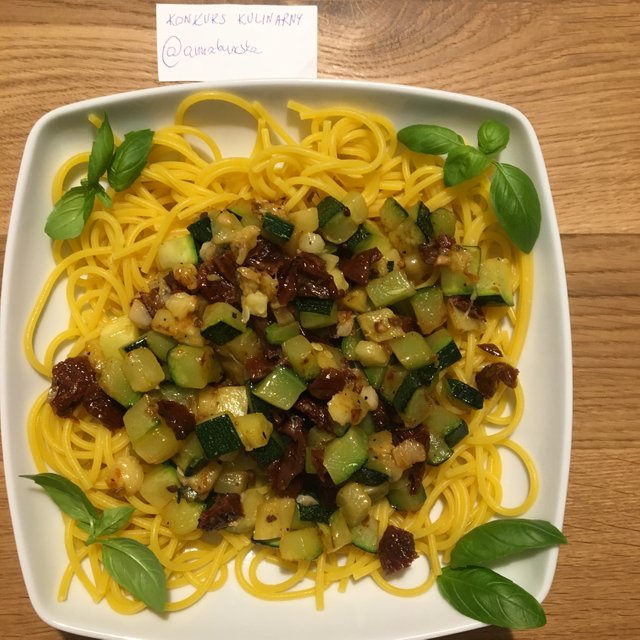 Bardzo szybkie (20 minut maksymalnie na przygotowanie całości) i smaczne danie :)) Pomidory suszone to jeden z tych produktów, które zawsze muszę mieć w domu. Ostatnie zdjęcie już bez korekty kolorystycznej ;)) U mnie danie zniknęło z talerza momentalnie!