Cream of Tomato soup with homemade pesto-Krem z zupy pomidorowej z domowym pesto
This soup is very quick to make ,more filling than other soups because of the addition of cooked chicken +healthy fats from nuts😍 It very nutritious too!
❤️Cashews are bringing to you calcium, iron and magnesium
❤️tomatoes are a great source of vitamin C, potassium, folate and vitamin K.
❤️Cheese contains a host of nutrients like calcium, protein, phosphorus, zinc, vitamin A and vitamin B12.
❤️ Basil is rich in vitamin A, vitamin K, vitamin C, magnesium, iron, potassium and calcium
❤️ Onions are rich in antioxidants and contain decent amounts of vitamin C, folate, vitamin B6 and potassium.
If you are vegetarian use cooked tofu or grilled halloumi cheese to replace chicken.
Sometimes I use nutritional yeast instead of cheese to save some calories😉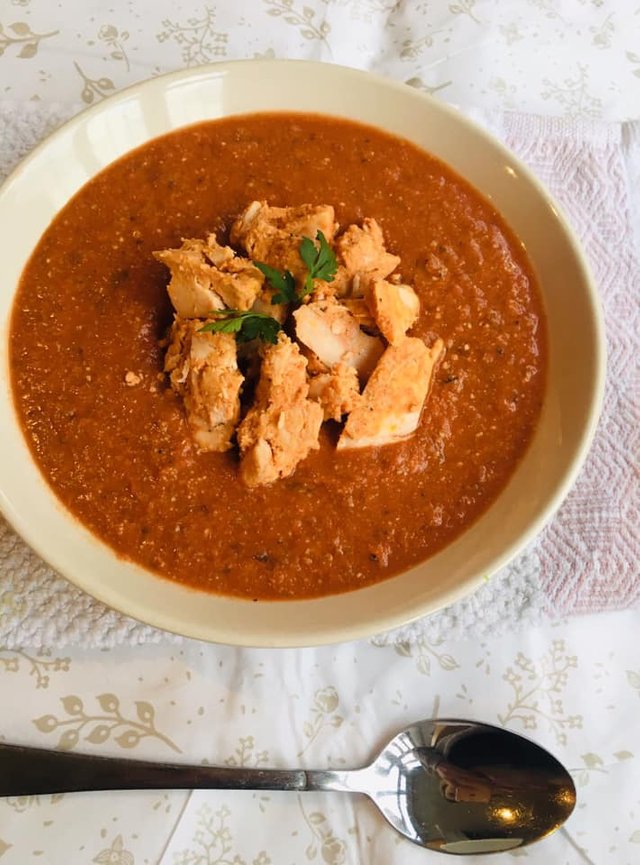 *(Polish)
Ta zupa jest bardzo szybka w przyrzadzeniu i sycaca ze względu na dodatek gotowanego kurczaka + zdrowe tłuszcze z orzechów😍
Orzechy nerkowca dostarcza tobie wapń, żelazo i magnez
Pomidory są doskonałym źródłem witaminy C, potasu, kwasu foliowego i witaminy K.
Ser zawiera wiele składników odżywczych, takich jak wapń, białko, fosfor, cynk, witamina A i witamina B12.
Bazylia jest bogata w witaminę A, witaminę K, witaminę C, magnez, żelazo, potas i wapń
Cebula jest bogata w przeciwutleniacze i zawiera przyzwoite ilości witaminy C, kwasu foliowego, witaminy B6 i potasu.
Jeśli jesteś wegetarianinem, użyj gotowanego tofu lub grillowanego sera halloumi, aby zastąpić kurczaka.
Czasami dodaje drożdży odżywczych zamiast sera aby bylo ciekawiej :-)
Ingredients for 4 portions
1200ml passata
80g peanuts or cashews
50g cheddar cheese or Parmesan
80ml whole milk
2garlic cloves ,minced
Handful of fresh basil
130g onion (small), chopped
20gr tomato purée
2 tbsp sweetener
1 tsp Italian herbs or oregano
1 veg stock cube
0,5tsp black pepper
Salt to taste
1cal oil in spray
Składniki na 4 porcje
1200 ml passata lub pomidorow z puszki(sos)
80g orzeszków ziemnych lub orzechów nerkowca
50 g sera cheddar lub parmezanu
80 ml pełnego mleka
2 ząbki czosnku, mielone
Garść świeżej bazylii
130g cebuli (mała), posiekana
20gr przecier pomidorowy
2 łyżki słodzika
1 łyżeczka włoskich ziół lub oregano
1 kostka warzywna
0,5 łyżki czarnego pieprzu
Sól dla smaku
olej w sprayu
Method
Step 1. Start with homemade pesto.
In food processor blend peanuts together with fresh basil and milk. This mixture need to be as smooth as possible, mine wasn't perfect but I liked it.
Krok 1. Zacznij od domowej roboty pesto.
W robocie kuchennym zmiksuj orzechy ze świeżą bazylią i mlekiem. Ta mieszanina musi być tak gładka, jak to możliwe, moja nie była idealna celowo, poniewaz lubie jak znajduje male kawalki orzechow do pochrupania podczas jedzenia:-)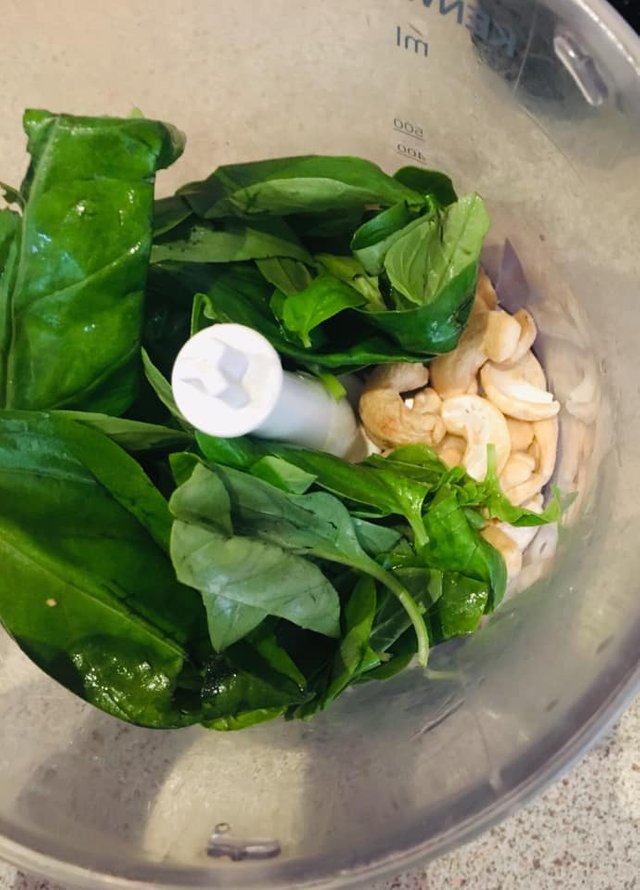 Step 2
Fry the onion until soft, add all passata, garlic, Italian herbs,stock cube and bring to boil.
Krok 2
Cebulę smażyć az sie zarumieni, dodać nastepujace skladniki: Sos pomidorowy, czosnek, włoskie zioła, kostkę bulionową i zagotować.
Step 3
Add tomato pure, your homemade basil pesto, cheese ,sweetener and boil for about 5min.
If you don't like your soup to thin add about 15g ground flaxseeds or less chia seeds to thicken it's consistency. Season to taste!
Krok 3
Dodaj przecier pomidorowy, nasze domowe pesto z bazylii, ser, słodzik i gotuj przez około 5 minut.
Jeśli nie lubisz rzadkich zup, dodaj około 15 g zmielonych nasion lnu lub lyzke nasion chia, aby troszke ja zagescic bez dodawania maki. Odczekaj 10min az nasiona lub len wsiaknie troszke plynow i zagesci zupe. Nie polecam gotowac zupy po dodaniu nasion lub lnu poniewaz gotowanie moze spowodowac , ze wydzieli sie taki nieprzyjemny"sluz" ktory bedzie odczuwalny podczas jedzenia.
Dopraw do smaku!
Serve with anything you desire!
Protein it's important for me so I added shop bought cooked chicken😁
Feel free to add more vegetables: I often add canned chick peas or sweetcorn.
Macros per 1 portion including cooked chicken breast:
Calories 433
Fat 19g
Carbs 24g
Protein 39g
Fiber 6g
Podawaj z czym chcesz :-) Nasz pyszny chrupiacy polski chlebek na zakwasie napewno nie zawiedzie :-)
Białko w mojej diecie ( i przy moich treningach) jest dla mnie ważne, więc dodałam rozdrobniona ugotowana piers z kurczaka ( kupiona w sklepie)😁
Często dodaję tez puszkę ciecierzycy lub kukurydzę.
Makra na 1 porcję, w tym gotowana pierś z kurczaka:
Kalorie 433
Tłuszcz 19g
Węglowodany 24g
Białko 39g
Blonnink 6g