Darmowa kasa od Binance (Rozdają XLM!)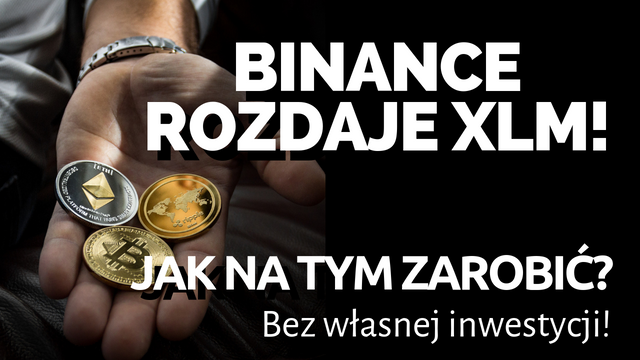 Wracam na Steemit i znowu podrzucam wam drodzy Steemianie sposób na darmową kasę, dzięki kryptowalutom :-)
Plan działania jest bardzo prosty i wystarczy wykonać tylko kilka kroków. Zaczynajmy!
Airdrop Binance
Giełda Binance postanowiła przeznaczyć 9.500.000 XLM na nagrody dla swoich użytkowników. Wartość Stellarów przy obecnym kursie wynosi prawie 800 tysięcy dolarów, więc całkiem nie mało :-)
No dobra, ale co zrobić, żeby je dostać? Wystarczy posiadać na swoim koncie Binance przynajmniej 10$ w kryptowalucie XLM. Każdego dnia giełda będzie robić migawkę posiadanej na naszym koncie liczby stellarów i po 40 dniach otrzymamy "wydobyte" w ten sposób XLM. Proste, prawda?
Jeżeli nie masz konta na Binance, to kliknij TUTAJ i załóż je bezpłatnie, bez weryfikacji!.
Czy muszę kupić XLM, żeby brać udział w Airdropie?
NIE! I właśnie ta część jest najlepsza! Pamiętasz jak jakiś czas temu pisałem o możliwości zdobycia darmowych XLM w programie Coinbase EARN od giełdy Coinbase? Podobno wyrywkowo ciągle weryfikują osoby z Europy i dają im możliwość zdobycia prawie 100$ w różnych kryptowalutach - w tym także Stellar Lumens!
Co trzeba zrobić?
Zarejestruj się w programie Coinbase EARN.
Weź udział w Quizie i odpowiedz na proste pytania związane z danymi kryptowalutami.
Zdobyte w programie XLM prześlij jak najszybciej na giełdę Binance (pamiętaj, że im szybciej to zrobisz tym lepiej)
Co myślicie o takiej strategii? Lubicie proste sposoby na zdobycie dodatkowej kasy?
Zapraszam Cię również na mojego bloga, gdzie czeka na Ciebie prezent!