[PL/ENG] Tablica korkowa / Cork board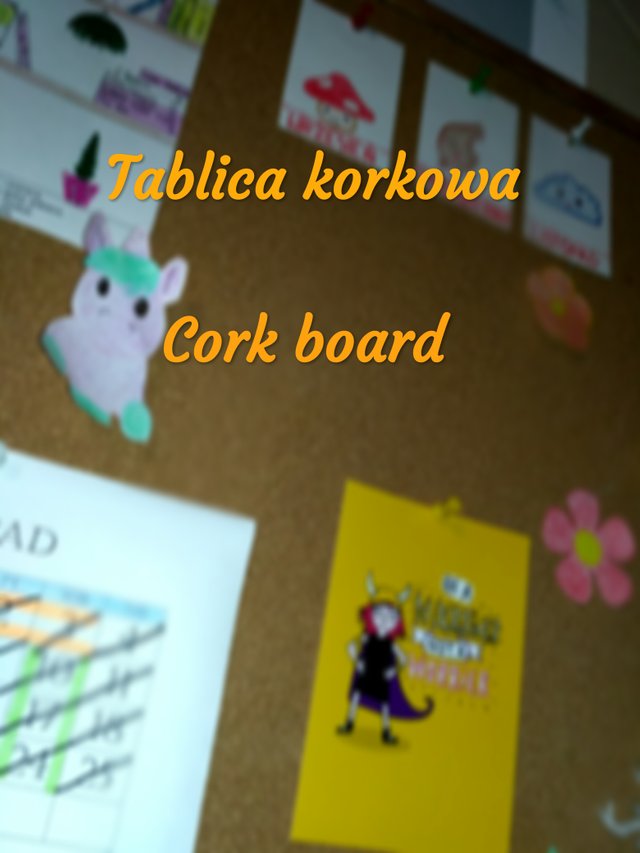 Cześć!
Dzisiaj chcę opowiedzieć o tym jak udekorować tablicę korkową. Może leży gdzieś w kącie, może wisi na waszej ścianie bez pomysłu.
Na początku zastanów się do jakich celów będziesz używać tablicy:
organizacyjnych
dekoracyjnych
połączysz dekoracje z rzeczami organizacyjnymi
Dekoracyjne jak sama nazwa wskazuje służą do dekoracji, możecie wieszać tam wszystko co się wam podoba, co pasuje do waszego wystroju. Organizacyjne tablice zaś, służą do organizacji twojego życia. Możesz tam wieszać kalendarz, motywacyjne tabliczki, ważne daty.
Trzecim sposobem wykorzystania tablicy to połączenie tych dwóch rzeczy. Wieszasz na niej organizacyjne przedmioty, ale żeby były one estetyczne i ładnie wyglądały.
Ja wam przedstawię właśnie ten typ tablicy. Pokażę wam jak może wam ona pomóc w organizowaniu oraz aby spełniała też zadanie dekoracji.
Ja na początku zrobiłam sobie kalendarz w zwyczajnym wordzie. Poświęciłam na to 30 minut, ale myślę, że było warto. Możesz również zakupić sobie taki, będzie on spełniał te same zadania.
Zaznaczyłam sobie tam dni wolne, egzaminy, kiedy mam szkołę językową czy też urodziny i imieniny moich bliskich.
Łatwiej mi wtedy przetrwać poniedziałki, patrząc, że za niedługo będzie wolne.
Następnie zrobiłam małe obrazki, które obrazują miesiące na przykład chmurka kojarzy mi się z listopadem, a muchomorek z wrześniem.
Następnym punktem są tabliczki motywacyjne, które pełnią funkcje motywacyjną i dekoracyjną. Gdy rano wstaniesz i na nie popatrzysz oraz przeczytasz tekst umieszczony na nim od razu będzie ci się chciało wstać.
Mam jeszcze parę rzeczy na mojej tablicy, ale o nich napiszę w następnym poście. Na razie zapraszam was do wszelkiej aktywności na moim profilu!
Cześć!
Hey!
Today I want to talk about how to decorate a cork board. Maybe it's somewhere in the corner, maybe it's hanging on your wall without an idea.
At the beginning, think about what purposes you will use the table:
organizational
decorative
Decorative as the name suggests are used for decoration, you can hang everything there that you like, which suits your decor. Organizational boards, in turn, are used to organize your life. You can hang your calendar there, motivational signs, important dates.
I will present to you this type of table. I will show you how it can help you organize and also to fulfill the task of decorating, so two in one :)
At the beginning I made a calendar in an ordinary Word. I spent 30 minutes on it, but I think it was worth it. You can also buy one yourself, it will fulfill the same tasks.
I've marked there days off, exams, when I have a language school or birthday and name day of my relatives.
It is easier for me to survive Mondays, seeing that it will be free soon.
Then I made small pictures that illustrate the months, for example, the cloud reminds me of November, and the toadstool with September.
The next item is motivational plates, which have motivational and decorative functions. When you get up in the morning and look at them and read the text placed on it you will want to get up right away.
I still have a few things on my board, but I will write about them in the next post. For now, I invite you to all activities on my profile!
Bye!