Dziś chcę Wam opowiedzieć trochę o Szybie Maciej w Zabrzu, a także o zjeździe z niego na tyrolce.
Oprócz niedzielnego biegania mieliśmy również z narzeczonym okazję zwiedzić Szyb Maciej w Zabrzu. Słyszeliście o nim kiedyś? Ja muszę przyznać, że pomimo studiów w tym mieście nazwa ta tylko kiedyś obiła mi się o uszy.
Szyb mieści się na ulicy Srebrnej 6 w Zabrzu (blisko centrum handlowego M1).
Hello Steemians!
Today I would like to tell you some interesting facts about Mineshaft Maciej in Zabrze, also about zip line from it.
Apart Sunday running training, me and my fiancé had an occasion to visit Mineshaft Maciej. Have you heard about it? I must admit that despite the studies in this city I only heard about this Mineshaft but I haven't had an occasion to see it.
It is placed in Zabrze on the Srebrna 6 street.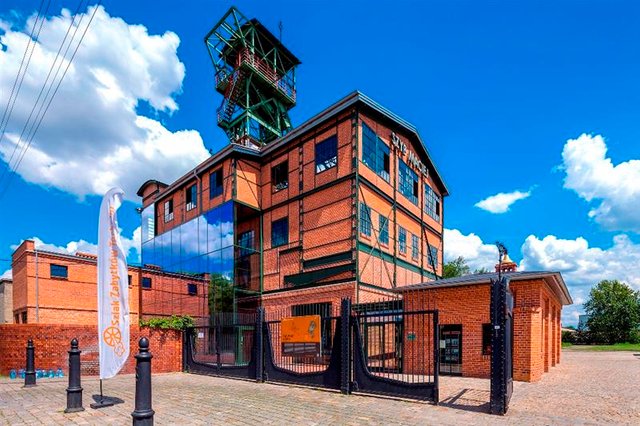 Zabrze – Maciejów – Srebrna 6, źródło: https://www.google.co.uk/url?sa=i&rct=j&q=&esrc=s&source=images&cd=&cad=rja&uact=8&ved=2ahUKEwj6l-Hw3vPbAhXFORQKHX5JAbsQjRx6BAgBEAU&url=https%3A%2F%2Fpozytywka.com%2Fmiejsce%2Fszyb-maciej-974&psig=AOvVaw1MtQGnuHAE-trtz9xAer_4&ust=1530185269475816
Żeby Was nie zanudzać tutaj przedstawiam kilka ciekawszych faktów z szybu Maciej:
Szyb ten pochodzi z pierwszej połowy XX w. – był to zespół budynków dawnej kopalni Concordia,
wydobycie w tym Szybie zakończono w roku 1978, a 1992r. podjęto decyzję o jego likwidacji,
dzięki Przedsiębiorstwu Górniczemu Demex Szyb ten jednak nie został zlikwidowany, a zamieniono go w ujęcie wody, a także w atrakcję turystyczną.
To make a long story short… I please see some interesting facts about the Mineshaft:

it comes from the first half of XX century and it was complex of buildings former coal mine called Concordia,
mining in this place ended in 1978 and in 1992 the decision was made that it will be liquidated,
thanks to company called Demex, Mineshaft Maciej was not liquidated and it has changed for tourist spot with water intake.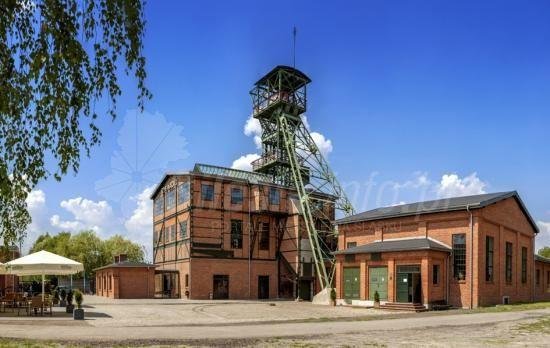 Szyb po wejściu na jego teren, źródło: https://zabrze.com.pl/i,zabytkowy-zespol-szyb-maciej-w-zabrzu,100,843168.html // Mineshaft from within
W Szybie Maciej dziś znajdziemy:
restaurację na dwóch poziomach,
odrestaurowane i zachowane budynki po dawnym szybie wydobywczym,
platformę widokową - około 25 metrów wysokości z której możemy zobaczyć miasto Zabrze oraz Gliwice,
ujęcie wody (niestety nie było nam dane tak owego zobaczyć),
maszynownię oraz urządzenia i wyposażenie dawnej kopalni.
In Mineshaft we can find today:

two-level restaurant,
viewing platform – about 25 metres high from which we can see Zabrze and Gliwice city,
water intake (unfortunately we haven't seen it)
engine room and equipment former Concordia mine.
Niestety nie mieliśmy okazji zwiedzić Szybu Maciej z przewodnikiem, co myślę byłoby ciekawym doświadczeniem ze względu na historię i działanie maszyn, ale być może będzie jeszcze kiedyś okazja.
Mieliśmy natomiast okazję zjechać tyrolką z platformy widokowej. Mieliście kiedyś taką okazję? Dla mnie to mieszanka uczuć gdyż mam lęk wysokości, ale ja nie dam rady? Zresztą mieszankę uczuć widać na poniższym zdjęciu:
Unfortunately we couldn't go on sightseeing with guide what could be more interesting looking on the history and engine room but maybe we will have another chance in future.
We had an occasion to zip-line form viewing platform. Have you ever zip-lined? For me it was a mix of feelings as I'm afraid of heights, but I can't do this? Of course I can! As you can see on the photo below: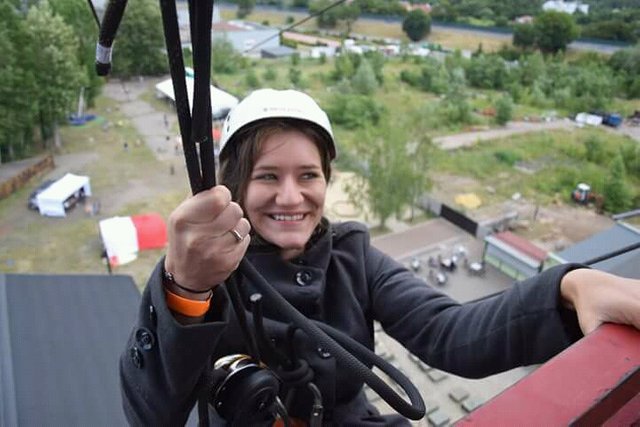 Ale, że ja zaraz stąd zjadę? // Hmm, but I will be at down in a moment?
Zjazd był dość wolny dlatego u góry było tylko więcej strachu, a podczas zjazdu już tylko sama frajda!
This zip-line was slow, so I was afraid only when I was at the top and during the ziplining it was just fun!