Shady in Haiti – DynCorp infiltration of Haitian Police Forces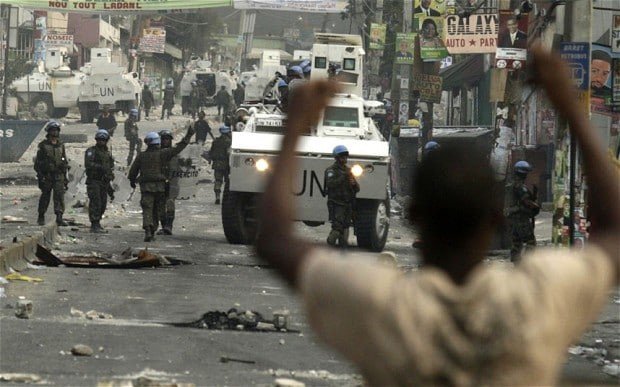 The US contractor, DynCorp, has been operating in Haiti for over two decades winning their first government contract to supply U.N. peacekeepers in 1994.
In light of George Webb's ongoing investigation of the Clinton Foundation (see bottom of page for link) and it's associate network, I thought now would be a good opportunity to dig deeper into DynCorp's involvement in Haiti's police forces.
"Concentrate on where DynCorp trains police because that's where the sex slave trade is going to be" – George Webb (Day 83, pt.1)
To probably no one's great surprise, Haiti is one of the countries where DynCorp has contracts from the USG to train and support the Haitian National Police force (HNP) but also it's a key player in providing international officers to serve in the U.N. Stabilization Mission in Haiti (MINUSTAH). In addition, DynCorp affiliates provide corrections advisors for training and support of prison workers.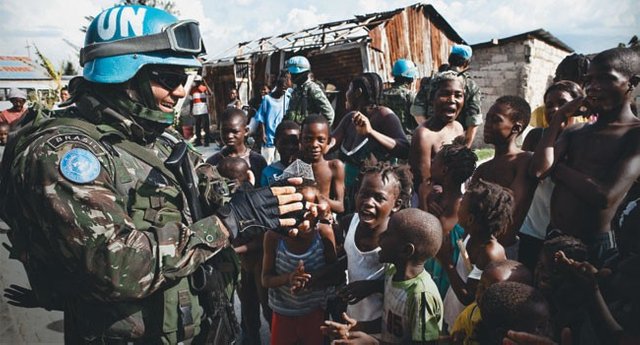 Partners such as Professional Business Solutions Inc. (PBSI) also contribute to HNP corrections training with the aim to "transform and professionalize the HNP."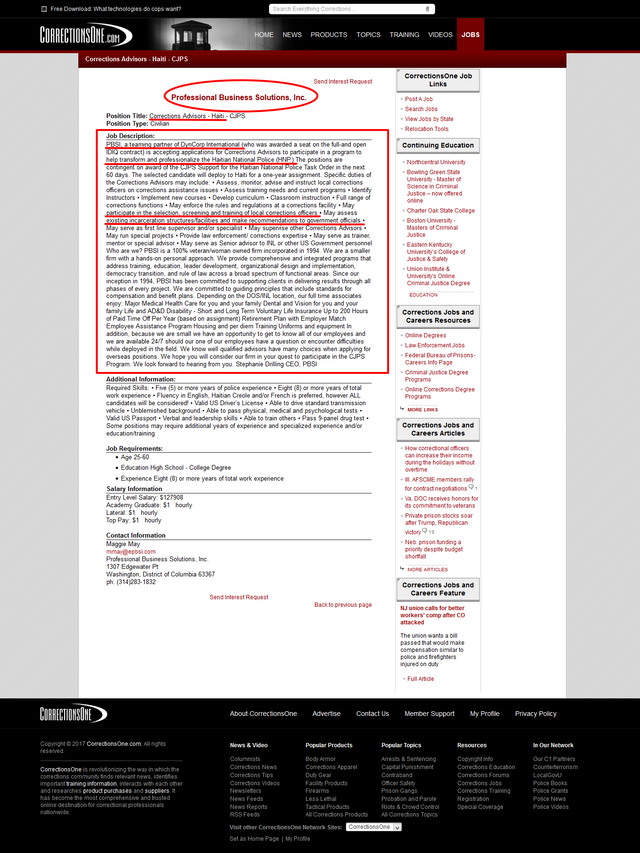 More recently, DynCorp acquired the high-powered firm Casals and Associates Inc. who have also received US government contracts in Africa and Latin America and as well as the Caribbean.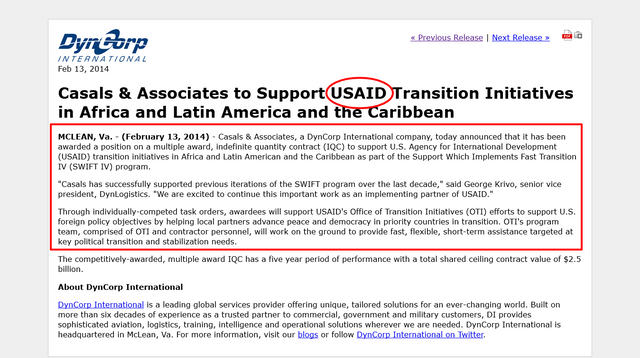 Casals and Associates have been awarded another major contract estimated at $500 million in partnership with USAID. The firm works to support USAID in international legal matters.
"Activities may include reforming legal frameworks.."
"…(to) support USAID efforts in responding to the rule of law challenges and developing human rights cultures."
This enormous contract gives USAID significant power to influence, reform or even remake the judicial systems of sovereign countries.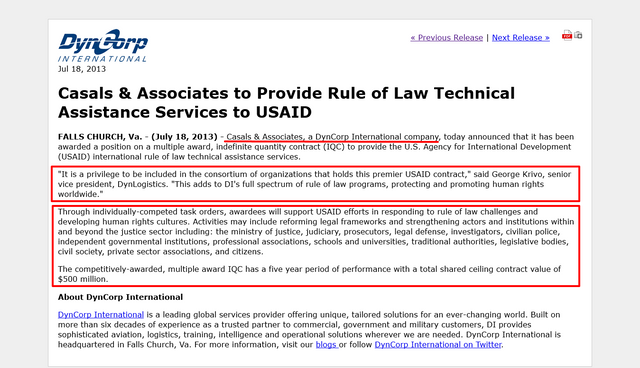 Let's examine a 2008 Wikileaks email concerning DynCorp and another contracting company called PAE.
https://wikileaks.org/plusd/cables/08PORTAUPRINCE1643_a.html
Jim Bean, the civilian police (CIVPOL) and International Development (INL) director is been given a tour of the current projects that were underway in the Haitian capital at that time. Bean oversaw the State Department contract for training CIVPOL in Haiti.
At the time, DynCorp International (DI) was involved in the construction of a new police station at Cite Soleil, expanding a prison that was operating at 400% above capacity, and planning the construction of new women's prison 45 minutes outside of Port-au-Prince.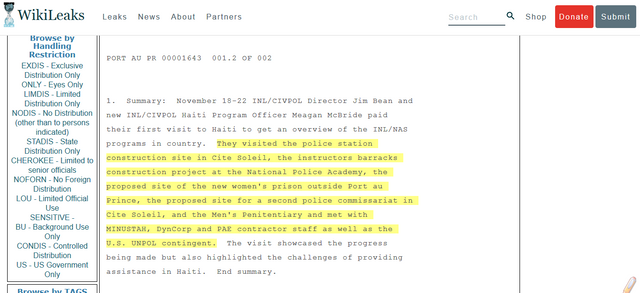 This new women's prison may be of particular interest to the investigation of human trafficking. As Webb suggests, Haiti may be used as a 'holding area' for trafficked women and children. However, I was unable to find any additional information about female prisons in Haiti or find any evidence that the proposed prison was ever completed, thus far.
The US embassy in Port-au-Prince, in particular the Narcotics Affairs Section (NAS), is very much involved with Haitian development projects and capacity building. The NAS has a multitude of initiatives in Haiti from counter-narcotics to anti-money laundering programs which are conducted in coordination with MINUSTAH forces.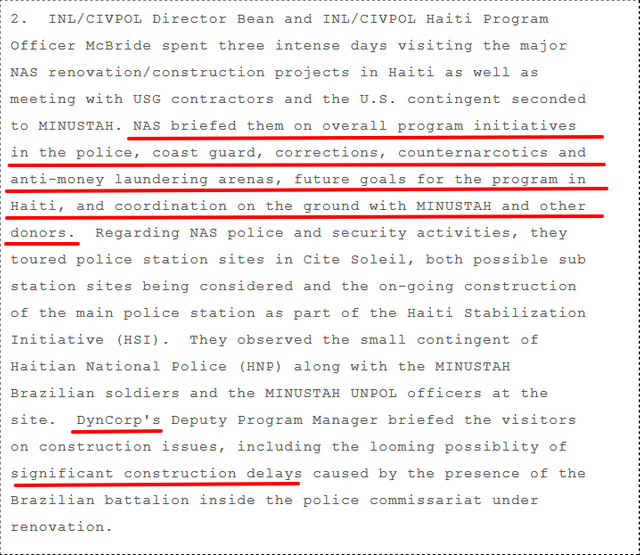 A 2008, US State Department Contract in Haiti and Liberia for $7 million dollars illustrates DynCorp's involvement in the HNP. DynCorp provided training for at least 444 HNP officers. In 2013, DynCorp is awarded yet another contract in Haiti for training and providing support to police worth $48.6 million dollars. The contract is issued by the US State Department through the Criminal Justice Program Support (CJPS) initiative.
From Dyncorp International's website, the company highlights their training of U.N. Police in Haiti (UNPOL – aka - MINUSTAH) and HNP officers through US State Department contracts.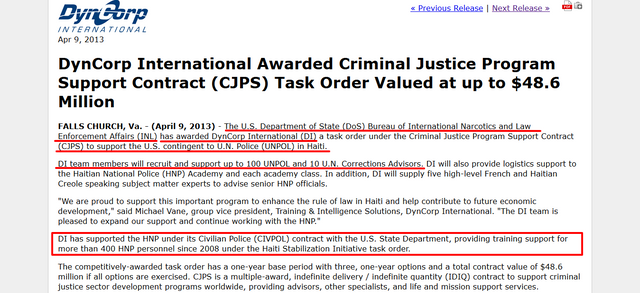 "We are proud to support this important program to enhance the rule of law in Haiti and help contribute to future economic development" … "The DI team is pleased to expand our support and continue working with the HNP."
With all of these resources being poured into Haiti in terms of government contracts, police personnel training, international police recruitment, prison construction, international legal assistance, correctional advisor training, counter-narcotics activities, anti-money laundering and stabilization projects, you would expect that Haiti was seething with crime and overflowing with criminals. You may be surprised to learn that, in fact, the opposite is true. Haiti has the lowest crime rate in the Caribbean.
http://www.counterpunch.org/2014/12/26/inside-the-occupation-of-haiti/
The peaceful territory of Haiti, which has the lowest crime rate in the Caribbean, is occupied by more than 19,627 armed personnel. Specifically, at the last count on October 31, 2014, there was a domestic force of 11,228 established police and 1,144 in training, plus a United Nations force of 4,965 "peacekeeping" troops and 2,290 police officers. This occupation force amounts to about one machine-gun toting individual for about every 500 Haitians or fewer, even without counting the ubiquitous security people who guard the businesses and homes of the rich.
In theory, the international MINUSTAH and UNPOL police are distinct from the HNP force, yet the reality in Haiti is that it's increasingly difficult to distinguish between these police forces.
The company who trains and provides personnel to the international contingency in Haiti is DynCorp. DynCorp is fully integrated into the HNP force.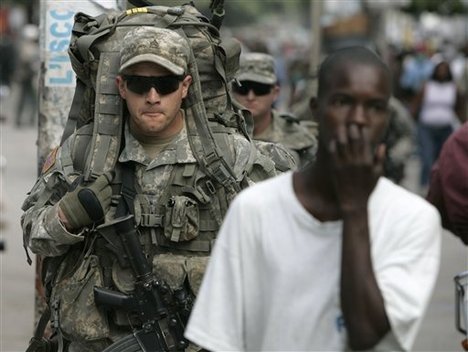 A 2008, US State Department Contract in Haiti and Liberia for $7 million dollars illustrates DynCorp's involvement in the HNP.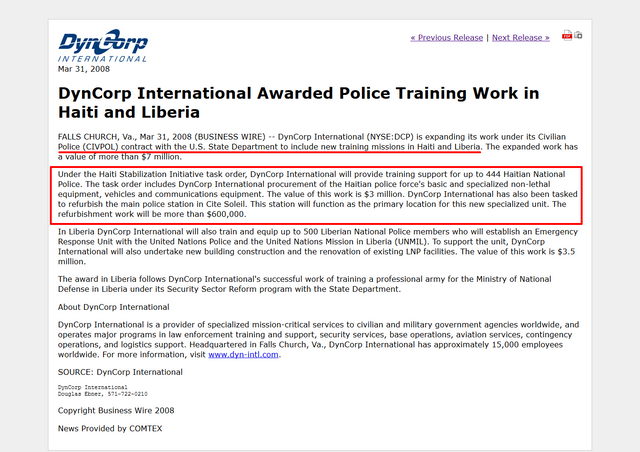 DynCorp provided training for at least 444 HNP officers and, as previously mentioned, it was responsible for the construction of a new police station in Cite Soleil. The DynCorp International website states that the new station will:
"function as the primary location for this new specialized unit."
According to Dady Chery (Counterpunch article above / Haitian writer - www.dadychery.org), the HNP record has been less than stellar over the past decade.
In keeping with their training by MINUSTAH, or rather DynCorp via MINUSTAH, more than 600 members of the PNH (variously called BIM, CIMO, UDMO, BLT, DCPR, Politour, etc. for their specializations) have been dismissed from the force for crimes that include rape, drug trafficking, and murder, the most recent purge being in June 2014.
As a result, Haiti has a de facto US police force serving the population that ultimately protects US interests in Haiti and the region. For Haitians, this is nothing new as Western powers have a long history of interfering in the nation's affairs. There have been police forces with foreign allegiances in Haiti's not so distant past.
Then a US-loyal gendarmerie, which answered directly to the US Secretary of State, was set up to replace the highly regarded national army. The gendarmes functioned like a mafia that lived from extortion; furthermore, even after the occupation, they stood ever ready to organize countless bloody coups d'état on orders from Washington. For example, General Paul Magloire's coup against President Dumarsais Estimé in 1950 was a US-sponsored action via the gendarmerie, as was the 1991 coup against President Jean-Bertrand Aristide.
Let's review.
DynCorp contractors, who have a history of sex trafficking in Bosnia/Kosovo, who have been caught overbilling (defrauding) the US government of tens of millions, a company who is implicated in the CIA extraordinary rendition program involving kidnapping and torture is regularly awarded enormous State Department contracts to train police forces in Iraq, Afghanistan and in this case Haiti.
DynCorp involvement in Haiti:
Police training (DynCorp = Int. & dom. forces: HNP / MINUSTAH)
Police recruitment (DynCorp = MINUSTAH = HNP)
Police station construction (For Dyncorp trained MINUSTAH and HNP)
Corrections training (PBSI, DynCorp partner)
Legal and Judicial Reform (USAID - Casals and Associates Inc. = DynCorp)
Prison construction (Men / women)
Counter-Narcotics (NAS – US embassy)
Finally, it has been documented that the presence of Private Military and Security Companies (PMSC) increases the demand for prostitution and by extension sex trafficking.
Wisconsin International Law Review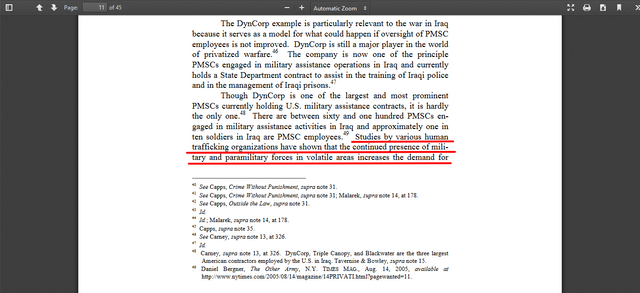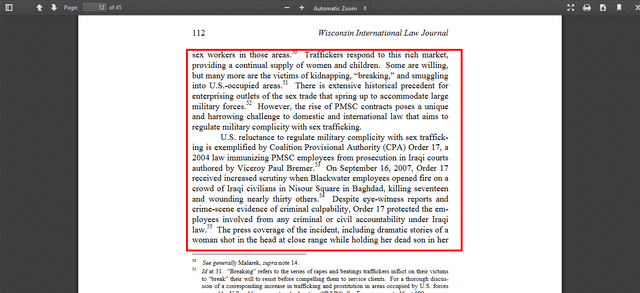 UN peacekeepers force women and minors to exchange sex for food
Over 225 women and minors claim they were abused in 'transactional sex' incidents
http://www.independent.co.uk/news/world/americas/un-peacekeepers-sexually-abuse-hundreds-of-women-and-minors-in-haiti-in-exchange-for-food-and-10309963.html
Food for Sex – The Real News

This is Shady. This is Haiti.
Link to George Webb - Day 83 pt. 1 – "Where is Eric Braverman?"