NYPD Rleases Anthony Weiner Screen Shots with 15 Year Old Girl - March 22
"One bullshit road block after another," a NYPD source said.
"They (feds) sat on it," The NYPD source said. "Fucking disgraceful."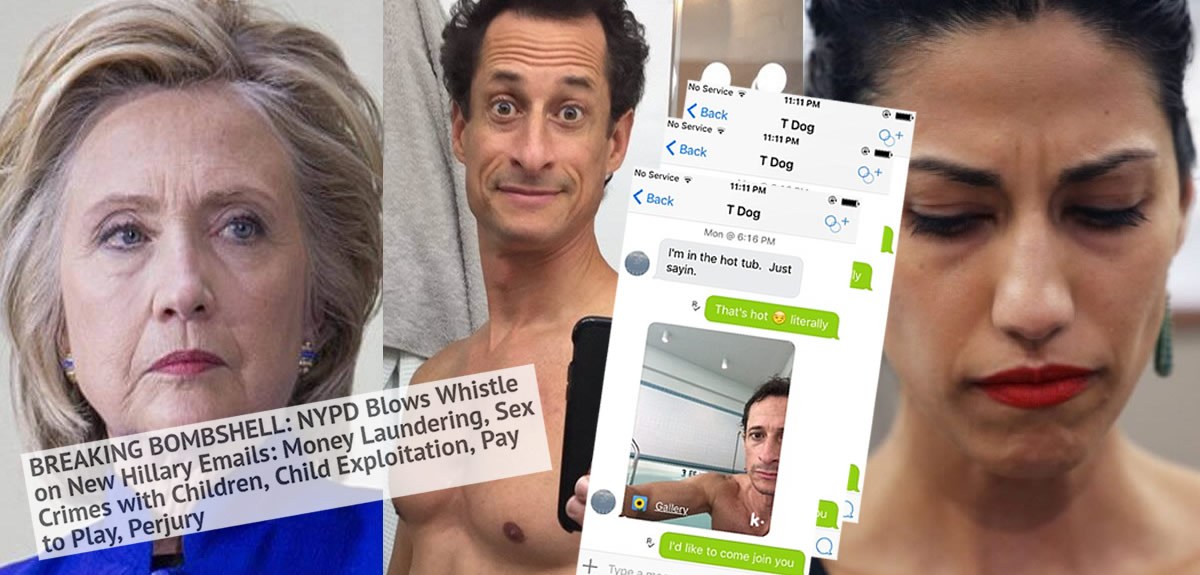 The NYPD is moving in defiance of the FBI by publishing contents discovered on Weiner's laptop. Sources inside the NYPD told True Pundit that there exists evidence that Hillary Clinton and Huma Abedin were aware of Weiner's sexting with a minor during Clinton's failed 2016 campaign run. Despite knowledge of the sexting neither Hillary nor Huma intervened or contacted authorities while the correspondence lasted over 4 months.
NYPD officials said Clinton and Abedin discovered Weiner's sexting with the minor in April 2016 and that he had already been corresponding with the youth for months.
Neither Clinton nor Abedin apparently did anything to stop the abuse of the minor. Instead, the repeated incidents — which breach a host of state and federal laws — were kept quiet.
Yet Clinton, who champions herself as a women's rights advocate, did nothing to help the girl. And it gets even worse. NYPD said the high school sophomore was suffering from depression and told Weiner during over seven months of correspondences that she often wanted to end her life. Weiner did nothing to try to stop the girl from hurting herself, NYPD sources said.
Clinton and Abedin attempted to cover-up a number of serious issues pertaining to the sexting
Weiner coaxed video chats in which he asked the girl to undress and touch herself and repeat his name out loud.
The girl told Weiner that she was a sophomore in high school and trying to get a learner's permit to and learn how to drive.
Weiner knew the girl was suffering from depression and occasional suicidal thoughts yet urged the youth to dress up in 'school-girl' outfits and pressed her to engage in rape fantasies.
Weiner repeatedly told the high school student that he wanted to force himself on her when her father was out of town and away from the house.
Weiner forced the girl to write him a letter saying that their online relationship was friendly and at no time did he engage in sexual conversation or innuendo. The youth complied. That letter is on the lap top and in the FBI's possession, NYPD said. Weiner may have provided a copy to Clinton to cover her in case these allegations exploded during the campaign.
Weiner used his cell phone to correspond with the girl and the texting apps Confide and Kik as well as desktop Facebook and Skype from the girl's bedroom while her parents were often asleep in the next room.
Likewise alarming, and largely due to Abedin and Clinton's silence, Weiner continued to sext the teenager for approximately four months after Clinton learned of the illegal relationship.
The girl might have been 14 years old when the sexual relationship commenced in January 2016, per records obtained by NYPD.