]
I am still playing catch up at the moment with George Webb's work which is quite stellar in my opinion. The only real problem I have with his videos is that he keeps mentioning things which help to connect dots along a few trails I've been following. So, I pause to go back to follow threads and in the process more threads come spinning out and the next thing I know the night is gone... the next day... and so on and so forth.
These are some research notes flowing from information which drew my attention whilst watching the Day 68 - Where is Eric Braverman? video posted above. What follows is a rough transcript of a portion of what George says which may also assist others to bring together some more threads in the convoluted, tangled web of our investigative research. 
George Webb's commentary:

"What you had were these Middle Eastern contractors coming to these oil meetings in New York at the Council for Foreign Relations and then they were going out at night to places like the Boom Room on 9th Avenue, high forties back then. It was a strip club basically, that's where they took them. And then they'd say, "Hey, you're nice and drunk now do you want to go to a party? Let's go over to Jeff Epstein's house. So, this is 2002 - 2003. Now it's moved down to the meat packing district and it's real nice and posh - the Boom Boom Room that is. Then a retired deputy sergeant from NYPD watched this and said, "hey..." so I'm trying to engage other people who are involved in these cases to connect the dots.  
"The other thing is if you look at the Long Island Serial Killer case this (pointing at the CCC logo by way of example) is a group of conspiracy theorists who think they were all prostitutes and this (pointing to Almabani logo) is a group of conspiracy theorists that thinks none of them were prostitutes. Well the truth is that there were a few of both and this sounds terrible but it's called a cover murder." [Like a few of the plane crashes and other questionable operations in the last couple of years perhaps?]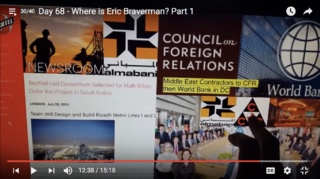 "You kill the people you want to kill, the 5 or 6 people that are coming forward that actually just went to parties and were drugged and drug raped and then, you cover it unfortunately with prostitute murders you don't think anybody's going to care about. Usually they don't have a lot of parents or haven't lived there a long time, they're immigrants and so forth. But you mix them all together and you confuse everyone and you get these two groups fighting each other - from an operations point of view - and they don't realise that it's a mixed bag, these are cover murders. So the reason why I do that is to get both of those groups who are involved in those investigations on side and focused on the right things rather than fighting each other." [...which the perps would of course prefer and is why they created the confusion to distract, divide and conquer as an integral aspect of the coverup in the first place in my opinion.]
"Connecting the dots is so important for journalists like Eva Bartlett because if she doesn't know this connection, this, downstream of where the profit motive is, it really limits her...She can only say that SOHR [Syrian Observatory for Human Rights one man operation in Coventry, U.K.] is a fraud human rights organisation but there's this huge iceberg underneath. Now with this information hopefully people will send this to her, get her on board because she's the Pulitzer prize winner in this case. Serena Shim was also as well and all of the stuff I am presenting is basically Serena Shim's work, it's just Turkish intelligence murdered her. So I look at myself as kind of the flag bearer. She fell with the flag and I'm picking it up and carrying it forward until I go down. So here she [Eva] is talking about these chemical weapons attacks. If she has the Russian investigators that come in and the child trafficking investigators... Serena Shim was the first one to say "Hey, oil is going one way and arms are coming the next way, they're in WHO trucks by the UN, and there's a lot of kids going the wrong way here, that way - south." So she was the one that put together this working theory and this is further supported by Eva Bartlett and that's where I'm saying these working theories are so important because they turn into chains of evidence." 
George also mentioned that sometimes people with diplomatic passports get into a little trouble when they're in New York City. However, if they do, their diplomatic passports mean that they don't have to answer to the law in the United States. Someone in the Reddit thread which I quote from more extensively below commented, "It's a Saudi prince with diplomatic immunity."

This all speaks to a highly possible Brownstone Operation which is used to describe the long used practise of creating honey pots where diplomats, politicians and other people in positions of power are ensnared in compromising situations such as being photographed and/or filmed whilst engaging in the rape of children or worse which is then used for the purpose of extortion. There are more details about this below with a video about The Finders.
Here is some information about the Long Island Serial Killer (LISK):
In this podcast which I found posted at Reddit, Shannon Gilbert is referred to as the "catalyst disappearance". It's an interesting discussion. 
Sep 29, 2016 
"In 2010 the bodies of four prostitutes were found wrapped in burlap  and buried in the brush on Oak Island NY. The next year 6 more sets of  remains would be found, most of them believed to also have been  prostitutes. Is a single serial killer using Oak Island as a dumping  ground? Is it multiple serial killers? Or are they all unrelated?" 
Hmm...Oh dear, something doesn't feel right about this: Mother of Victim Shannon Gilbert Linked To Long Island Serial Killer Case Found Dead - July 24, 2016
Excerpts: 
"A New York woman whose escort daughter mysteriously died in 2010, leading to the discovery of a series of serial murders along a Long  Island beach, was herself found dead Saturday, leading to her younger daughter's arrest, police said."
[...]
Mari Gilbert had been an outspoken critic of investigators' handling of  her daughter's death, which was never ruled a homicide. Investigators have said Shannan Gilbert's death is not linked to the other victims, who are believed to have been murdered."
In Gilbert's case, her skeletal remains were found in a marsh, leading  investigators to suggest that she drowned there or succumbed to the elements shortly after she met with a client nearby in May 2010.
However, an autopsy report released in February suggested that she may have been strangled.
NBC New York reported that Gilbert's family is involved in a civil suit with a Gilgo Beach doctor, who they believe knows more about her disappearance.
Comments from Reddit:
unsolvedscorpio (3 months ago) I  hope the passing of Mari Gilbert, Shannon Gibert's mother, won't allow  this case to quietly fade away. She was vocal in keeping it in the news. An odd and sad turn of events seeing as though she, Mari Gilbert, was murdered by her mentally ill daughter, Shannon's sister.  
AngloAnon (2 months ago) Omg!!!  I hadn't heard she'd been murdered! It kinda makes you wonder if the "murderer" really called the little sister like they say given her mental disease...Though, she was younger then, schizophrenia doesn't manifest until a person's 20s usually.   
Long Island Serial Killer: A Deeper Look Into the Gilgo Beach Murders 
This is a postscript at the end of the article.  
For a more indepth peek into this unsolved serial killer case, A&E  Network premiered a new, original docu-series called "The Killing Season" on Saturday, November 12, 2016 with filmmakers Josh Zeman and  Rachel Mills delving into the case. Read the press release here.  
In December of 2016, the attorney for the Gilbert family made claims that  linked former Suffolk Police Chief James Burke to the killings, according to NBC 4 New York.
How Websleuths & Filmmakers Sparked A Revelation In Gilgo Murders Case - December 30, 2016 
Long Island Serial Killer - Websleuths archived LISK discussion threads, case pictures, timelines, media and more. 
The Killing Season' Docuseries Examines Long Island Serial Killer (review) - The show's documentarians uncover connections suggesting Long Island is just the beginning. - November 11, 2016
I've copied excerpts from information posted in a LISK thread on Reddit. There are also some other interesting personal and incidental information shared in that thread which I encourage you to read. 
picturesnatcher: 
The thing about LISK is that everyone (media, LE, armchair detectives)  focus on the OP bodies and ignores the rest of the unidentified victims. You won't find mention of the unidentified men dumped in Manorville in any of these threads I suspect. http://www.nytimes.com/2003/12/14/nyregion/4-bodies-leave-hamlet-on-edge.html?_r=0 Or the other child John Valentine (wrapped in a disney blanket...as in  Mickey Mouse) who washed up on rockaway beach in a laundry sack. Nor will you find mention of the partial remains found all the way out in S  Hampton on Halsey Neck Rd..(Yes like Halsey Manor Rd which should be  familiar to you if you know this case) https://identifyus.org/cases/full_report/7879 I suspect the killer's graveyard extends the entire length of the island  from Rockaway to the Hamptons...and it might not even be just the south shore. The Lattingtown victim says they might be hidden in the sand all over the north shore for all we know as well. And who knows how many  more in Manorville waiting to be found or in little patches of woods off the LIE. They just found a skull in Ronkonkoma. We are dealing with Ridgeway numbers here. But how can all these males, females and children be unidentified? Can anybody be that lucky, or does the killer have amethod for ensuring his victims won't be indentified?
It's possibe, but that doesn't explain the unidentified. Note that the only  victims who have been identified, g4 and jessica taylor were all sex  workers. Yet ALL these other remains are unidentified men, women and children. If a sex worker happens to bring her child along and the LISK  decided to go ahead an kill them both, does that child completely  disappear from the record? There are probably people who would notice a  child never seen again, even a sex workers child. It is so improbable  that the killer picks all these people at random and they all remain unidentified. He most have some method for determining who wont be missed. The reason I posted about that quote about the Amagansett body is because of the small stature comment. It sounds like maybe they were  killed in bed: (The three manorville males were found in underwear, here  is JD 2012 "The remains, Mr. Samuel said, appeared to be wrapped in a  bed sheet, wrapped in a plastic garbage bag, and tied with duct tape.  Weeds and leaves had buried most of the remains." http://riverheadnewsreview.timesreview.com/2012/02/34527/cops-new-remains-found-in-wooded-area-in-manorville/ I don't think they have to be male prostitutes, but it's a possibility.  
"Rich Meyer, who manages the Michelangelo pizzeria across Route 111 from the shopping center and lives next door, wondered why the police have not linked a fifth find, of a head with a bullet wound found in January, to the Manorville cases. Lieutenant Fitzpatrick said the head was found  at Twin Ponds in Center Moriches, about 10 miles southwest of the fourth Manorville body. He said it has no connection to the other bodies  but declined to say why." This skull was eventually identified as a NY trans sex worker: http://nypost.com/2007/11/24/hunt-for-clues-in-tranny-slay/ "

It took Suffolk detectives almost a year and a half to identify the victim as Andre Jamal Isaac, 25, of East New York, the grandson of a Vietnam POW.
DNA tests linked the body parts to a torso found clad in a skirt, black body suit and tank top in Far Rockaway, Queens, in December 2002. Detectives showed photos of his head to transvestites in Manhattan. In May 2004, one drag queen told a detective, "Hey, that looks like  Sugar Bear." Another knew Isaac's real name, and detectives found his  mother, Kim Long Jordan, 50, on Long Island. Jordan gave investigators a key piece of information: One of her  son's pals had seen Isaac just before Thanksgiving getting into a car  with a "secret friend." He was never seen again. "He went out without a coat and said he would be right back. He left his pocketbook," she said. Fitzpatrick said the car was a red, BMW-type coupe with "nice rims" driven by a Hispanic man. 
There has been many chances for LE to work with a fresh case. They've known  there was an SK at work since atleast 2000 in Manorville. This was the brilliant head homicide dick Fitzpatrick after they'd found four bodies in Manorville, the two girls in almost the same spot: "Throwing cold water on the serial killer theory, Lieutenant Fitzpatrick said the two female victims were similar only in that their heads and  hands were removed, not enough to link them. The only connection between  the two males was that both were found south of the expressway, hardly significant since they were far apart, he added." They knew Jessica Taylor was a prostitute, they should have been on the missing persons cases of sex workers not neglecting them like they  did. These cops are a joke. Even though JT was identified through her tattoo, SCPD has refused to release the tattoo found on Jane Doe 2000.  They are basically doing whatever they can to keep the public from identifying the unidentified.
Interesting personal account by a Reddit member who may have possibly seen the killer, one of the killers or an accomplice on two occasions:
I'm grew up on LI, and didn't like high school so much. In high school, once I got my license, I'd take drives out to Ocean Pkwy. I'd  mostly go to TOBAY, and get to the beach to just scream at the waves for a little catharsis - it's like the only place I could think of where there isn't any public around. I'd do this in the winters of course. I graduated in '12, but through 2010-2014, I was doing this. After high  school, I was going there to smoe pot away from my folks. Anyhow, I'd drive on Ocean Parkway to just relax and let out my  teenage angst or whatever. I probably went about 15 times in those three years. Just every now and then. I like that sort of atmosphere of the  beach and the waves in that calm cool air. No one around to bother me. I eventually heard about the case and a couple of things popped up in  my mind. The only suspicious thing I could think of was this old man and his dark pickup truck. I can't remember if it was brown or black or  some other color, but it was dark. Every now and then I'd see it sitting there in some lot that I was in. I've probably seen it around 4 times, on separate occasions. Only twice though did I see the owner. He was returning from some hike or something. Once he had a cap on, and the other time he didn't. Wearing denim jeans both times I think, but I can't recall any other information, and I'm trying to give my most honest account. The guy was definitely older though - at least 60, with gray wirey hair. He was never carrying anything, but just walking back from wherever he came from. He was always wearing sunglasses though, even when it really was gray and cloudy. What spooked me though was that he would come some distance from my car as I sat inside it. He'd just try to inspect it as if to check that I wasn't spying on him. I guess I was, but why would he care? The guy seemed angry. I mean, we're not known for our friendliness here, but he just seemed irked about a bunch. He'd slam his door and then drive away. The first time he did that, he did circles around my car. No idea if it was menacing or what, but I just didn't get it. Then he  drove off. That's all I've got. I don't think it means much, so I've never  really told anyone about it. But maybe it just gives an essence of the goings on there to somebody.
In my opinion, this comment is in direct alignment with what George alluded to in his video and what we know has been going on for a very long time referred to as Brownstone Operations: 
svonstruen: 
It's related to a brownstone operation. Like Frankin Scandal. Discussed in video YouTube series "Where is Eric Braverman" the girls used when  foreign visitors came to blackmail them with. So awful. "Look for women that met very good looking men, had sex at posh hotels like the Plaza, but can't remember what happened the rest of the night, but reported  lucid, scary dreams.  The good looking guys are "set up" men working for  various agencies. They think it is somehow related to national security to bed the women. They don't know what happens later.  If any of the girls had a story like this or a party /movie opening with Sean Penn, please let me know. Look for when Sabbaugh was in the US at  CFR. I am almost positive he had a diplomatic passport. I don't know if Immigration/customs records can be FOIAd.http://www.cfr.org/support/sabbagh.html 
Look for Doug Band and Justin Cooper and where they where at the time in NYC. They are going to be your entertainers of CCC/et al. Check girls getting invites to CFR mixers at posh hotels like Plaza on 5th Street. Also check for girls who talk about going the Jeff Epstein's condo 1993-2001.I believe Valerie Post did the off site event catering  from the Plaza did off site catering for CFR. Her calendar should show middle east and north Africa oil events. CCC would also host Central and  South America events." 
They put a dirty cop in charge because that's how it's done. Same when they put Clinton in charge of MENA in Arkansas.  
It's hard to believe because we only see the front office respectable  face of the government. But it's true. Most of the missing children are  part of these operations. https://underthegrayline.wordpress.com/tag/operation-brownstone/ 
Excerpt from George Bush Pedophile Sex Ring and Blackmail of Congress linked above:
George HW Bush is a known evil pedophile, who ran a Congressional  Blackmail Child Sex Ring during the 1980s known as "Operation Brownstone  and Operation Brownstar", and later to become known as "The Finders or  The Franklin Coverup". U.S. Vice President George HW Bush would sneak  children over to Senator Barney Frank's condo, known as a "Brownstone"  to their famous cocktail parties, where U.S. Congressman and U.S.  Senators — some willing and some unwilling participants — got a taste of  the "Voodoo Drug" in their drink. 
To prove a case, you need one that was involved in an operation or a  witness or documents; in this case, U.S. Customs documents prove the  case without getting anyone still living killed. Inside the (scribd)  document below is an article that appeared in US News and World report  December 27 1993, entitled "Through a Glass Very Darkly". This includes  cops, spies and a very old investigation — also copies of the U.S.  Customs Reports where the names are not blacked out.
The Secret CIA's child abduction operation | The Finders
Published on Oct 18, 2015
The  story of the Finders cult is the story of the development of  child/assets to be used to entrap politicians, diplomats; corporate and law enforcement officials; to sell child/victims to wealthy perverts to  raise money for covert operations, to train some of the child/victims to be professional operatives and assassins of a totally cold, multiple  personality, mind control nature.
1. A case of obvious child abuse involving child pedophile sexual abuse/child pornography/Satanic cult ritualistic abuse wherein the perpetrators were caught directly in  the act by law enforcement, arrested on the basis of irrefutable evidence at the scene, and faced serious charges.
2. Search warrants were obtained for the "Finders" cult office in Washington, DC  and a complete search was enacted by law enforcement which provided irrefutable pictures, movies and documents of such abuse/neglect  evidence and access to the confidential arrest reports on the "Finders" cult from the arrests in Tallahassee which occurred only a day earlier (suggesting very high level connections to US intelligence in and of  itself.)
3. All investigation of the "Finders" cult by the FBI, US Customs and local law enforcement was ordered stopped by the US  Justice Department on the grounds of "national security" and the matter of the "Finders" cult was turned over to the Central Intelligence Agency as an "internal security matter," since the "Finders" is and has been a  domestic and international covert operation of the Central Intelligence Agency.
4. Any and all investigation of the "Finders" was immediately stopped, all evidence was suppressed and denied, and the abused children were released back to the adult perpetrators who had been arrested "in the act" and the CIA resumed its ongoing covert operation of the "Finders" cult which is used to procure and produce.
[
]
What Profilers Know About the Long Island Serial Killer: 'He Hates Women' - October 28, 2016
Excerpt: "He's the sort of killer who is often social and extremely good at  making people feel comfortable. He grooms his victims before he strikes.  He takes risks — and sadistic pleasure — in taunting his victim's  family and friends. He probably isn't a substance abuser. According to two experts, this is the emerging picture of whoever is responsible for at least some of the 10-plus dead bodies discovered around Long Island's Gilgo Beach in New York.
"The case has since been dubbed the Long Island Serial Killer. And though the investigation continues, with the help of federal authorities, no suspects have ever been named."
5 Things to Know About the Long Island Serial Killer — and Clues Revealed by the Victims - November 7, 2016:
Excerpt: "It's been close to six years since police discovered more than 10 bodies around New York's Gilgo Beach area on Long Island — a grisly case that began when Shannan Gilbert, a 24-year-old escort, disappeared in May 2010 after meeting a client through Craigslist."
Why So Many Sex Worker Murders Go Unsolved: From Long Island to New Mexico, A&E's new documentary series 'The Killing Season' dives into this  marginalized population's epidemic of terror. 
Dark Minds | Long Island Serial Killer | S3E3   
Published on Jul 22, 2015
"The  crimes of the Long Island serial killer, believed to have murdered  between 10 to 15 people associated with the New York sex trade since  1996."
[