Pinkcoin Staking Guide: Earn Interesting by securing the Pinkcoin Network, staking via the Official Desktop Client
GUIDE ON HOW TO STAKE PINKCOIN USING THE OFFICIAL WALLET CLIENT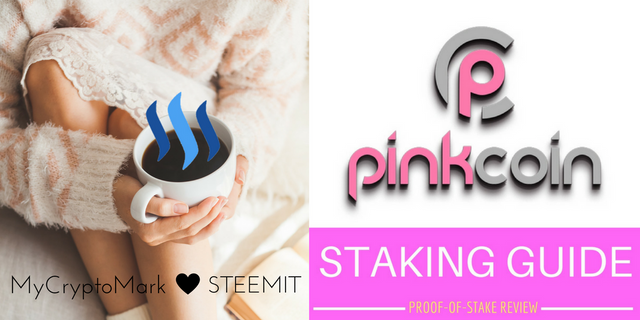 STEP 1
DOWNLOAD A WALLET
First Step is to download the necessary files required to get started, you will need to download the Official Pinkcoin Wallet Client that allows you to stake Pinkcoin in order earn some the newly distributed minted Pinkcoin Tokens.
For more Information regarding the Download File, Visit
pi-nk.com
(Official Pinkcoin Developer Site) and download the Official Desktop Client available for Windows & Mac
Keep in Mind that you will need a 64-Bit Windows PC in order to run Pinkcoin's Desktop Client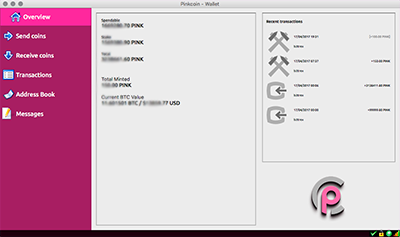 STEP 2
INSTALL & SYNC THE WALLET
Install Pinkcoin Desktop Client, it will act as a Hardware Wallet that safely stores Pinkcoin on your Computer, giving you full responsibility over your Tokens. Just like syncing a Bitcoin Wallet, when it comes to Mining it will take some time for a new Pinkcoin Wallet Client to fully sync with the Network, during this time it's downloading every transaction that ever occurred on the Network, this would mean that a new wallet will need to download a full copy blockchain first before you can start Staking
This process will automatically run in the background, there is no need to get all technical but patient is the key here, you will need to wait for it to be Full Sync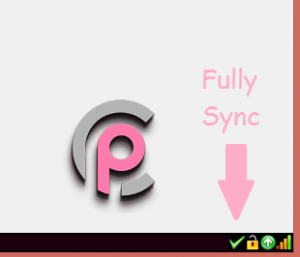 STEP 3
CREATE A NEW ADDRESS
Within the Desktop Client, client on ''Receive Coins'' to manage your Pinkcoin Addresses, you can add, label and also displays your Private Master Key. Just Click 'new address' at the button of Client, from there you can Label your new Wallet by giving it a name and you'll have the option to make it a Stealth Address. Copy the key under the address column in the Pinkcoin wallet into the exchange wallet and click send. You should see your coins show up in Transactions. It will take 5 confirmations before your coins are spendable
TRANSFER YOUR PINKCOIN TO YOUR WALLET
No doubt you will have already got some Pinkcoin on an exchange. You need to send them to your wallet.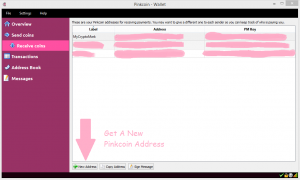 STEP 4
GET 101 CONFIRMATION TO ALLOW COINS TO MATURE
Just like any other Cryptocurrency, confirmations is term used to Confirm "to make firm or more firm; add strength to; settle or establish firmly" a Transaction record within a distributed ledger. Each confirmation you get on the network strengthens the transaction, since with each subsequent block that is found, the number of confirmations is increased by one
So before you start Staking Pinkcoin's after Transfering your Token to your Account, expect it to take around 6-8 hours or 101 confirmations before your coins will be ready for Staking, this is to strengthen the network by requiring recent transferred Pinkcoin Token to mature through set amount of confirmations to ensure the transaction is legit & verified by Distributed Leger
STEP 5
ENCRYPTING YOUR WALLET
Before you begin to Stake, it's is advisable to Encrypt your Wallet, this would mean that you will need to get password in order to secure your Account.
Remember that this should be Long and Hard to guess Password since Security should be your number one priority when it comes to Digital Money, if you lose access to your account, personal funds are at risk. When you set a Password it will encrypt the official 'Wallet.dat' file which is where all Pinkcoin's will be stored, losing access to this means that you won't be able to retrieve all your Pinkcoin stored in your Wallet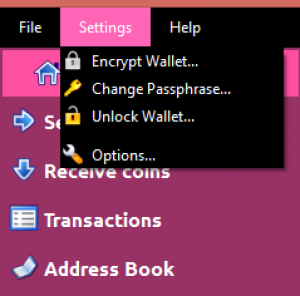 STEP 6
STAKING YOUR STORED PINKCOINS
Staking requires your wallet to be unlocked. Click the small padlock on the bottom right of your wallet. Tick the tickbox "For Staking Only". For security you will have to type the password you just created in Step 5 to allow the wallet unlock. In ticking the Tickbox you are now Staking!!!

STEP 7
MAKING SURE YOU'RE ALL SET TO STAKE PINKCOIN
Once you have completed all the following Steps, let Blockchain Technology do the rest as you leave your Computer running to stake your coin. You will be only Staking your Pinkcoins when you're connected to it's Network, this means you can't shutdown your Computer as the Pinkcoin Wallet Client needs to run the background. To check that you're actually staking, look out for an Upwards Pointing Green Arrow located at the bottom right, this is an indication that you're currently in Staking Mode. At the Bottom you have all Indicators that you need to look for: A Green Tick to confirm that you're fully sync with an up to date Blockchain Ledger downloaded, Encrypted your Wallet for Safety, Open Lock to show Wallet is Unlocked in order to Stake and Upwards Pointing Green Arrow that provides some Staking Statistics; Weight/Network Weight/ Chance to Stake within an Hour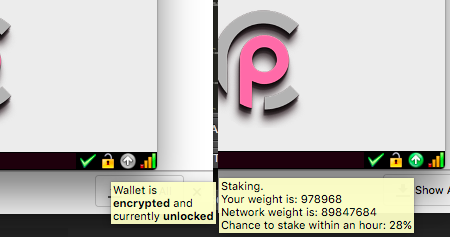 About Pinkcoin
Website: http://pi-nk.com
Explorer: http://explorer.pinkarmy.ml
CHAT: http://slack.with.pink/
Market: http://coinmarketcap.com/currencies/pinkcoin
Forum 1: https://bitcointalk.org/index.php?topic=1783421.0
Forum 2: https://bitcointalk.org/index.php?topic=1874696.0