I took my crappy cameras out with me today in a canoeing trip on a lake (for a description of what I'm doing with 'crappy camera's, see my post here: https://steempeak.com/neoxian/@wwwiebe/photoswithcrappycameras-kx7ketvc48). I actually took three cameras out with me; two crappy, and one dSLR (which ended up with some nice photos).
These two 'crappy cameras' are crappy in the sense that they are old with old sensors, one of which has a 1 megapixel sensor, and the other of which has a 0.4 megapixel sensor. Both of them produce 'noisy' images, and my goal is to push myself as a photographer to have them, with editing, produce a nice image.
What I felt would be fun is, instead of spamming with a bunch of pictures from these cameras (which I've already done elsewhere), it'd be fun to show the progression of one of the images from crappy to less-crappy. Recall, the idea is not to make a crappy picture - anyone can do that with any camera; rather, the idea is to make a good picture from a "crappy" camera.
Test Case : The Clouds
I saw this cloud formation and thought it was neat, perhaps a little ominous, but definitely something with some texture. For this picture I used my generic camera with the 1 Mp sensor.
Original Image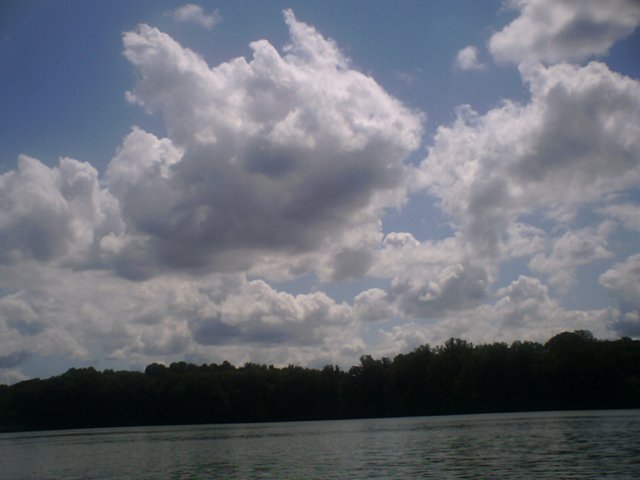 Now, remember, I'm in a canoe, on the water, which moves. Every time I pick up the camera I need to, by necessity, put down the oar, which means that not only is the water moving me, I'm also rocking. The end result of this is a picture that needs to be rotated.
Also remember that I am not a professional photographer. I'm not. I'm an IT nerd. (Actually, I'm an IT consultant, but it's all the same). Would I rather I was a photographer? Yes. Would it pay me and keep my current lifestyle? Maybe after a couple years, and those are a couple years my children would rather eat. :) So, anything I do here could likely be done better by someone else, and if you are that someone else and are interested in sharing your knowledge, I am always interested in learning. (Meaning, don't be an ass and tell me how I'm doing something stupid; teach me instead to do it better. Seriously. Lead me to water and I will drink.) ( </tirade>)
I'm not a professional photographer. I have not bought Photoshop. I do this for fun. I use Gimp. And to Gimp I sent this image! First for some rotation, then for some colour correction via curves (the standard 'S' curve). I also modified the green and blue curves to bring out the blue of the sky and the water while also bringing out the green of the trees. The trees were really hard to do, and I'm not quite sure I'm happy with the result.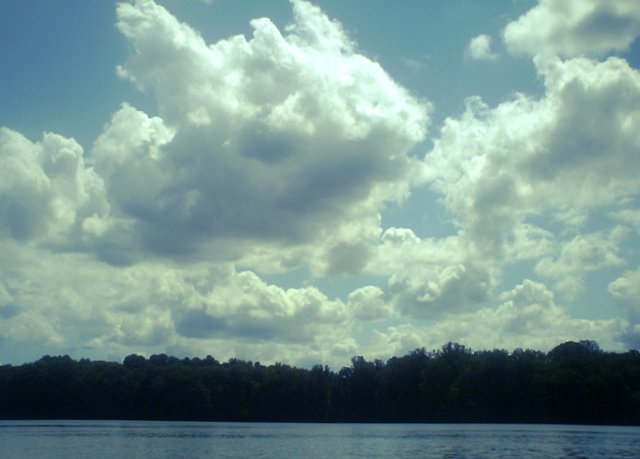 And then I ran it through Color Efex Pro from the Nik Collection. In particular I used the Dark Contrast preset. I like the Nik Collection; it does a lot of the thinking for me (I was able to get Nik when Google was giving it away for free). It did a good job of making the cloud's ominous, like I wanted, and also brought out the detail in the trees.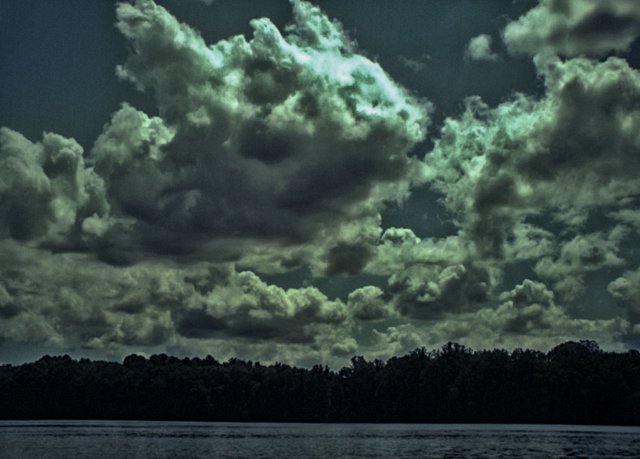 The image also at this point was really noisy, which is not surprising all things considered. Enter: Movavi Photo Denoise, the one program in all that I've used that I actually paid for, because it does a really good job of denoising that I've not found in an open source/free tool yet.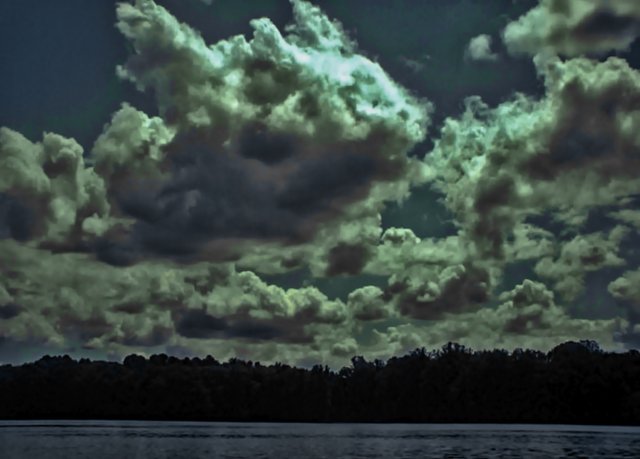 Ultimately, I ended up thinking that perhaps this image was too dark. I went through the same basic process a second time, starting with a different original S curve, and ended up with this version. I like the sky better on this, but not so much the trees. What I probably ought to do is educate myself just on how layers really work.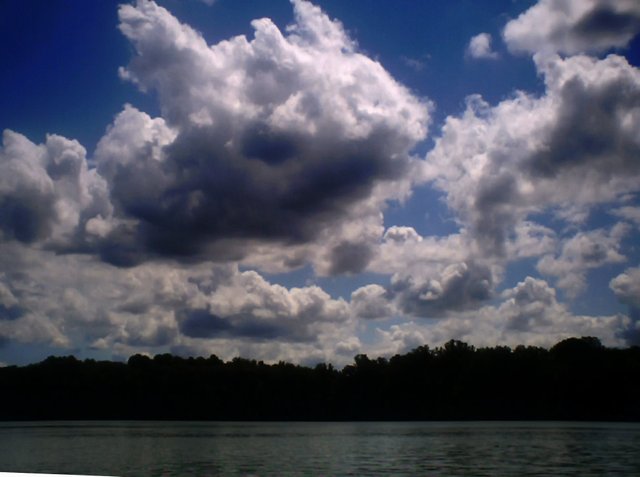 Opinions?
(c) All images and photographs, unless otherwise specified, are created and owned by me.
(c) Victor Wiebe