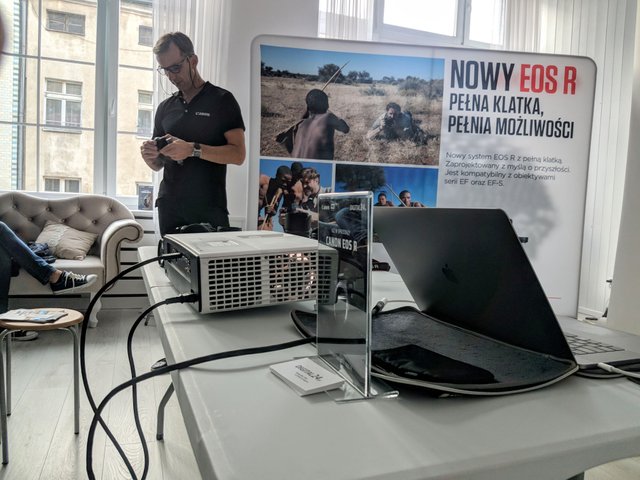 English
Yesterday I had quite exciting opportunity to take a look at new Canon camera - mirrorless EOS R. Event (so called 'Roadshow') was organised by a Canon Polska with cooperation of a Digital24. I'm glad they make it possible here in my city (Wrocław) so I can test camera with my own hands, and even try few shoots on a beautiful model (Klaudia Fugiel). There is already a tons of information about this camera all over the internet so I will try to keep this post stick to my own opinions and feelings, if you interested more about camera in general then please take a look for example at Canon page.
Canon EOS R It's a first Canon full-frame camera without mirror in Canon line. For most of you it would be like "what's that all about that hype?". Well this year we had already a third release of Sony lines of mirrorless cameras in this field and there is a lot of talk inside photographer community about moving in that direction, super features it brings etc. This adds pressure onto bigger brands like Canon and Nikon to finally do something about this. After official Nikon announcement this year we didn't have to wait too long to have Canon announce it as well in their line.
Polish
Wczoraj miałem ekscytującą okazję położyć swoje ręce na najnowszym aparacie od Canona, bezlusterkowca EOS R. Całe wydarzenie (nazywane oficjalnie 'Roadshow') zorganizowane było przez Canon Polska na spółkę ze sklepem Digital24. Cieszę się, że zrobili z własnej woli takie spotkanie we Wrocławiu i dali możliwość obycia się z aparatem, a także postrzelać kilka fot testowych ślicznej modelce - Klaudi Fugiel. W sieci jest już cała masa informacji na temat tego aparatu, stąd mój dzisiejszy wpis postaram się ograniczyć do moich subiektywnych przemyśleń i opinii na temat samego wydarzenia jak i aparatu. Jeśli jesteś zainteresowany bardziej suchymi faktami to polecam zajrzeć np. na stronę Canona.
Canon EOS R to pierwszy pełnoklatkowy aparat bezlusterkowy w linii Canona. Dla większości z Was pewnie rodzi się pytanie "Ale po co to komu, na co ten cały hype w internecie?". Tego roku Sony wypuściło już trzeci egzemplarz aparatu o podobnej zasadzie działania i wiele się mówi o jego ogromnych zaletach na różnych serwisach branżowych. Ten cały hype internetowy kładł nacisk na większe marki, aby w końcu dołączyć do tego grona. Po oficjalnych zapowiedziach Nikona nie musieliśmy długo czekać na podobne informacje ze studia Canona.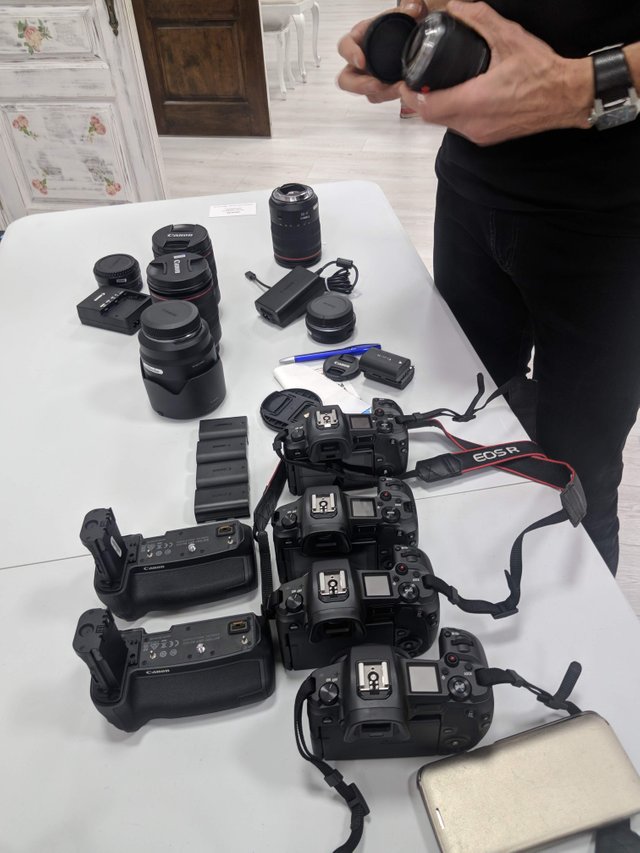 English
Most of Photographers, including me, do see a future in a mirrorless cameras. There are still a few technical problems which makes normal DSLR still viable, but with time I believe everyone will move on to use mirrorless cameras. So what's the hype? Well I will try to point advantages as I see them:
general - it feels more like shooting on the phone than on a 'profesional' camera, you see what you compose, you press when you want to focus, pretty cool, pretty simple - it's quite good way to transit from mobile photography to a profesional world,
focusing - where in hardware solutions we have limited numbers of focus points in electronic approach you get much more of those points and... well believe me or not, for professional usage it's quite important! Oh and they tend to be quite fast too!
electronic viewer - you can have more information shown during composing frame, you can decide what parameters are important for you, you can see in darkness where your eye would not see too much. You can also check images in strong light (super important for me),
weight - well no mirror means less mechanical parts - usually this can end up with very light camera. Sometimes even too light!
size - again as we take out mirror, we can have smaller device. Because of that some lens construction are easier to achieve (on Physics level) which leads to have better optical results,
But current limitations are mostly based on:
Higher battery consumption - as everything has to be shown on display then, well, it uses battery a lot. This means you will have few more batteries with you if you want to shoot efficiently the same,
Sensor exposure - as everything you see is shown realtime in the viewfinder it also uses sensor quite a lot, hard to say how many years will survive camera as it's a quite new design,
Those are the ones I believe will be solved in future. Some of the advantages are also available in cameras with mirror (as most of them have a Live view mode which look kind of similar), yet after a while of using this EOS R camera I do see a difference of using this mode as an only possible mode vs have it as a nice feature of normal camera.
So back to the presentation, after an official talk (and some questions ofc) I could finally grab camera in my hands. First impression? It's pretty light! When I grabbed it with a new Canon lens 28-70mm f2 I had strange feeling that lens is heavier than body. It felt weird to me, but not a big dealbreaker. In terms of ergonomics I'm quite used to my Canon 5d mk IV and menu seems quite familiar to me. As of the hardware buttons - I missed some of them, some were in different place, but you can get used to it. I tried make few shoots with Klaudia, was testing super-fast focusing (it's really fast!) and I was quite impressed over it's performance, but I miss a proper eye focusing in servo mode (which should be added soon in a software update). I was surprised of missing joystick to set manual focus, but I found out that a touchpad is used for that purpose and... and I think it works great, it's a nice idea and I think I would use this quite a lot. Haven't got much time to setup proper light so shoots are pretty basic, but still I could get a small impression of the quality and... hmm... well it looks great, what other should I expect. Is this great enough for me to switch from 5d4? I believe not, but if I would have previous version I could think of change. Below some shoots from the body, and some backstage with Klaudia giving signs on polaroids.
I hope it's not the last event I was invited to and I hope I will have enough energy to write it down for you. Thank you for stopping by and please ask if I miss something important to write about! See ya soon!
Polish
Większość fotografów, w tym także ja, widzi niemałą przyszłość w aparatach bez lustra. Nadal istnieje kilka problemów technicznych, które sprawiają, że normalne lustrzanki cyfrowe mają nadal sens, ale z czasem sądzę, że wszyscy będą używać aparatów bezlusterkowych. Więc o co ten cały hype? Cóż, spróbuję wskazać zalety tak, jak ja je widzę:
generalnie bardziej przypomina robienie zdjęć telefonem niż profesjonalnym aparatem, widzisz to co komponujesz, naciskasz palcem gdzie chcesz ustawić ostrość - to dobry sposób na przejście z fotografii mobilnej do profesjonalnego świata fotografii dla wielu początkujących!
ostrzenie - w rozwiązaniach sprzętowych mamy ograniczoną liczbę punktów ostrzenia (u mnie ponad 50 sensownych) , zaś w podejściu bezlusterkowym, dostajesz o wiele więcej tych punktów (ponad 5000!) i ... wierz mi lub nie, do profesjonalnego przydaje się mieć ich więcej i z dużo większym pokryciem klatki! Och, i są one też całkiem szybkimi punktami ostrzenia. Canon chwali się, że jest to aktualnie najszybszy system na rynku.
elektroniczny wizjer - możesz mieć na nim wyświetlanych więcej informacji podczas komponowania klatki, możesz zdecydować, jakie parametry są dla ciebie ważne, możesz zobaczyć co widać przez niego w ciemności gdy ludzkie oko nie daje już rady. Możesz również sprawdzić podglądy zrobionych już zdjęć w silnym świetle, co jest super ważne dla mnie. Często robiąc zdjęcia w plenerze w ostrym świetle nie mam jak ocenić czy zdjęcie nie było np. zbyt ciemne lub jasne,
waga - brak lustra oznacza mniej części mechanicznych - zazwyczaj prowadzi to do zmniejszenia wagi aparatu,
rozmiar - gdy usuwamy lustro, możemy mieć po prostu mniejsze urządzenie. Możemy też dzięki temu przesunąć obiektyw bliżej do matrycy co powoduje, że niektóre konstrukcje obiektywów są łatwiejsze do osiągnięcia (na poziomie fizyki) - szczególnie obiektywów szerokokątnych, co prowadzi do lepszych wyników optycznych - stricte lepszych jakościowo zdjęć.
Obecne ograniczenia są w większości oparte na:
Wyższym zużyciu baterii - ponieważ wszystko musi być pokazane na ekranie (małym czy dużym), to znaczy, że aparat bardzo dużo korzysta z baterii. Oznacza to też, że będziesz mieć przy sobie więcej akumulatorów do zabrania na sesję,
Zużyciu matrycy - ponieważ wszystko, co widzisz, jest pokazywane w czasie rzeczywistym w wizjerze, to również bardzo często wykorzystuje samą matrycę - trudno powiedzieć, ile lat przetrwa aparat przy takim intensywnym jej wykorzystaniu. Powoduje to też, że sam aparat bardziej się grzeje.
Wierzę, że są to tylko technologiczne problemy, które zostaną rozwiązane z czasem. Niektóre zalety bezlusterkowców są również obecne w aparatach z lustrem ponieważ większość z nich ma tryb Live View, który wygląda dość podobnie w użytkowaniu. Jednakże po pewnym czasie korzystania z Canona EOS R widzę różnicę w korzystaniu z tego trybu jako jedynego możliwego, niż mając go jako dodatkowy tryb normalnego aparatu.
Wracając do prezentacji - po oficjalnej przemowie (i kilku pytaniach) mogłem wreszcie wziąć aparat w swoje ręce. Pierwsze wrażenie? Jest całkiem lekki! Kiedy złapałem go z nowym obiektywem 28-70mm f2 firmy Canon miałem dziwne wrażenie, że trzymam sam obiektyw. To było dla mnie dość dziwne wrażenie, ale to pewnie kwestia przyzwyczajenia. Pod względem ergonomii jestem dość przyzwyczajony do mojego Canona 5d mk IV i menu nowej R-ki wydaje mi się dość proste w obsłudze. Z przycisków sprzętowych - tęskniłem za niektórymi z nich, niektóre znajdowały się w innym miejscu, ale można się do tego przyzwyczaić. Próbowałem zrobić kilka ujęć z Klaudią i testowałem superszybkie ogniskowanie (jest naprawdę szybkie!). Byłem pod dużym wrażeniem jego wydajności, ale brakuje mi właściwego skupienia oka na trybie Servo (który powinien być dodany wkrótce w aktualizacji oprogramowania). Byłem zaskoczony brakiem joysticka do ręcznego ustawiania ostrości, ale okazało się, że do tego celu służy touchpad i ... i myślę, że działa to świetnie, to niezły pomysł i myślę, że używałbym tego całkiem sporo.
Co do samych zdjęć to nie miałem zbyt dużo czasu, aby ustawić odpowiednie światło, więc zdjęcia, które tu wrzucam są dość proste. Mimo to mogłem sobie wyrobić małą opinię o jakości i ... hmm ... cóż, zdjęcia jakościowo wyglądają świetnie, nie wiem czego innego mógłbym się spodziewać? Czy to wystarczająco lepiej, żebym przestawił się z 5d4? Raczej nie (zwłaszcza że nowy aparat oferuje praktycznie tą samą rozdzielczość co mój), ale gdybym miał poprzednią wersję, mógłbym realnie myśleć o zmianie na ten model. Poniżej podrzucam dwa akceptowalne zdjęcia, które udało się zrobić z Klaudią oraz backstage z podpisywania Polaroidów.
Mam nadzieję, że nie jest to ostatnie wydarzenie, na które mnie zaproszono i mam nadzieję, że będę miał dość energii, aby je jeszcze spisywać. Dziękuję za chwile uwagi i proszę pytać w komentarzach co Was konkretnie interesuje postaram się napisać co wiem w temacie! Tymczasem do zobaczenia wkrótce!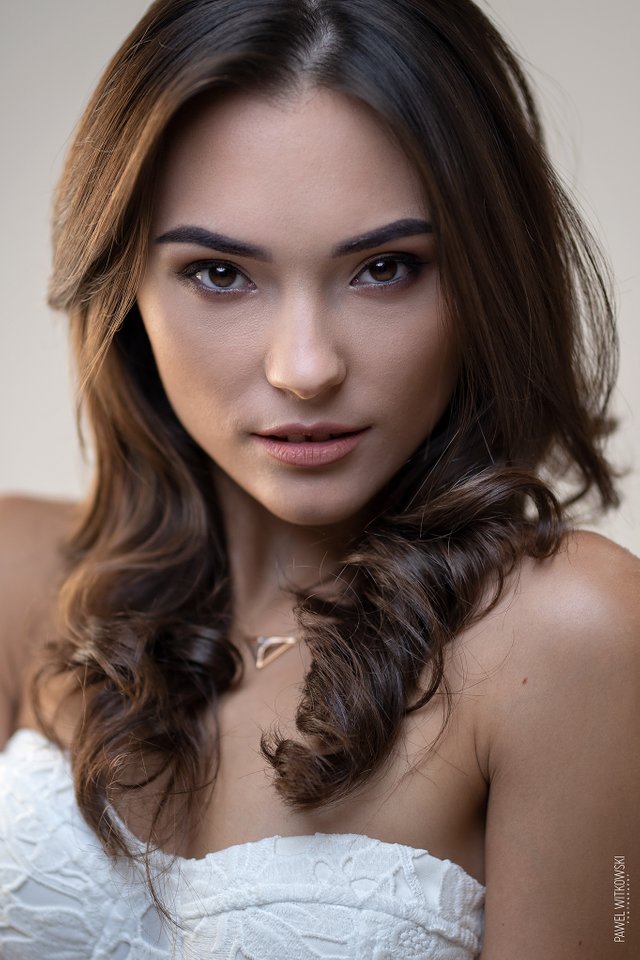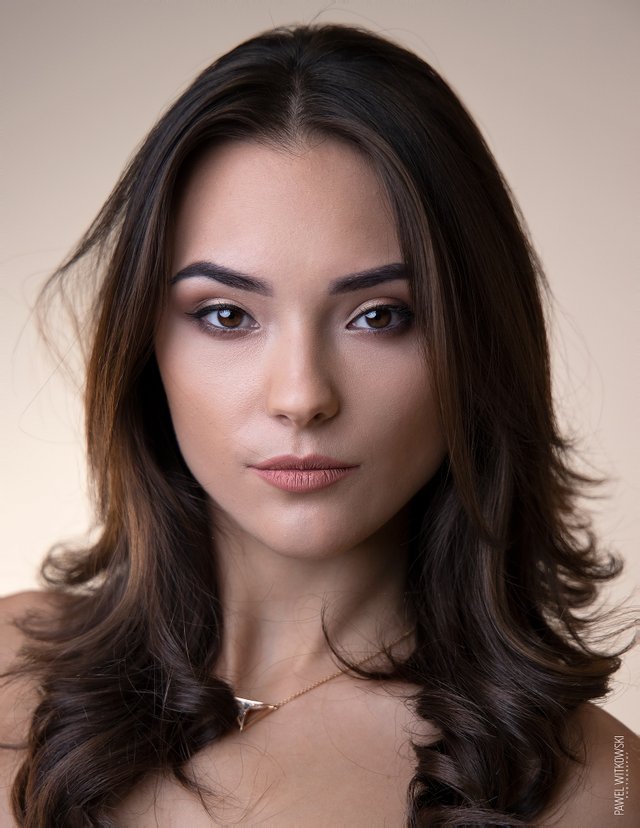 | | |
| --- | --- |
| | |