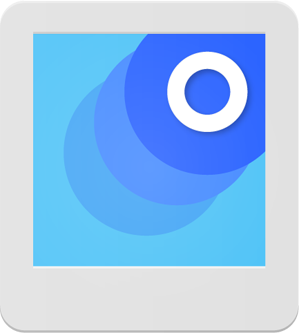 I downloaded Google's new "PhotoScan" app they released in the last year to my iPhone 7 Plus to see exactly how well it stacked up to what I've been doing pretty heavily over the past 4-5 years, which is using flatbed Canon & Epson scanners to scan handfuls of prints all at once.
Here's Google's video promo for PhotoScan.
Admittedly, the PhotoScan app is incredibly easy to use, and it does an "okay" job with cropping the photos properly, and this is their biggest selling point. It really does take a huge amount of the gear necessity and scanning & computer know-how out of preserving your photos.
Here's a print of my dad (on the left) with his sister and newphew which I scanned using PhotoScan. Click here for full size.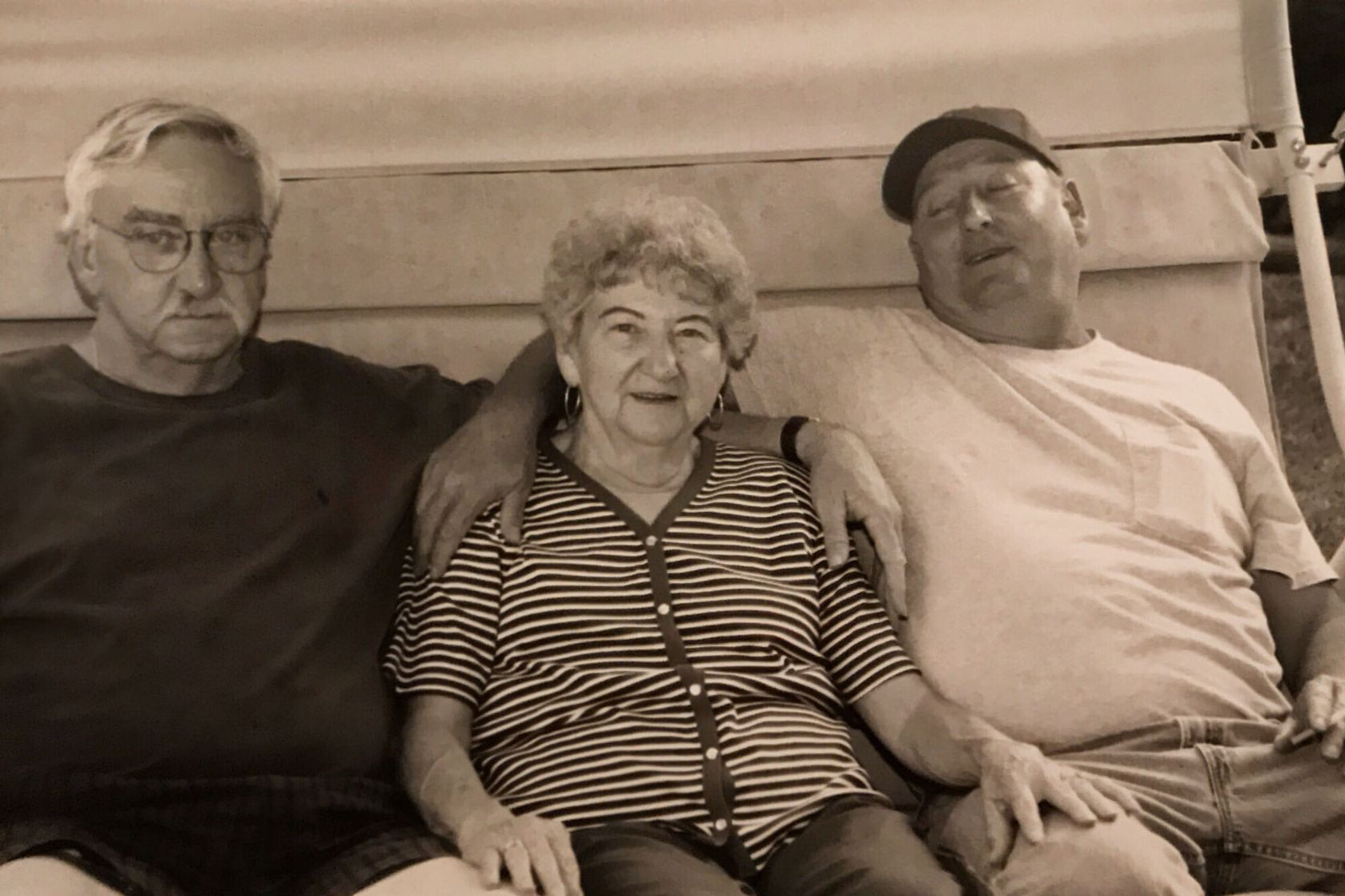 At first glance, it doesn't look too bad. However, when I compare the results of the app to what I've been getting with my flatbed scanners, I'm finding that the convenience to come at what I consider to be a pretty big cost.
First, I found that the color is usually off. This is mostly going to depend on the kind of lights you have on in the room where you're using the app to the pictures.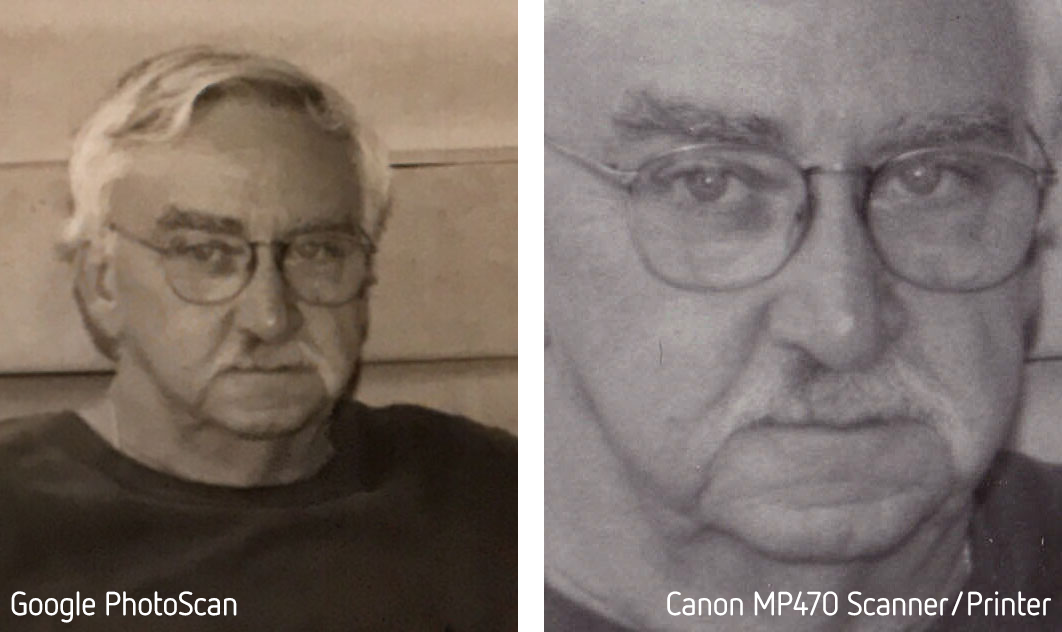 Both images are cropped at 100% magnification.
It uses the flash on your device, and then eliminates glare from the flash, but not from other light sources. This is one reason I prefer to use a flatbed over this method that uses a camera, because if there are any oddball combination of light sources, the colors will be off due to the inability for the camera to white balance for more than 1 type of light source. As you can see in my example, the Google PhotoScan sample is much more orange-ish, while the sample from the Canon scanner is a properly balanced black & white image. Granted, with b/w images, you can just go grayscale with it and just knock out the color to achieve this. With color prints, however, this is going to be an issue.
Second, the exposure isn't always accurate. The images here can do a lot of the speaking for me here. Notice that while the color isn't too bad this time, the Google PhotoScan sample is blown out.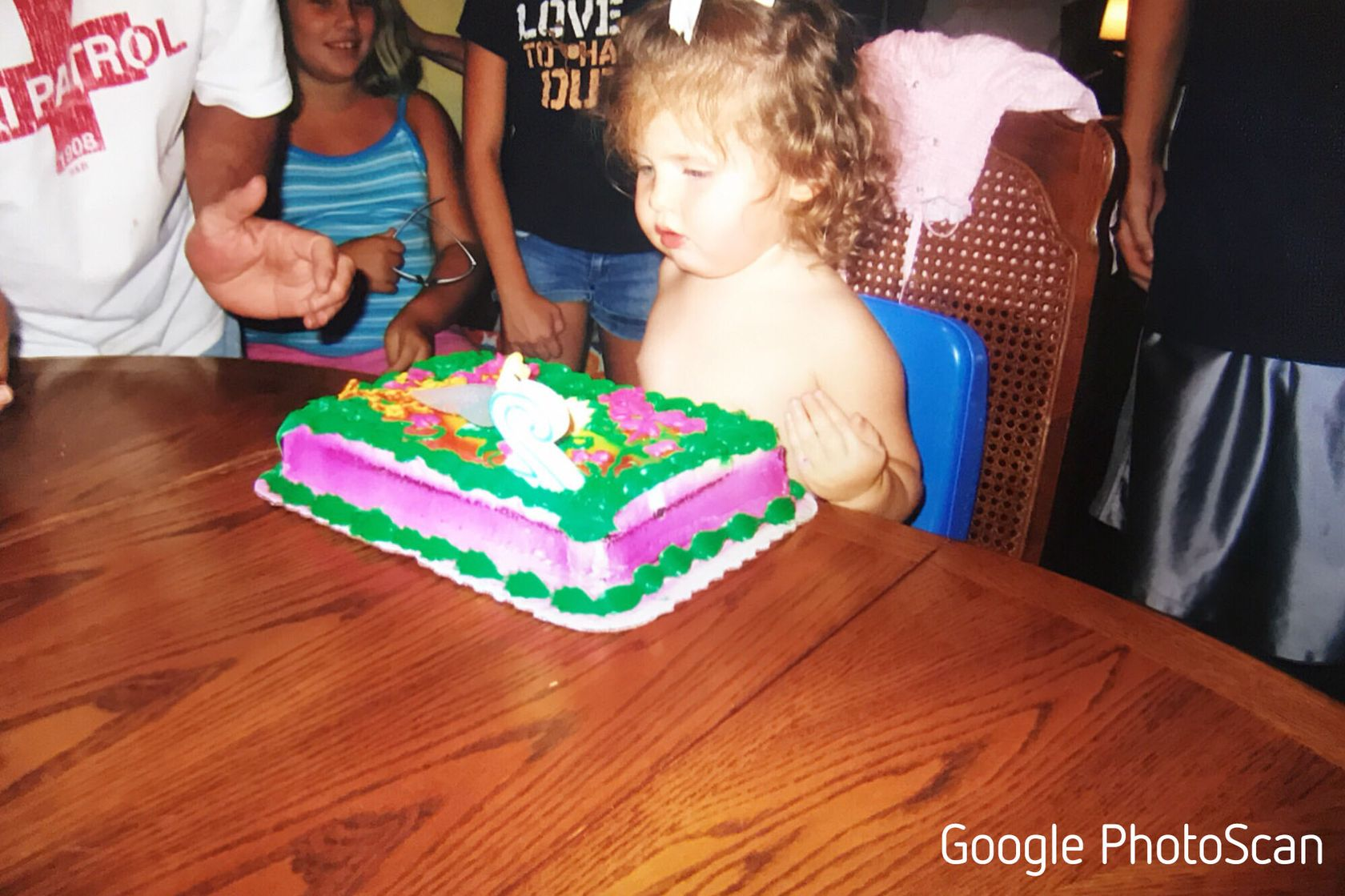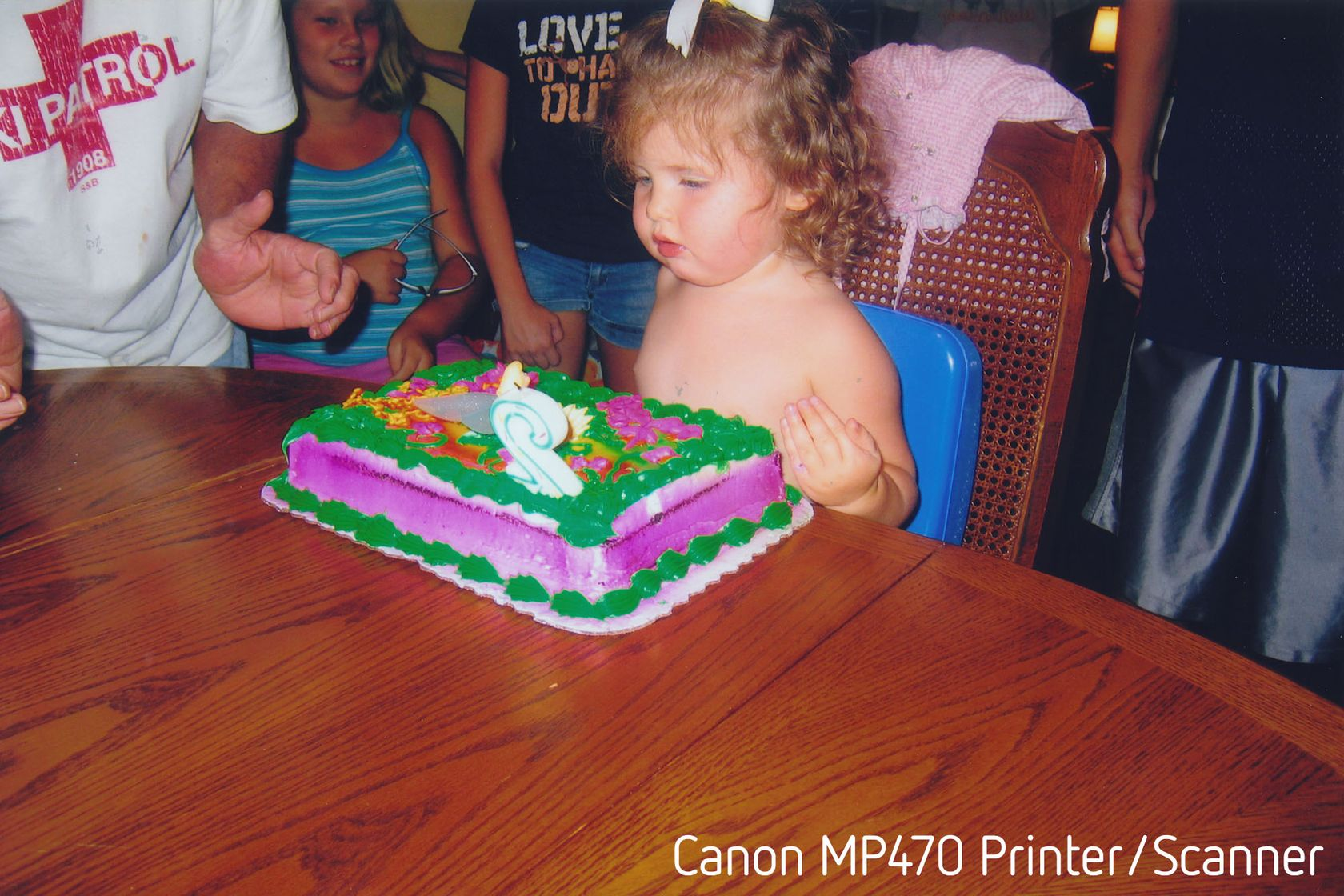 Lastly, and in my mind most importantly, the clarity is only as good as the camera on your device.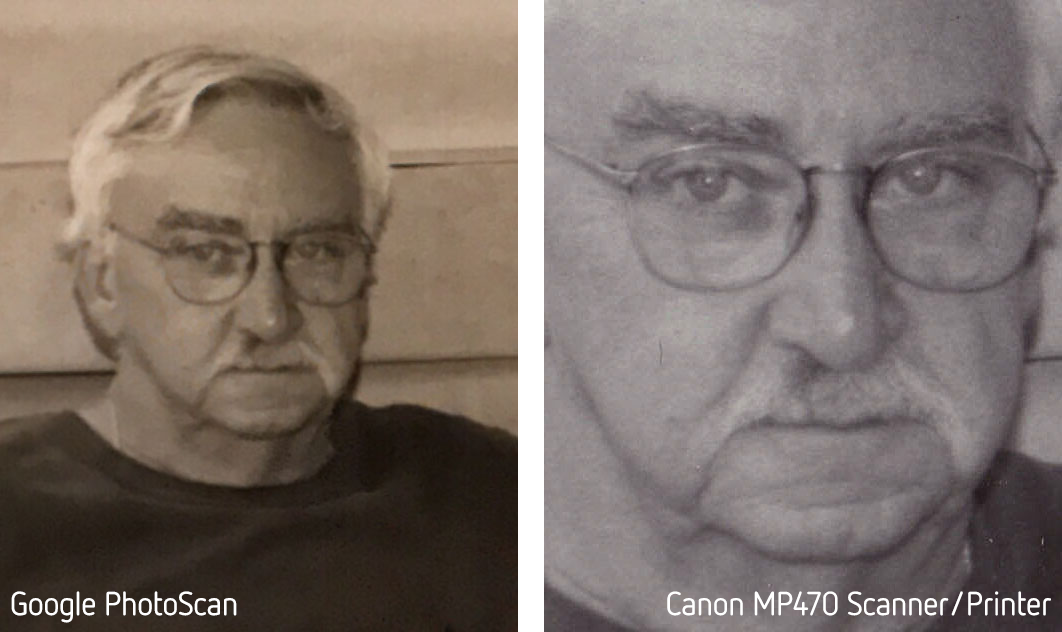 Going back to my first sample image, you can see the difference in sharpness, image clarity, and of course resolution which is denoted by the sheer size difference. Not only does the Google PhotoScan sample look like a muddled fingerpainting when you look at it up close, the final resolution of a 4x6 print through this app was a whopping 1999 wide by 1332 pixels high. That's a mere 333 dpi, which on a 4x6 print is only 2.6 megapixels. My Canon flatbed scanner can go optically up to 1199dpi (hitting 1200 brings out the interpolated resolution, which is bad), and a 4x6 at 1199dpi is approximately 7194 wide by 4796 high, which is equal to 34.5 megapixels. To give you an idea - the Canon scanner sample given here wasn't even turned up to a full 1199dpi, but only 700. Still quite a difference.
Conclusion:
I'm sure Google's PhotoScan app will work fine for many people. Most people have phones advanced enough to handle what this app is capable of (results will vary based on camera's capability), yet not everyone has a flatbed scanner, so this is an easy gateway into achieving what you want with your prints. It's mind-bogglingly easy to use, it does what it says it'll do in that it'll eliminate glare caused by the camera's LED flash, and it's easy to direct the saved results of your "scans" (which, let's be honest, are digital camera photos of physical prints [similar, but not the same as scanning with a flatbed scanner]) to your Google photos account, which will then categorize your photos by "face or place", as they say. That's cool and all, but Google Photos will do that no matter where the images come from, whether it be from their app on my iPhone, or an image from my old Palm Treo's crappy 1.3 megapixel camera that I had to email to myself 9 years ago.
I think I'll personally be sticking with my previous method of flatbed scanning for archival purposes like this. I consider family images to be among the most important images one can possess. They're gateways to your family's history. To me, they're worth archiving in the highest possible quality.
---
---