With the release of Girls by Shannon Brooke, we came out strong as a publishing company. We knew we needed to follow it up with something special. Throughout 2015 we entertained a few options, but unfortunately, they didn't work out.
It wasn't until the incredible British photographer Claire Seville reached out to us that we had any serious considerations for our second book. Claire's work is of great quality, and she has a unique take on classic pinup photography. Pinup is also Claire's main focus – she found a love for the genre and works hard to do it well.

Lucy Fur and Pinup Kristelle in SSLQ
But hands down, my favorite part about starting to work with Claire is that she is great at reading comprehension. Since she was submitting her work to us for consideration, Claire took the time to read our submission guidelines, send us a lot of information and a photography packet, and then was patient in waiting for a response. I know this sounds simple enough – but you would be surprised how many basic social media messages we receive from strangers asking us for in-depth explanations of the publishing industry, or requests to publish their children's book (which we don't do – it's in the guidelines!).
The primary difficulty in publishing Claire's work, however, is that she is British, and therefore resides in Great Britain. (The language barrier is only a minor issue – I understand most of what she's saying and have Google to help with any slang I hadn't learned from Guy Ritchie movies). We prefer face-to face contact with our authors since a close long-term relationship is needed to make a book, so we started with a lot of Skype meetings to talk about book ideas and publishing timeframes. Claire is such a wonderful and fun person, we liked her immediately.
Our initial idea was to have several sections featuring different aspects of her work, but as we poured through all of the photographs, we ended up with two main sections – "The Good Girls" and "The Bad Girls". Claire's work seemed to naturally fall into these categories – lots of bright, contemporary cheesecake photos juxtaposed with dark, sexy fetish work. We also threw out a couple of title ideas, but Claire knew exactly what she wanted her book to be called from the first time she reached out to us – Stocking Seams & Lipstick Queens. Luckily, the title worked perfectly with the design ideas we had worked out.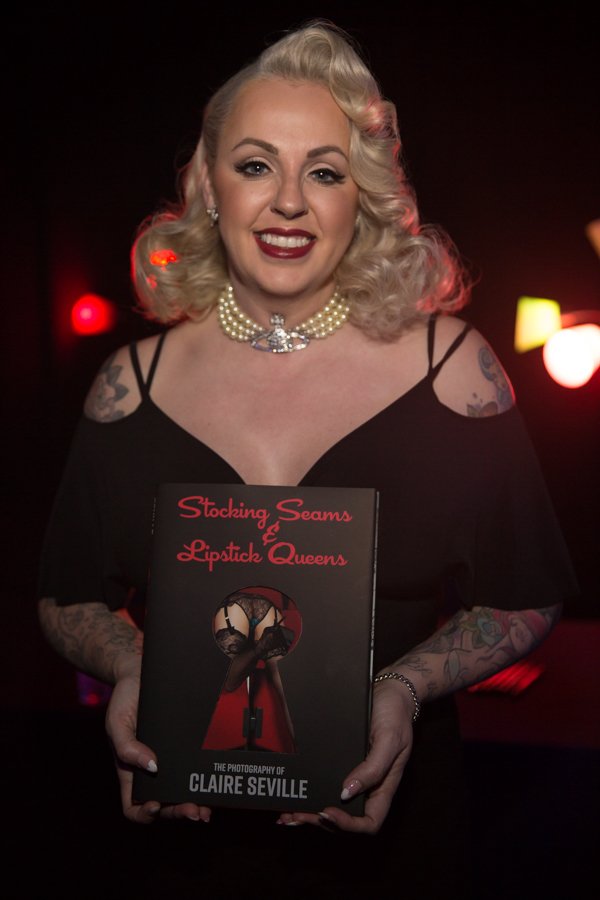 Claire at the SSLQ release party in Las Vegas. Photo by Steve Prue.
The last thing we needed was a way to make the publication special. Girls by Shannon Brooke was such a masterpiece of print that we couldn't follow up with just a simple stack of photographs wrapped in a cover. Our inspiration came from Claire's dark take on classic cheesecake pinup. We designed a solid matte black dust jacket with a die-cut keyhole, so through the hole you could see a small piece of a full printed hardcover case underneath. It just so happens that the visible image is model Rose Munro's butt.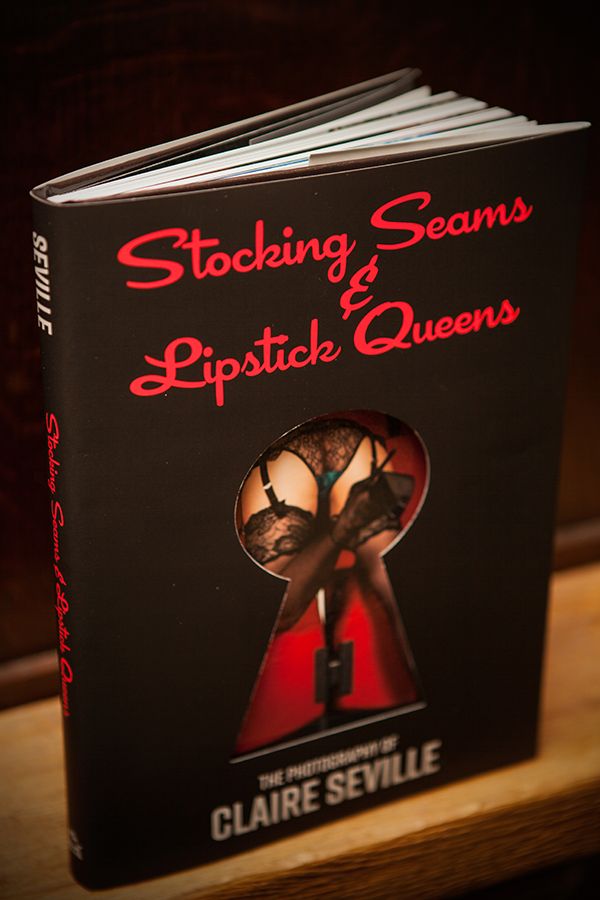 Our plan was always to release her book for Christmas 2016, and we couldn't have cut it any closer. After a few stragglers on model releases and a couple of last minute changes (as always), we submitted everything by the deadline (down to the very last minute, really). However, there was a delay in the printing process – the vendor that did the die cutting of the dust jacket was behind, and it nearly caused us to miss our Christmas shipping deadlines. Suffice it to say there was some stress through the holiday season as a result, but the books arrived and we got them out without a moment to spare.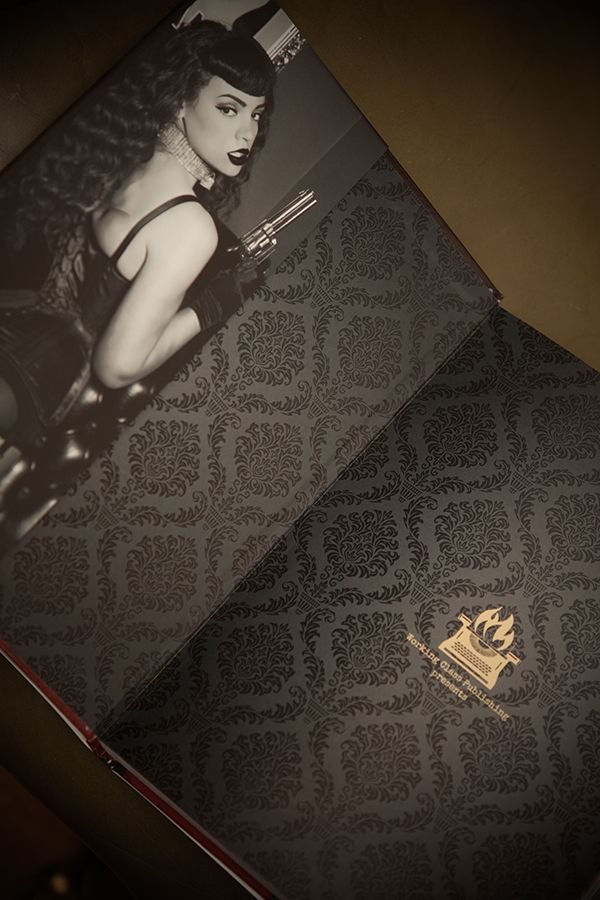 Inside dust jacket featuring Yazmin Newell
We love showing off Stocking Seams wherever we go – the surprise cover work and overall aesthetic is so interesting and beautiful that even people who aren't familiar with Claire's work are drawn to it.