Thread Orbs At Mitsukoshi
Have you been to Disney's Epcot Center? If you have, chances are you've been to World Showcase. And if you've been to World Showcase, chances are you've been to Japan. And finally, if you've been to Japan, chances are you've been to the Mitsukoshi Department Store. (That's right: A department store in a Disney Park.)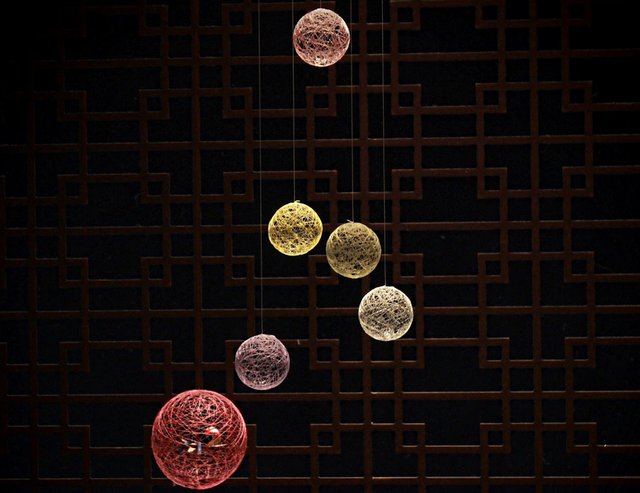 Mitsukoshi. Canon EOS Rebel T3i with 55-250mm lense - 55mm - Aperture f5.6 - ISO 800 - Exposure 1/25
This photograph was taken inside Mitsukoshi of some odd thread spheres with little animals inside. It was hanging from behind a checkout station. There were lights directly above the "thread spheres" as to put focus on them. When you're there, lighting looks nothing like the picture, yet no major post processing was done. The exposure was all taken in-camera.
---
HOW I GOT THE SHOT:
What I did was make JUST the right exposure and angle to make the spheres lit up just a little more more than the background, which was less harshly lit. I tried several angles and exposures to get the perfect shot, and after around 6 tries, the perfect photo was born.
Below is a diagram of how the light worked. There was a recessed light right above the orbs to add detail for guests, and that proved to be JUST bright enough to highlight the orbs more than the background. All in all, it's kinda hard to explain exactly how it works, but it works. I think the diagram I (badly) threw together helps explain a LITTLE bit better.

Diagram.
Anything to say about this photo?